George Kittle's fun is rooted in family; dad shares intimate stories about sons past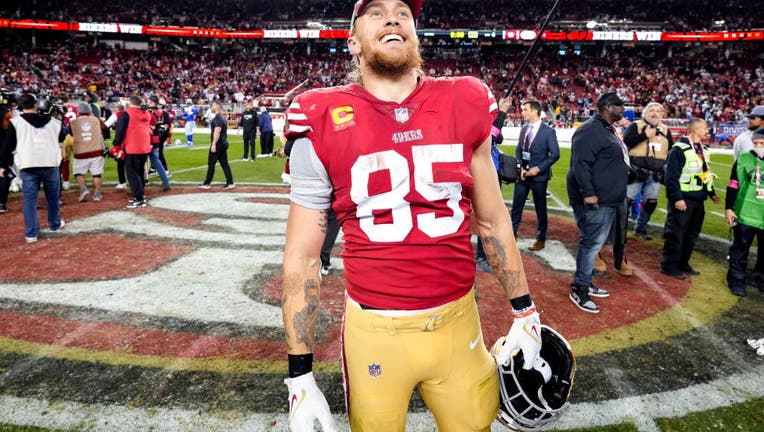 article
SANTA CLARA, Calif., - George Kittle has always had a larger-than-life personality. 
When he was 4 years old, his family took him to a University of Wisconsin football game in Madison, where the family lived at the time and where George was born on a college football Saturday. 
Before kickoff, the band started playing, and George ran down 15 rows to the front and started dancing. Fans were so entertained they threw him quarters.
"I think he made four or five bucks," Bruce Kittle, George's father said.
In a stadium full of stellar athletes and rowdy die-hard football fans, and before he ever played a single down of his own, George stood out.
Not much has changed 25 years later.
On Thursday afternoon, Bruce Kittle sat down with KTVU before a mile-and-a-half swim in preparation for a triathlon. Bruce described his son as fearless, imaginative and overly energetic. 
None of those traits are by accident. 
George's parents, Jan Krieger and Bruce, are both decorated athletes themselves. Bruce played football at Iowa (where George also played college football) and Jan played basketball and softball at Drake. 
They raised George on the idea that fear should not be a driving force in life, that there is no such thing as failure, but rather lessons and to enjoy every second of the ride.  
George, now in his sixth season as a tight end with the San Francisco 49ers, is an integral part of the team's offense. He's racked up 60 catches this season and recorded five touchdowns in the team's last three regular season games alone.  
Off the field, he is beloved by fans in the Bay Area and beyond. 
And, according to Bruce, you'd be hard-pressed to find a person who loves their job more than George loves playing for the 49ers. 
His love for the game started early. Each night when Jan and Bruce put George to sleep in his crib, they made sure George's University of Wisconsin Badger stuffed animal and a football were with him.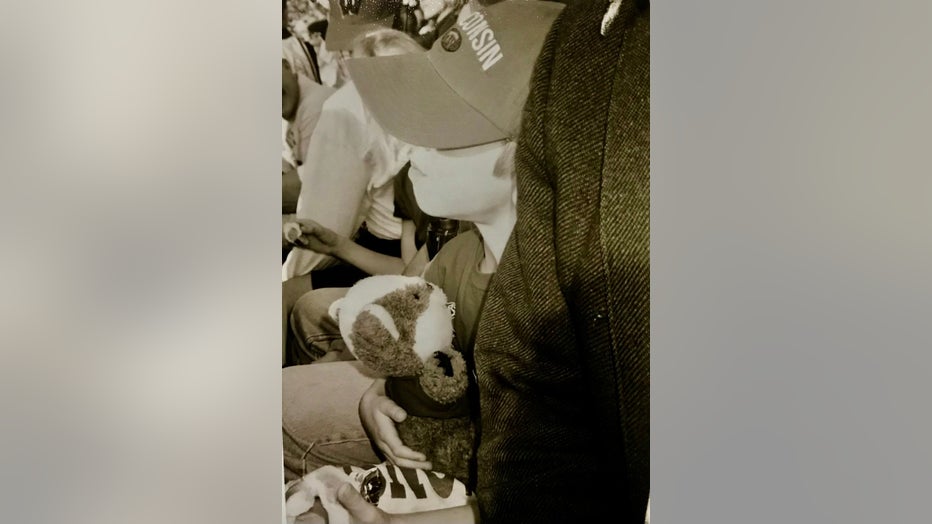 Throughout George's childhood, Bruce coached George. But there was one moment in particular that stood out in George's career.
George was in high school, and Bruce was watching from the end zone. 
George made an unbelievable, sprinting catch. 
SEE ALSO: Brock Purdy and Jalen Hurts meet after thriller 4 years ago
"I almost teared up," Bruce said, wide-eyed and smiling as the catch played out in his mind. "The defender was all over him, and I was like 'huh, I see you kid.'"
Last week, George made a similar bobbling, sprinting grab, but on a much larger stage, in the NFL playoffs against the Dallas Cowboys. 
The catch was a major momentum boost for San Francisco, and the Niners went on to win.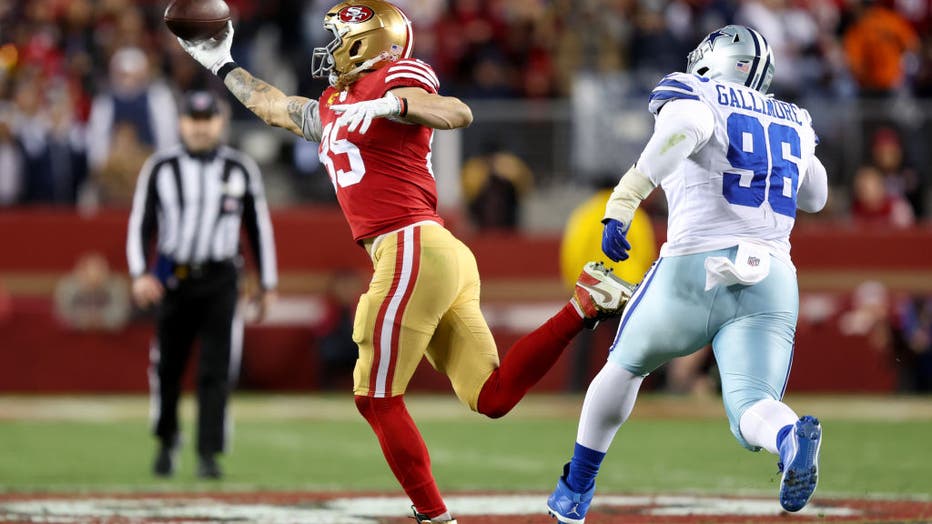 SANTA CLARA, CALIFORNIA - JANUARY 22: George Kittle #85 of the San Francisco 49ers catches a pass against the Dallas Cowboys during the third quarter in the NFC Divisional Playoff game at Levi's Stadium on January 22, 2023 in Santa Clara, California.
After the catch, George celebrated. Throughout the game, he was smiling, making faces and waving at the sky cam, which hovered above the field. 
He has fun, maybe more fun than any other NFL player on the field. 
Bruce chalks that up to George's grandmother.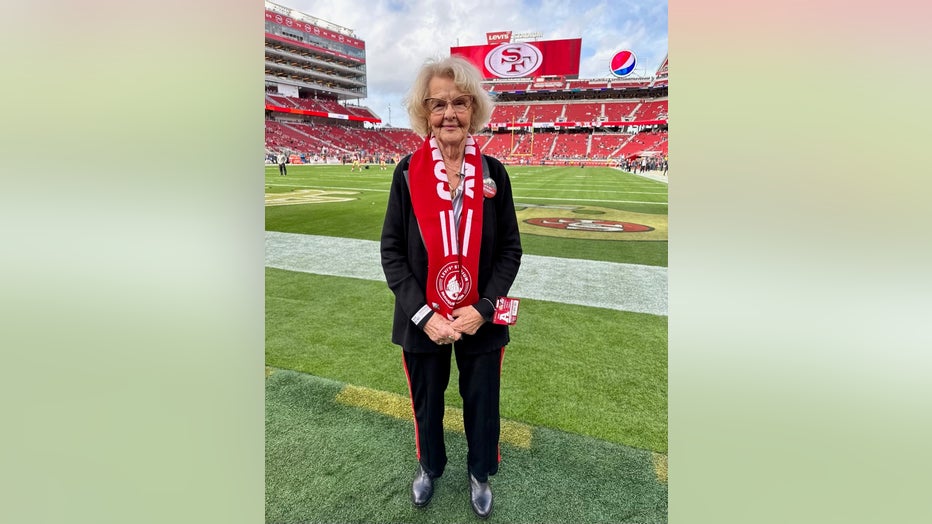 "Her favorite line is 'You have to take your good times with ya,'" Bruce said. 
'Fun' is a common word in the Kittle family. 'Go have fun' are the last words Bruce says to George before every game he plays. 
After the game against the Cowboys, George stayed on the field and took a lap around the stands, giving each waiting fan a high five.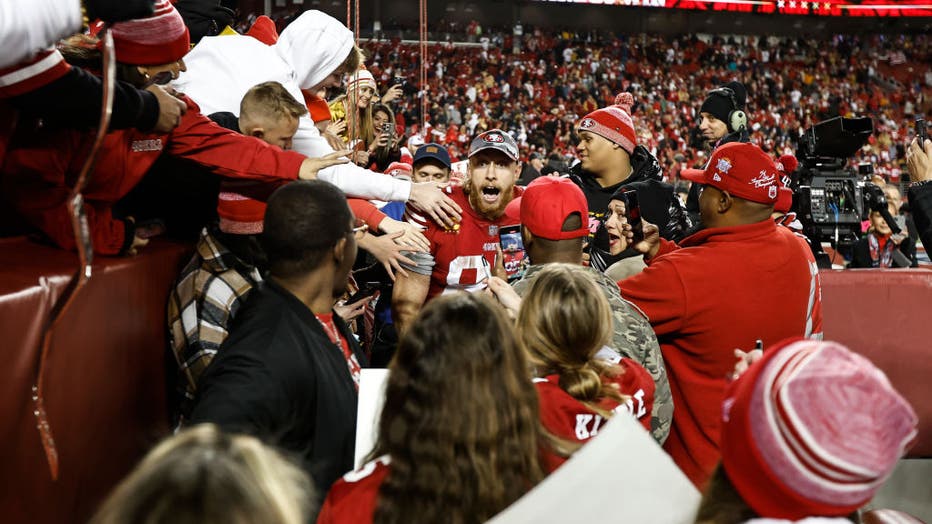 SANTA CLARA, CALIFORNIA - JANUARY 22: George Kittle #85 of the San Francisco 49ers celebrates with fans following an NFL divisional round playoff football game between the San Francisco 49ers and the Dallas Cowboys at Levi's Stadium on January 22, 20
"He's never forgotten what it felt like to be a little kid and want to be a fan," Bruce said. 
According to Bruce, one of George's biggest gifts in life is his natural ability to connect with people. 
That gift likely comes from the family's frequent moves when George was a kid as Bruce bounced around coaching jobs. One year, George went to three different schools. That forced him to interact with a wide variety of people. 
"He had to walk into a new classroom and meet people," Bruce said. 
And meet people he did, no matter what campus he was on, everybody knew George and loved him.
"George Kittle has never met a stranger," Greg Nation, George's high school football coach said. 
What you see with George, be it on the sideline, on the field, or around town, is what you get. He genuinely cares about the people he loves. And he loves to have fun. 
Bruce said George gets the most joy out of the little things in life, spending time with his family, friends, and his dog, playing football and building Lego sets-his parents get him a new one each Christmas.
And if one thing is certain, Bruce said George will leave it all out on the field in the NFC championship game on Sunday. And you know, he'll have fun doing it. 
"The ball will get rolled out, he'll click his heels, and let's go," Bruce said.