Brock Purdy and Jalen Hurts meet after thriller 4 years ago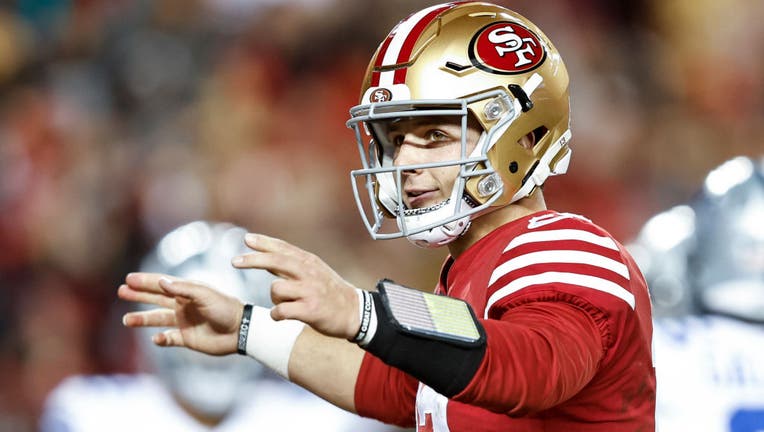 article
OAKLAND calif., - Brock Purdy and Jalen Hurts are no strangers.  
The two met for the first time in Nov 2019 in Norman, OK when Purdy's Iowa Cyclones took on Hurts' Oklahoma Sooners. 
John Walters, an Iowa State radio personality signed off from the airways after the game and predicted the future. 
"Thanks for listening and the next time Brock Purdy sees Jalen Hurts, it will be for an NFL championship game," Walters said. 
The two will meet for a second time, nearly four years later on Sunday night for the NFC Championship game in Philadelphia. 
SEE ALSO: Bay Area legends flock to Santa Clara to cheer on the 49ers
In 2019, in their first matchup, Hurts transferred to Oklahoma after losing the starting job to now Miami Dolphins starting quarterback, Tua Tagoovailoa at Alabama. In Hurts sole season in Norman, OK, Hurts and the Sooners found themselves fending off Iowa State. 
In the game, the no. 9 Sooners jumped out to a 35-14 halftime lead. 
But, Purdy was pesky. 
SEE ALSO: 49ers' Brock Purdy can cook it up in the kitchen and on the field
After the teams each traded scores in the third quarter, the Cyclones scored three touchdowns in the fourth quarter to make it a one point game. 
With 24 seconds left in regulation, the Iowa State coaching staff opted to go for a two point conversion and win rather than a tie it with a point after attempt. 
Purdy was picked off. Hurts and Oklahoma narrowly beat Iowa State. 
It's safe to say Purdy likely hasn't forgotten losing to a favored Hurts on the road.  
The Eagles are favored to win Sunday's NFC title game. 
The game kicks off at 12:00 p.m. on FOX.