San Francisco 49ers release 2021 schedule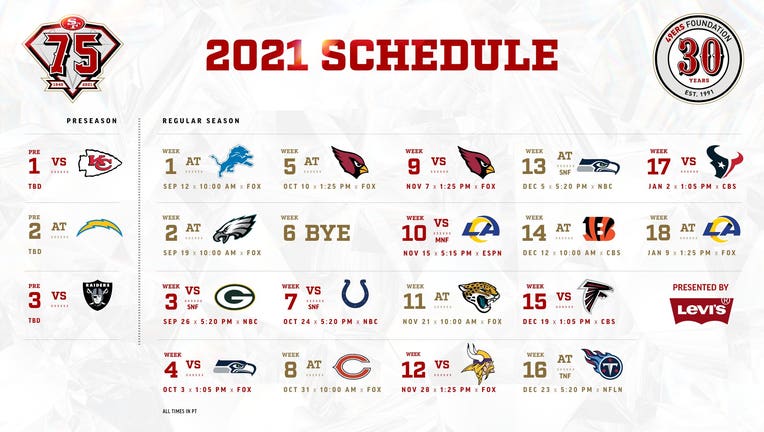 article
SANTA CLARA, Calif. - The San Francisco 49ers released their 2021 schedule of preseason and regular season games Wednesday evening.
The team will start the regular season with two games on the road. They're scheduled to play three Sunday night games.
The 49ers play their home opener on Sept. 26 against the Green Bay Packers. That follows two preseason games at home, against the Kansas City Chiefs and the Oakland Raiders. 
Notably, all three preseason games are TBD in terms of date and time. 
The 49ers close their season in Los Angeles in a Jan. 9 2022 game against the Rams.
2021 Regular Season
Sept. 12 at Detroit, 10 a.m. (FOX)
Sept. 19 at Philadelphia, 10 a.m. (FOX)
Sept. 26 Green Bay, 5:20 p.m. (NBC)
Oct. 3 Seattle, 1:05 p.m. (FOX)
Oct. 10 at Arizona, 1:25 p.m. (FOX)
Oct. 17 BYE
Oct. 24 Indianapolis, 5:20 p.m. (NBC*)
Oct. 31 at Chicago, 10 a.m. (FOX)
Nov. 7 Arizona, 1:25 p.m. (FOX)
Nov. 15 Los Angeles Rams (Mon), 5:15 p.m. (ESPN)
Nov. 21 at Jacksonville, 10 a.m. (FOX)
Nov. 28 Minnesota, 1:25 p.m. (FOX)
Dec. 5 at Seattle, 5:20 p.m. (NBC*)
Dec. 12 at Cincinnati, 10 a.m. (CBS)
Dec. 19 Atlanta, 1:05 p.m. (CBS)
Dec. 23 at Tennessee (Thu), 5:20 p.m. (NFLN)
Jan. 2 Houston, 1:05 p.m. (CBS)
Jan. 9 at Los Angeles Rams, 1:25 p.m. (FOX)
2021 Preseason Schedule
TBD vs Chiefs
TBD at Chargers
TBD vs Raiders