2 Bay Area residents get prison for plot to bomb California Democratic HQ
SAN FRANCISCO - Two California men who pleaded guilty to plotting to firebomb the state Democratic Party's headquarters and other buildings in Northern California after the defeat of former President Donald Trump were sentenced Wednesday to federal prison.
Ian Benjamin Rogers, of Napa, was sentenced to nine years in prison as part of a plea agreement. He pleaded guilty last year to conspiring to destroy the building in Sacramento by fire or explosives, possessing an explosive device and possessing a machine gun.
Rogers' co-defendant, Jarrod Copeland of Vallejo, was sentenced to three years in prison after a brief closed hearing, the Sacramento Bee reported.
Roger's sentencing comes six months after U.S. District Judge Charles E. Breyer initially rejected the proposed plea agreement, saying he was concerned that Rogers hadn't shown any remorse for his actions when he told probation officials for a pre-sentencing report that he felt bad for putting himself in a situation "that allowed the government to destroy my life." Breyer said he was concerned Rogers could pose a danger to society.
Breyer ordered Rogers to undergo a psychiatric examination before deciding on a sentence.
PREVIOUS COVERAGE: 2 Bay Area men charged with plotting to blow up California Democratic headquarters, Twitter offices
During the sentencing hearing Wednesday, the judge said a University of California, San Francisco psychiatrist who examined Rogers found the former auto repair shop owner could be a productive member of society if he underwent treatment for his alcoholism.
Breyer said he took into consideration that report and a three-page handwritten letter submitted by Rogers after his initial sentencing hearing that the judge said he found "sincere" when deciding to accept the plea deal that called for a sentence of seven to nine years in federal prison.
"At the time, I believed the election was stolen," Rogers wrote in his letter to the judge. "At the time, I believed things said by the Trump administration. At the time, I was in a dark place in my life and I was abusing alcohol and acting out, in part, because of it. I was wrong in my thinking."
Rogers told the judge Wednesday he was fighting a drinking problem that was exacerbated by the pandemic when he saw his business revenue drop by 40%.
"Unfortunately for me, I said a lot of silly stupid things I did not mean while I sat at home and intoxicated," Rogers said. "I am sorry for all these things I said, but I can assure you I never seriously meant them in any way. They were just dumb, stupid drunken thoughts."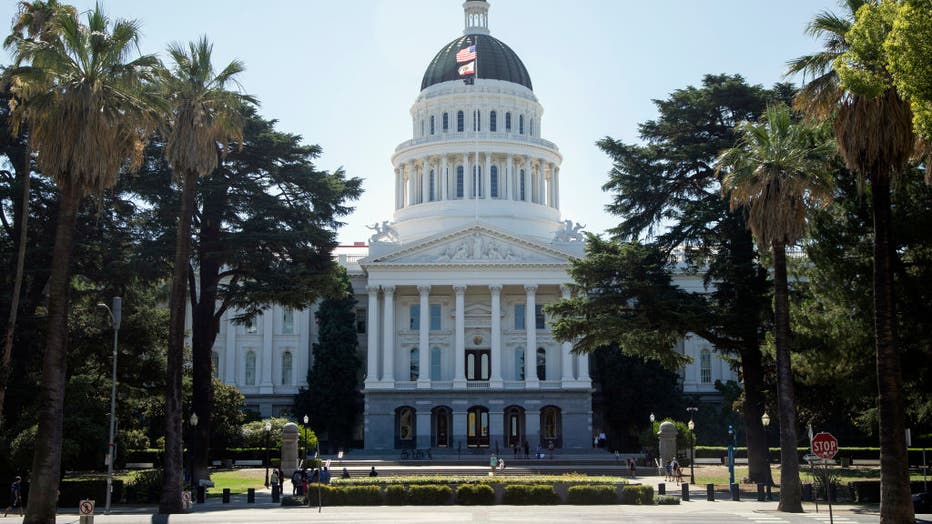 SACRAMENTO, CA - July 17: California state Capitol for file art. Photographed at state Capitol on Sunday, July 17, 2022 in Sacramento, CA. (Myung J. Chun / Los Angeles Times via Getty Images)
California Democratic Party Chair Rusty Hicks addressed the judge and said learning of the plot caused mental and emotional harm to about two dozen employees and volunteers who regularly work out of the party's headquarters, and that it prompted the party to invest more money in security at the building.
"While we've sadly become pretty accustomed to the red-hot political rhetoric of today's political landscape, we were certainly shocked to see that the party was the intended target for political violence," Hicks said.
Hicks said he agreed with the plea deal because the party "has had a long-standing commitment to restorative justice and a deeply held belief in the power and the possibility of redemption for every single person."
Prosecutors said Rogers and his co-defendant, Jarrod Copeland, used an encrypted messaging application to tell Copeland to plan an attack with Molotov cocktails and gasoline on several targets, including the Democratic Party headquarters, the Governor's Mansion, and buildings for social media companies Facebook and Twitter. Gov. Gavin Newsom and his family do not live at the mansion.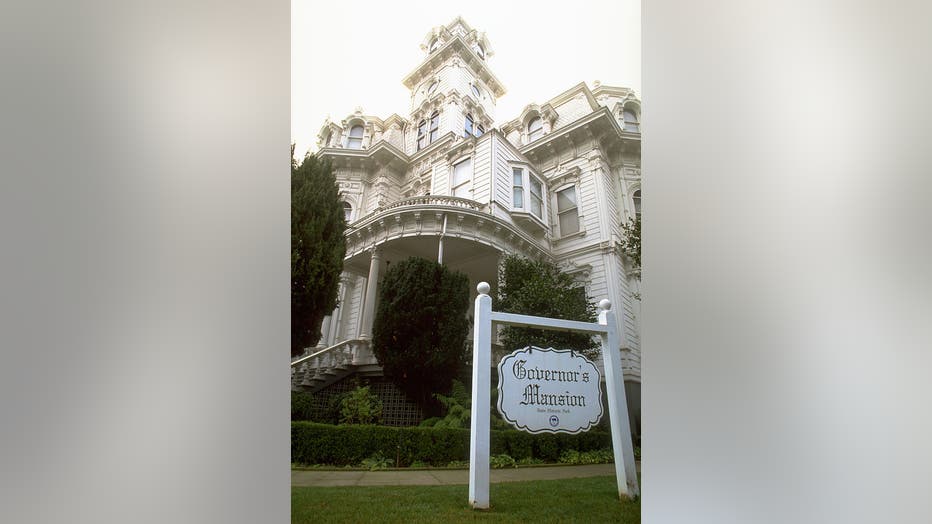 California Governor's Mansion (Photo by © Robert Holmes/CORBIS/Corbis via Getty Images)
"I want to blow up a democrat building bad," Rogers wrote in one of the messaging apps he used to communicate with Copeland, according to the indictment. In a different message, he said that after Democratic President Joe Biden was inaugurated, "we go to war."
The pair "hoped their attacks would prompt a movement," prosecutors said when they announced the charges in July 2021.
Napa County Sheriff's Office deputies secured search warrants after receiving an anonymous tip that Rogers possessed illegal guns and, after searching his home and business, seized nearly 50 firearms, including four fully automatic rifles, thousands of rounds of ammunition and five pipe bombs, prosecutors said.
Rogers also faces possession of illegal firearms and bombs charges in Napa County, where his next court appearance is scheduled for Friday.
Prosecutors said that in late December 2020, Copeland, his co-defendant, told Rogers he contacted an anti-government militia group to gather support for their movement. After Rogers' arrest in January 2021, they say Copeland communicated with a leader of a militia group who advised Copeland to delete his old messages and switch to a new communication platform.
Copeland previously pleaded guilty to conspiracy and destruction of records.
His sentencing was put on a brief hold Wednesday after Copeland's attorney asked the judge to close the courtroom to the public and press because of concerns for his client's safety.
The sentencing portion of the hearing was opened after a 15-minute closed session, and an emotional Copeland read a prepared statement in which he apologized to Democratic Party workers he said he knew he had terrified, the Sacramento Bee reported. ′
"I'm truly ashamed of myself," he said. "I ask for your forgiveness."