49ers running back Bush ready to prove himself again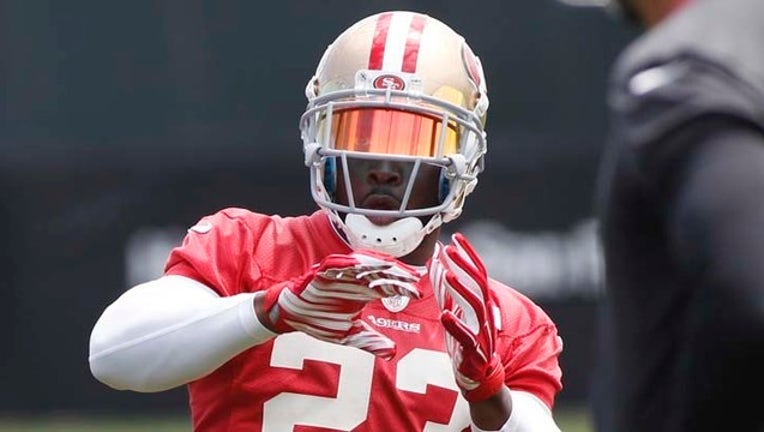 article
SANTA CLARA, Calif. (AP) -- Reggie Bush wants to return punts again, and he brought up the idea to the San Francisco 49ers when he joined the team as a free agent this spring.
So, there was Bush catching punts from the machine under a cloudy sky Thursday with his new team. He will begin his 10th NFL season with his fourth team having not been a regular punt returner since his final season for New Orleans in 2010.
"It's amazing how time flies," Bush said after a practice in which he was easy to spot given his bright orange shoes. "I thought I was going to be young forever when I first came into the league. Now, 10 years later it feels like it flew by. Looking back on it, sometimes it still feels surreal that I've been in the league that long and played that long. But I still feel like I have a lot left to give."
Bush -- who grew up rooting for the 49ers in Southern California -- played in only 11 games with nine starts last season with the Lions because of injuries, including an ankle issue. He carried 76 times for 297 yards and two touchdowns.
Bush said joining the 49ers "just felt right," and that's why he wants to do everything he can to be on the field even if it means a steady role of special teams. He and former Australian league rugby star Jarryd Hayne were the only two practicing punt returns Thursday.
"I've done it my whole career. Getting out there and catching punts for me, I didn't feel like I'm missing a beat or I've gotten rusty," Bush said. "It's another challenge for me and another opportunity for me to go out there and showcase my skills. It was my idea. I told coaches that I wanted to return punts again. They were excited about it."
Bush didn't return punts in two seasons with Detroit following two with Miami.
He joins a running backs corps that includes a healthy Kendall Hunter and second-year pro Carlos Hyde, who didn't practice Thursday but was at team headquarters.
They have a big job to try to fill the void with the loss of franchise rushing leader Frank Gore to the Indianapolis Colts this offseason. Bush is already making an impression.
"Reggie!" wide receiver Quinton Patton hollered when he walked past the running back's locker.
Rookie Mike Davis already learned plenty about quarterback Colin Kaepernick's zippy passes.
"Kaep owe me a new thumb," Davis posted on Twitter with an unhappy face next to it. He seemed fine during a 90-minute practice.
Bush even had a few reps at wide receiver during team drills, finding creative ways to get him involved in the offense.
The Lions signed Bush as a free agent before the `13 season, hoping he would boost their offense. Then he ran for 1,006 yards, the second-highest total of his career and finished with 1,512 total yards from scrimmage. Drafted by New Orleans out of Southern California in 2006 with the No. 2 overall pick, he helped the Saints win a Super Bowl before spending two seasons in Miami.
Hunter, 26, made several quick bursts on the field and showed that he is fully recovered from a knee injury.
"Getting better by the day," he said. When you've got the ball, everything goes blank. You're in your zone. Once I'm out there I don't think about the injury. When you're able to play the game and have another chance to be back out there, it's a blessing. I cherish every moment of it."
Hunter tore the anterior cruciate ligament in his right knee during training camp last summer. That came after he worked himself back from a torn left Achilles tendon that sidelined him for the final two months of the team's 2012 Super Bowl season.
Filling Gore's shoes will be a long-term project.
"Frank's a legend. He's like a big brother to me," Hunter said. "We've got a good group that loves to compete."