5th Dublin prison guard heads to sex abuse trial; fellow officer to testify against him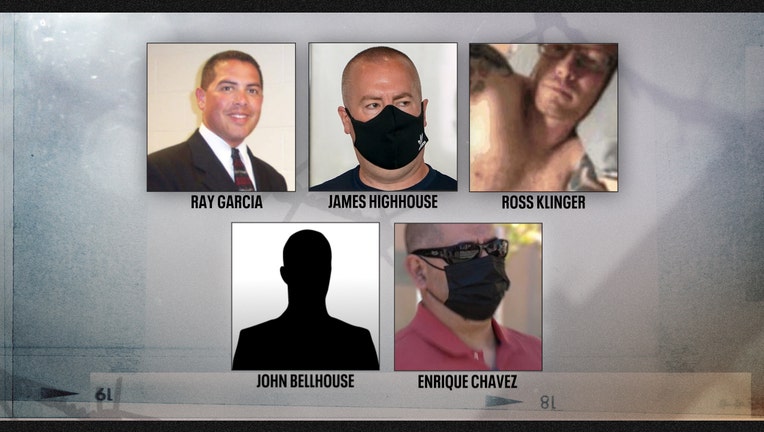 article
DUBLIN, Calif. - The fifth correctional officer charged with sex crimes at the Federal Correctional Institute at Dublin is heading to trial, where women – and a fellow officer – are expected to testify that he engaged in oral sex, touched their breasts and gave them contraband, such as extra food, energy drinks and jewelry.
Most of the witnesses the U.S. Attorney's Office laid out to testify against John Russell Bellhouse, 39, of Pleasanton are women he allegedly fondled and other prison employees. 
But for the first time, Ross Klinger, a former correctional officer also charged with sex crimes, is expected to testify against his former colleague. 
According to the prosecutors' witness list filed in U.S. District court in Northern California, Klinger will testify about his interactions with Bellhouse, including the fact that he saw Bellhouse passing notes to women and that he witnessed women serving as lookouts for Bellhouse when he wanted to be alone with other women in his office.
Klinger will also testify that he saw Bellhouse "dry hump" a woman named Ana and that he gave contraband to women on multiple occasions, according to the prosecutors' witness list.
It is illegal for any officer to have sex with an incarcerated person. 
Bellhouse has pleaded not guilty to a six-count superseding indictment alleging sexual abuse of a ward and abusive sexual contact involving three women from 2018 to 2021, when he was placed on leave. He and his lawyer, Shaffy Moeel, have denied repeated requests for comment. 
Bellhouse is the only one of the five officers charged with sex crimes who KTVU does not have a picture of. He has been allowed to live in Colorado since his arrest and his mother co-signed a $50,000 bond.
Klinger, a former recycling technician at FCI Dublin, pleaded guilty in February 2022 to three counts of sexual abuse of a ward. 
But Klinger has yet to be sentenced, prompting questions from at least one of his victims, Andrea Reyes, who lives about 10 minutes away from him in Southern California, about why he has been allowed to be out of custody for so long. 
Klinger's willingness to testify may be the key reason his sentencing has been delayed. 
Other witnesses on the prosecution's list include women who will testify Bellhouse fondled them and gave them presents as favors. 
For example, Ana will testify that Bellhouse expressed a romantic interest in her, called her his girlfriend and promised to be with her when she was released, prosecutors state. 
She is expected to testify that Bellhouse brought her food from outside the prison for the entire safety and recycling crew, where he was a supervisor, and would kiss and touch her in his office with the door closed. 
Prosecutors also said that Ana will testify that Bellhouse gave her earrings and a necklace and she gave him pictures of herself. Ana also will say she performed oral sex on Bellhouse at least twice, according to prosecutors. 
Jury selection begins on May 26. 
So far, US attorneys have charged five officers in a sex abuse scandal that has reached all the way to Congress.
However, in May 2022, KTVU learned that at least an additional 25 officers were placed on leave amidst a wider investigation looking into abuses that allege inappropriate sex, use of drugs and falsifying records. 
So far, none of these officers have been charged, frustrating many women and their attorneys on why the investigations are taking so long. 
Of the remaining four officers who were charged with sex crimes: Former Warden Ray Garcia was sentenced to nearly six years in prison and he must surrender on May 19; former FCI Dublin cook Enrique Chavez was sentenced to nearly two years in prison; former prison chaplain James Theodore Highhouse was sentenced to seven years in prison, and Klinger's next court date, a status conference, is scheduled for June 28. 
 Lisa Fernandez is a reporter for KTVU. Email Lisa at lisa.fernandez@fox.com or call her at 510-874-0139. Or follow her on Twitter @ljfernandez