7 Urban Shield protesters file claim of excessive force by Berkeley police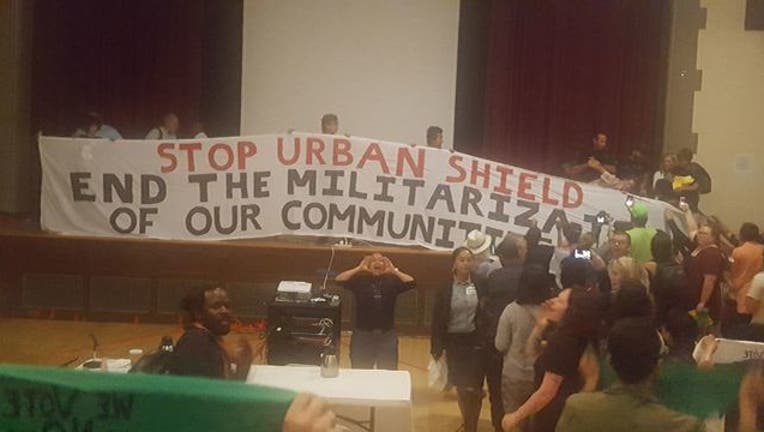 article
BERKELEY (BCN) Seven people who say they were injured by Berkeley police during a 
protest at the close of a City Council meeting in June filed an administrative claim against the city today.
The claim is a required first step before the claimants can file a lawsuit against the city. The city has 45 days to respond.
Rachel Lederman, a lawyer for the protesters, said they are "strongly considering" filing a lawsuit if the claim is rejected.
According to the claim, the seven people were among several hundred who attended the City Council's meeting at Longfellow Middle School on June 20 to urge the city to withdraw from participating in Urban Shield, an annual regional disaster-response training program.
The claim alleges Berkeley police officers used "aggressive and unnecessary force" and failed to seek a peaceful resolution.
Lewis Williams, 74, a retired elementary school teacher, alleges that an unknown officer hit him on the back of the head with a baton outside the auditorium, causing a laceration and a concussion.
Williams said in a statement, "I felt this blow on top of my head and then blood came streaming out. It seemed totally gratuitous that they would hit me like that."
Sharon Fennema, a minister and professor at the Pacific School of Religion in Berkeley, was allegedly struck by an officer on the arms, hands and shoulder outside the auditorium.
Two men who participated in unfurling a banner that said "Stop Urban Shield" on the auditorium stage as the council meeting was ending claim that officers restrained them with excruciating pain holds without giving them a chance to leave or submit to a peaceful arrest.
City of Berkeley spokesman Matthai Chakko said, "We have no comment on pending litigation."