A return to Pebble for the Big Easy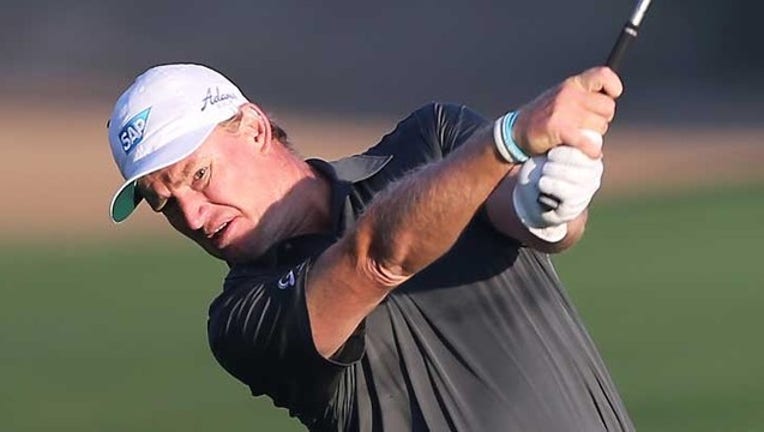 article
PEBBLE BEACH, Calif. (AP) — Ernie Els returned to Spyglass Hill for nine holes of practice at the AT&T Pebble Beach National Pro-Am and nothing looked familiar to him.
Of course, there's a reason for that.
Els had not been to Spyglass since he was 14. He came over to the Monterey Peninsula in 1984 to play with his father before heading south to San Diego to compete in the Junior World Championship, which the South African won over a local kid named Phil Mickelson.
Mickelson has played the Pebble Beach National Pro-Am the last 20 years, winning four times. Lefty is having to skip this year because his kids are on spring break. In his place is Els, who doesn't have many good memories around these parts.
His other appearance at the PGA Tour stop was in 1996. That was the year a relentless rain from El Nino pounded Pebble Beach to the point the tournament was canceled after 36 holes.
"They gave us each five grand and we left. Didn't quite cover my hotel bill," Els said with that easy laughter. "But we left and haven't returned since, until now. So I'm pleased to be back and the weather looks like it's going to be good."
Jimmy Walker is the defending champion when the AT&T Pebble Beach National Pro-Am begins Thursday over three courses — Spyglass Hill, Monterey Peninsula's Shore Course and Pebble Beach. Jason Day is fresh off his win at Torrey Pines and can move to No. 2 in the world with a victory. Jordan Spieth, Patrick Reed and Jim Furyk also contribute to a good field that features 12 of the top 30 in the world.
It's not that Els has stayed entirely away. He did return in 2000 and in 2010 for the U.S. Open and has not finished worse than third, though that's misleading. He was runner-up in 2000 by 15 shots to Tiger Woods. Ten years later, Els had a share of the lead as he approached the turn in the final round when he imploded on the back nine with a few loose shots and lot of missed putts. He shot 40 on the back finished third.
"That still hurts," Els said. "I really felt like I let one go there. I really didn't feel good after that one. My game kind of suffered after that. I really lost my putting after into 2011. I went to the belly (putter) in 2012. Won The Open Championship, but I never really regained really great form. So it's nice to be back and just to play Pebble and all these great courses is obviously a treat. But in 2010, I really felt I let one go there."
Els no longer has the belly putter, and he is more optimistic about his game.
The Big Easy took a different route than Webb Simpson when the governing bodies adopted a new rule for 2016 that outlaws the anchored stroke used for the belly putter. Knowing there was only one year left, Simpson broke his belly putter over his knee late last year to force himself to use a conventional club.
Els simply added more tournaments.
He played 32 times around the world in official tournaments last year. Sure, he got some financial incentives at some stops. But for a 44-year-old with four majors and nothing left to prove, it was no less amazing to see him play one stretch of seven straight tournaments and another stretch of a nine straight tournaments. The goal was to keep playing, keep putting, keep studying old video to return to the technique and get the feel back through competition.
On a tour loaded with kids nearly half his age, he still thinks he can give them his best shot.
"To keep making a comeback, keep coming back, coming back, it gets harder," Els said. "As you get older, it gets harder. Because the longer you stay away, the harder it is to get back to your level. You've got to get better to have better results, because the kids are getting better. There's more of them. So it's tough. I've been in the hole a couple of times and I've been digging myself out of it a couple of times now and it's a lot of work and it takes a lot of time.
"It took me all year last year to get comfortable on the greens."