Ambidextrous A's pitcher makes debut in Red Sox's win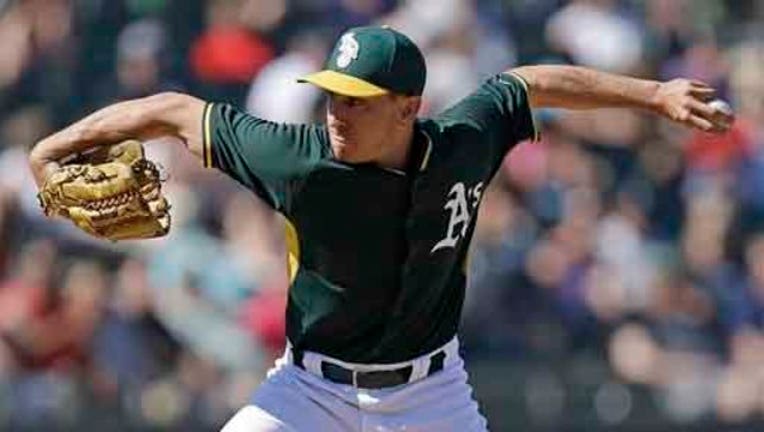 article
BOSTON (AP) — Oakland's Pat Venditte became the first pitcher in 20 years to throw with both arms in the same game. But the Boston Red Sox beat the Athletics 4-2 on a night a fan sustained life-threatening injuries when she was struck by a broken bat Friday.
The game was delayed after the top of the second when a woman was removed by stretcher from the Fenway Park stands bleeding from the head after being hit when Oakland's Brett Lawrie broke his bat on a groundout to second base for the second out of the inning.
Boston police spokesman David Estrada says all or part of the bat hit her and her injuries were life threatening. She was taken to Beth Israel Deaconess Medical Center.
Dustin Pedroia had three hits for Boston, which led 3-0 after four innings and ended Oakland's four-game winning streak.
Wade Miley (5-5) allowed an RBI single to Marc Canha in the fifth, but Boston made it 4-1 on a run-scoring single by Brock Holt in the bottom of the inning off Scott Kazmir (2-4).
Lawrie led off the seventh with his fifth homer of the year.
Miley allowed two runs on six hits in 7 1-3 innings. Junichi Tazawa got the last two outs in the eighth and Koji Uehara escaped a second-and-third jam in the ninth for his 12th save in 14 opportunities.
Venditte entered the game to start the eighth for his major league debut after being called up Friday from Triple-A Nashville. The Fenway organist played Joni Mitchell's, "Both Sides, Now," as Venditte made his way to the mound.
He started throwing warmup pitches with his right hand then switched to his left to face lefty Holt, who grounded out to first.
Venditte then pitched right-handed to Hanley Ramirez, who singled, and to Mike Napoli, who grounded into a double play.
Boston took a 1-0 lead in the first when Pedroia singled and scored when Holt doubled and left fielder Ben Zobrist made an error trying to field the ball. Ramirez hit a sacrifice fly in the third. In the fourth, Xander Bogaerts doubled and scored on Mookie Betts' infield single and a throwing error by third baseman Lawrie.
TRAINER'S ROOM
Athletics: C Stephen Vogt sat out the game after having leg cramps while chasing a foul pop in Thursday's win at Detroit. Josh Phegley replaced him.
Red Sox: RHP Justin Masterson, on the 15-day DL with shoulder tendinitis, made a rehab start for Double-A Portland. In 4 2-3 innings, he allowed two runs, both earned, eight hits and one walk with two strikeouts.
UP NEXT
Athletics: RHP Jesse Chavez 2-5, 2.11 ERA) pitches the second game of the three-game series. He pitched eight innings in each of his last two appearances while allowing no earned runs.
Red Sox: RHP Joe Kelly (1-4, 5.83) goes for his second straight solid outing. He has given up a total of four earned runs in three of his last four starts and seven earned runs in the other.