Arkansas prepares to wrap up aggressive execution schedule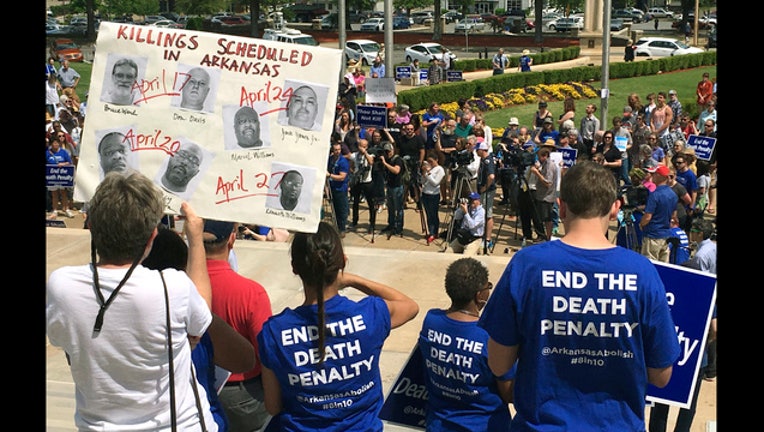 article
VARNER, Ark. (AP) -- Arkansas executed its fourth inmate in eight days Thursday night, wrapping up an accelerated schedule of lethal injections that was set to beat the expiration date of one of the drugs.

Kenneth Williams, 38, was pronounced dead at 11:05 p.m., 13 minutes after the execution began at the Cummins Unit prison at Varner. A prison spokesman said Williams shook for approximately 10 seconds, about three minutes into the lethal injection.

An Associated Press reporter who witnessed the execution said Williams lurched and convulsed several times during the execution.

"I extend my sincerest of apologies to the families I have senselessly wronged and deprived of their loved ones," Williams said in a final statement he read from the death chamber. "...  I was more than wrong. The crimes I perpetrated against you all was senseless, extremely hurtful and inexcusable." Williams also spoke in tongues during his last statement.

Williams was sentenced to death for killing a former deputy warden after he escaped from prison in 1999. At the time of his escape in a 500-gallon barrel of hog slop, Williams was less than three weeks into a life term for the death of a college cheerleader.

Arkansas had scheduled eight executions over an 11-day period before one of its lethal injection drugs expires on Sunday. That would have been the most in such a compressed period since the U.S. Supreme Court reinstated the death penalty in 1976, but courts issued stays for four of the inmates.

"The long path of justice ended tonight and Arkansans can reflect on the last two weeks with confidence that our system of laws in this state has worked," Gov. Asa Hutchinson said in a statement issued after the execution. "Carrying out the penalty of the jury in the Kenneth Williams case was necessary. There has never been a question of guilt."

The four lethal injections that were carried out included Monday's first double execution in the United States since 2000.

State officials have declared the string of executions a success, using terms like "closure" for the victims' families. The inmates have died within 20 minutes of their executions beginning, a contrast from midazolam-related executions in other states that took anywhere from 43 minutes to two hours. The inmates' lawyers have said there are still flaws and that there is no certainty that the inmates aren't suffering while they die.

Arkansas scheduled the executions for the final two weeks of April because its supply of midazolam, normally a surgical sedative, expires on Sunday. The Arkansas Department of Correction has said it has no new source for the drug -- though it has made similar remarks previously yet still found a new stash.

Williams' lawyers said he had sickle cell trait, lupus and brain damage, and argued the combined maladies could subject him to an exceptionally painful execution in violation of the U.S. Constitution. Arkansas' "one size fits all" execution protocol could leave him in pain after a paralytic agent renders him unable to move, they'd argued.

"After the state injects Mr. Williams with vecuronium bromide ... most or all of the manifestations of his extreme pain and suffering will not be discernible to witnesses," they wrote to the Arkansas Supreme Court, which rejected his request to stop the execution.

The U.S. Supreme Court also denied requests for a stay, including one that argued his claims of intellectual disability had not been fully explored.

Williams was sentenced to death for killing Cecil Boren after escaping from the Cummins Unit prison in a barrel holding a mishmash of kitchen scraps. He left the prison -- where the execution chamber is located in another part of the facility -- less than three weeks into a life prison term for killing University of Arkansas at Pine Bluff cheerleader Dominique Hurd in 1998. At the conclusion of that trial, he had taunted the young woman's family by turning to them after the sentence was announced and saying "You thought I was going to die, didn't you?"

After jumping from the barrel, he sneaked along a tree line until reaching Boren's house. He killed Boren, stole guns and Boren's truck and then drove away to Missouri. There, he crashed into a water-delivery truck, killing the driver. While in prison, he confessed to killing another person in 1998.

At the time of Boren's death, investigators said it did not appear Boren was targeted because of his former employment by the Arkansas Department of Correction.