Beyoncé has a birthday wish: Become a 'human disco ball'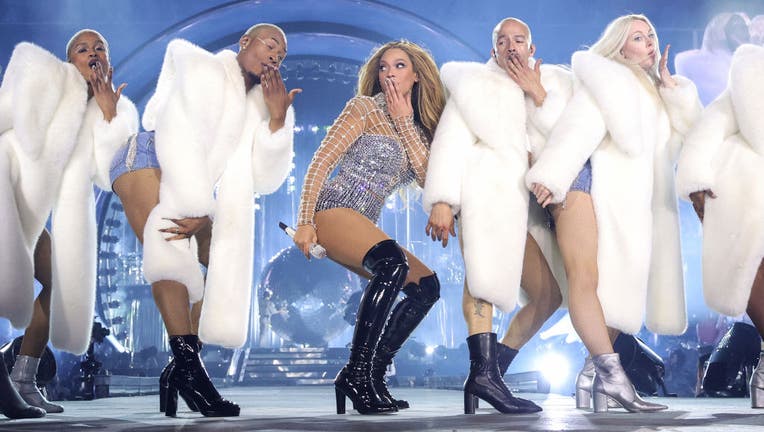 article
Outfits may need to be re-planned, as Beyoncé requests the Beyhive to adhere to a dress code for the remainder of the Renaissance World Tour; but in her own words, "Please do be alarmed, remain calm."
The (Alien) superstar, whose birthday falls on Labor Day this year, is asking attendees to wear their most "fabulous silver fashions" for the rest of the tour, which ends on Sept. 22 in Kansas City. 
"As we approach the last month, my birthday wish is to celebrate with you wearing your most fabulous silver fashions to the shows 8.23-9.22! We'll surround ourselves in a shimmering human disco ball each night," Beyoncé said in an Instagram story Wednesday.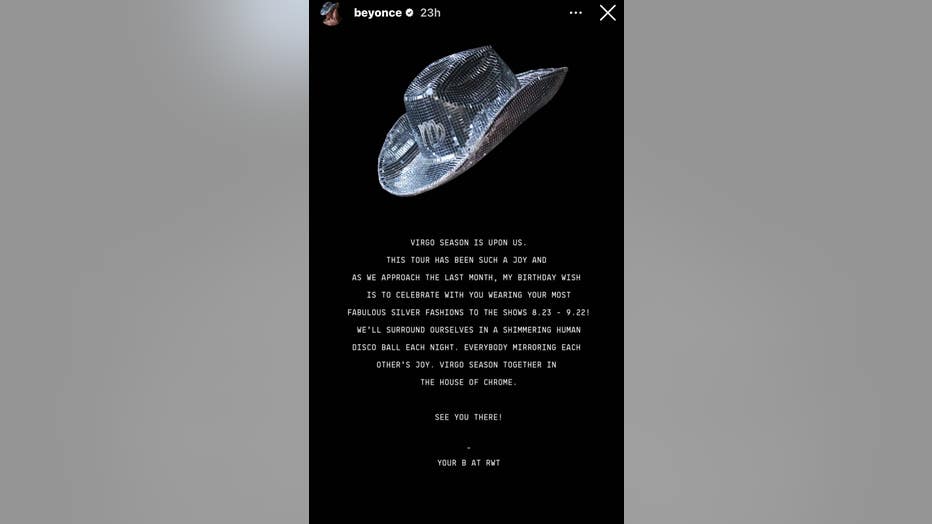 Several fans have already adhered to this request before it was made, wearing all things silver.
23-year-old Beyhive fan at Fedex Field for Beyoncé's "Renaissance" tour on Aug. 6 in Landover, MD.
The Virgo vixen will be performing at Sofi Stadium in Inglewood on her birthday, one of several days that were added after demand exceeded tickets by over 800%
Beyoncé began her international tour in Stockholm and has since brought her eldest daughter Blue Ivy on tour with her for several performances. 
RELATED COVERAGE: Beyoncé gets curfew extension for show at Levi's Stadium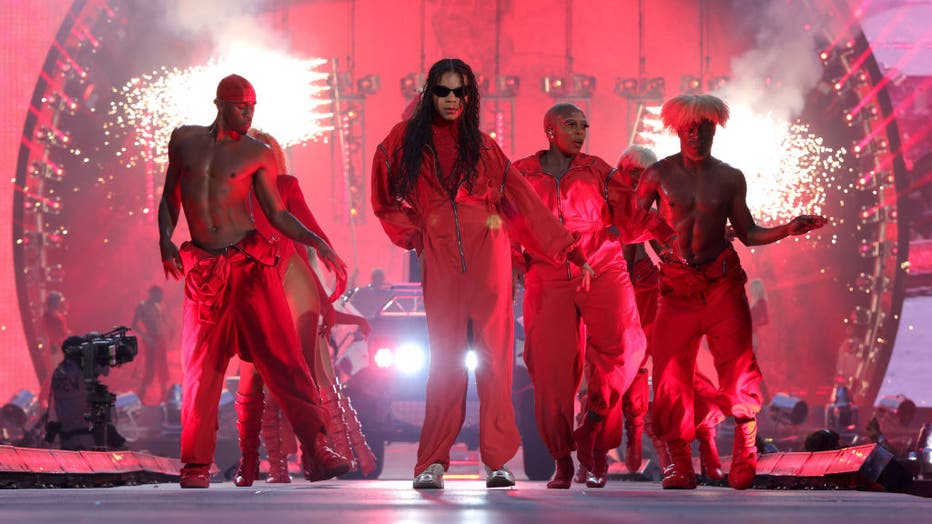 LONDON, ENGLAND – May 29: (EDITORIAL USE ONLY) Blue Ivy Carter perform onstage during the Beyoncé "RENAISSANCE WORLD TOUR" at the Tottenham Hotspur Stadium on May 29, 2023 in London, England. (Photo by Kevin Mazur/WireImage for Parkwood )
Her seventh album "act i RENAISSANCE" is an ode on black ballroom and House culture, a subculture created by queer black and brown artists.
AMSTERDAM, NETHERLANDS - JUNE 17: (EDITORIAL USE ONLY) (EXCLUSIVE COVERAGE) Beyoncé performs onstage during the "RENAISSANCE WORLD TOUR" at the Johan Cruyff Arena on June 17, 2023, in Amsterdam, Netherlands. (Photo by Kevin Mazur/WireImage for Parkwood)
The Houston native last did a solo tour in 2016 with her sixth studio album "Formation" and toured again with her husband and New York rapper Jay-Z in 2018 for their "On The Run" tour, according to Good Morning America.
A "unique" aspect of her tour includes the "Mute Challenge," done during the song "Energy," where she and the dancers are silent for eight seconds, and encourages the audience to follow suit. The previous winner of the challenge was Washington, D.C. but was soon dethroned by Atlanta, according to the singer herself. 
Her next tour is Thursday in Phoenix. Queen Bey arrives in Santa Clara on Aug. 30 before heading further south for the remainder of her California shows.