Blue for Damar Hamlin: Tributes pour in for injured Buffalo Bills player
National monuments, skylines, stadiums and social media profiles have all turned blue as a tribute to Damar Hamlin following his terrifying collapse during Monday night's football game. 
Fellow NFL teams changed their social media profile pictures to sport Hamlin's jersey and number with many accompanied by the caption, "For Damar," followed by two heart emojis. 
The term, "For Damar," was one of the top trends on Twitter Tuesday. 
Niagara Falls announced it would illuminate the iconic natural wonder in blue in support of Hamiln Tuesday evening. The downtown Cincinnati skyline and Cincinnati's Paycor Stadium were lit up with blue Monday night as fans continue praying for a speedy recovery for the Buffalo Bills safety, who remains in critical condition at the University of Cincinnati Medical Center. 
What's more, donations began to pour into Hamlin's toy drive fundraiser, The Chasing M's Foundation Community Toy Drive, which originally had a goal of $2,500 but as of Tuesday following Hamlin's injury, the fundraiser has now reached over $4.6 million in donations.  
"We are deeply moved by the prayers, kind words and donations from fans around the country," Hamlin's family wrote in a message posted on the Twitter account of the player's marketing representative, Jordon Rooney. "Your generosity and compassion has meant the world to us." 
The family also thanked the first responders, medical staff at UC Medical Center, the Bills and Cincinnati Bengals for their support. 
Hamlin's teammates also rallied to his support. 
"Damar Hamlin is a kind caring extremely hard worker. He is loyal honest and can always put a smile on your face," Bills offensive lineman Rodger Saffold wrote in a Twitter post. "He is more than an athlete, he is a son and brother. I pray God gives him mercy and brings him back to us."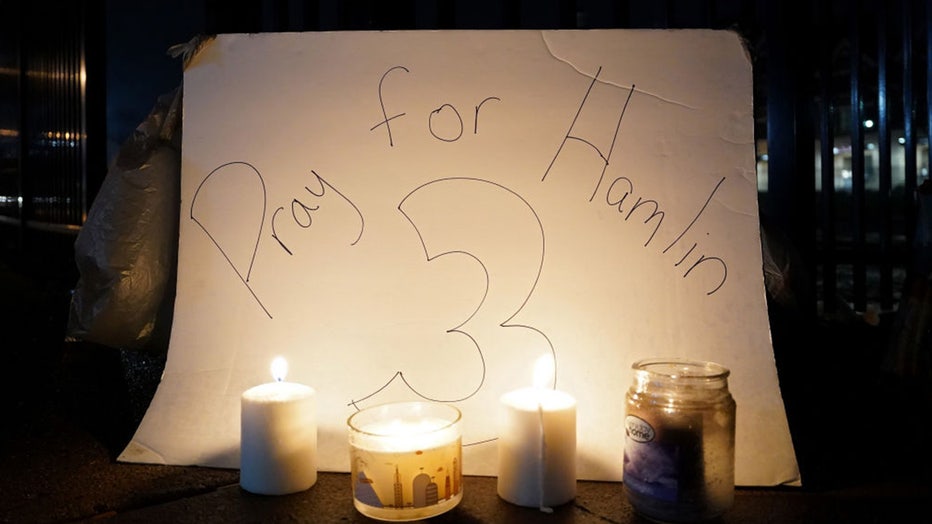 FILE - A vigil is displayed at the University of Cincinnati Medical Center for football player Damar Hamlin of the Buffalo Bills after he collapsed following a tackle during the game against the Cincinnati Bengals and was transported by ambulance to (Dylan Buell/Getty Images)
What happened?
During the first quarter of the Bills-Cincinnati Bengals game, Hamlin, 24, tackled Bengals receiver Tee Higgins on a seemingly routine play that didn't appear unusually violent. 
During the play, the 6-foot, 200-pound Hamlin was injured. Higgins led with his right shoulder, which hit the defensive back in the chest. Hamlin then wrapped his arms around Higgins' shoulders and helmet to drag him down. 
RELATED: Explainer: What happened to Buffalo Bills safety Damar Hamlin? 
All appeared normal after both Higgins and Hamlin rose to their feet, but Hamlin suddenly fell backward onto the ground and remained motionless. 
In a chilling scene, Hamlin was administered CPR on the field, ESPN reported, while surrounded by teammates, some of them in tears, while they shielded him from public view. 
According to a statement released by the Bills, Hamlin suffered a cardiac arrest following the hit to his chest. 
"Damar Hamlin suffered a cardiac arrest following a hit in our game versus the Bengals. His heartbeat was restored on the field and he was transferred to the UC Medical Center for further testing and treatment," the Bills said.
What's next?
The NFL's schedule is now in flux after the game between Buffalo (12-3) and Cincinnati (11-3) — a showdown with AFC playoff race implications — was postponed indefinitely. 
The league announced Tuesday that Commissioner Roger Goodell informed both teams that their game would not resume this week. No decision has been made on whether it will be played at a later date, with the league not making any changes to its Week 18 schedule. 
Both playoff-bound teams were supposed to play two games, including completing Monday's game, before the postseason is set to open on Jan. 14. 
The Associated Press contributed to this report. This story was reported from Los Angeles.