Community mourns death of San Francisco drag icon, Heklina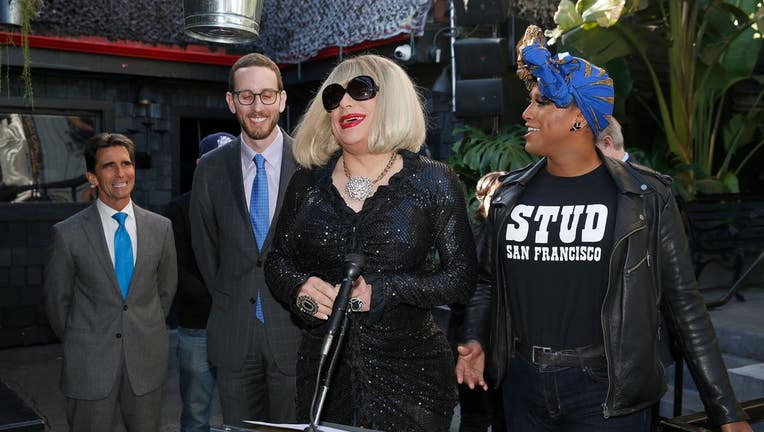 article
SAN FRANCISCO - San Francisco drag icon, Heklina, has died, fellow performer Peaches Christ wrote on Facebook on Monday. 
The death of the beloved, outrageous and over-the-top performer, also known as Stefan Grygelko, was sudden. The cause of death is unknown. The surrounding drag, LGBTQ+, and entertainment community is reacting with devastation upon the news of her untimely passing. 
Grygelko was in London, co-starring with Peaches Christ in the production of 'Mommie Queerest' a spoof on the Faye Dunaway film, Mommie Dearest, that looked at the tumultuous relationship between Joan Crawford and her daughter Christina. Heklina was set to perform as 'Hek-Tina' for the production's Manchester, England run, April 5 through 8. San Francisco Pride confirmed Grygelko was on tour in London. 
The London venue, Soho Theatre, posted to social media that they were shocked and saddened by this news. The venue said they would be in contact with audiences on Tuesday. 
"I am shocked and horrified to bring this news to you," drag performer Peaches Christ, also known as Joshua Grannell, wrote upon discovering their co-star and friend. "I am living in a real-life nightmare so forgive me if I don't have all the answers just now." Grannell said he went to collect his "dear friend" this morning and found her dead. "I know this is shocking news and I am beyond stunned, but I wanted to let folks know what has happened. Heklina is not just my best friend, but a beloved icon of our community. I am a mess," Grannell wrote from his Peaches Christ Facebook page. 
Heklina, was originally from Iceland, but had called San Francisco home since the 1990s before relocating to Southern California in recent years. The stage legend and event producer, was a San Francisco mainstay having founded drag-night institution, Trannyshack in 1996. The event would be held at venues such as DNA Lounge and The Stud. The name of the event would later be abbreviated to 'T-Shack' due to criticism, before being renamed Mother. Heklina co-hosted the popular Daytime Realness dance and DJ event held at El Rio in the Mission. The event just held its season opener last month. She appropriately channeled the deadpan sarcasm of Bea Arthur's Dorothy Zbornak in the popular holiday tradition of The Golden Girls Live. 
In 2015, she became one of the founding co-owners of popular nightlife venue, Oasis. The San Francisco drag and cabaret venue posted on their social media that they were shocked and devastated at Heklina's passing. They opened at 4 p.m. for drinks, stories and an opportunity for the community to share and grieve. "Sending love to all," the venue wrote. 
"She created a drag movement that really changed what we see as drag performance, not only in San Francisco and the U.S., but around the world," said Oasis owner D'Arcy Drollinger.
State Sen. Scott Wiener was an echo in the chorus of mourning. He said he first saw Heklina perform in his youth. "Her imprint on San Francisco was deep," he wrote. He called the drag legend a "true talent & stand-up person." Wiener, who is openly gay, has championed LGBTQ rights throughout his political career, dating back to his time on the San Francisco Board of Supervisors. 
He released an official statement on Heklina's passing. 
"I am absolutely devastated. Heklina was an icon in the truest sense — funny, caring, outrageous, and brave. I first saw Heklina perform when I was a young gay man in the 1990s, new to San Francisco. Over the years, I got to know her and helped her find a space for Oasis. I've rarely worked with someone as fierce, creative, and dedicated. Heklina created events and community spaces that spun glitter and giant wigs and raucous jokes into a feeling of home. She was fiercely outspoken and always stood up for her friends and community. She was the soul of San Francisco, and it's hard to imagine the city without her." Heklina was also a staunch defender of drag — which is under extreme attack right now — and created opportunities for young drag queens to find their space. While we grieve, we must honor her memory by remembering the joy she brought us and the importance of the art form to which she dedicated her life," Wiener's statement read. 
The marquee of the Castro Theatre now reads, "Rest in Power Heklina! 1968 - 2023." 
SEE ALSO: Resurrecting Easter Sunday with 'The Sisters' in Dolores Park: Arts & culture calendar picks
Nguyen Pham, board president of San Francisco Pride, said he speaks for the community when he says this is completely heartbreaking. 
"Personally, I've been honored and grateful to have engaged with Heklina directly, as well as attended her spectacularly memorable productions, numerous times over the years. I know that her unique brand of radically inclusive drag art has evoked so much pure joy from countless community members and allies for many generations. She was unstoppable and a master without parallel."
This is a developing news story. We will update with the latest information.