Resurrecting Easter Sunday with 'The Sisters' in Dolores Park: Arts & culture calendar picks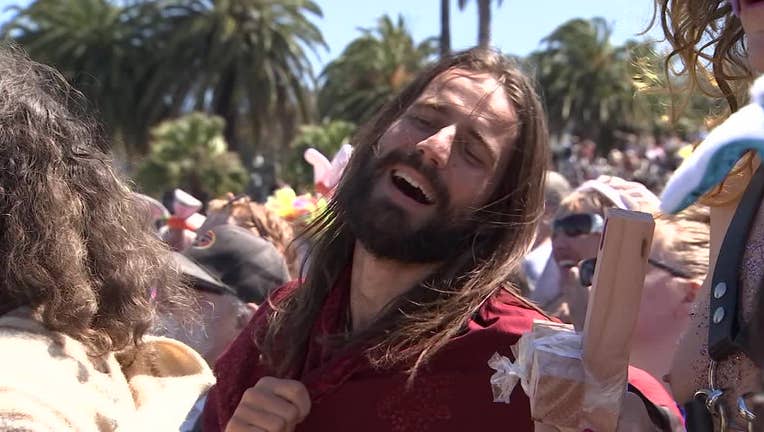 article
SAN FRANCISCO - Spring is in the air, flowers are in bloom, and this time around, Easter is on our calendar. A favorite San Francisco annual tradition is back from the pandemic in Dolores Park, and it's certain to be 'full of grace.' Read on for our list of some upcoming arts, culture, and entertainment suggestions. Don't be an April Fool, get out there!
Renegade Craft
Expect more than 250 artisans at the Fort Mason Center For Arts & Culture this weekend for Renegade Craft Spring 2023 edition. Indie makers, designers, and crafty types, and those who love their wares, will be pleased with this curated shopping experience on April 1 and 2. It's free! 
There will be plenty of ceramics, bath and body products, home furnishings, textiles, accessories, leather goods and more. DJs are on-hand to set the vibe and if you get hungry, check out the local gourmet cuisine. 
The event is from 11 a.m. to 5 p.m. Saturday and Sunday. Fort Mason Center For Arts & Culture is located at 2 Marina Boulevard in San Francisco. 
Unusual Suspects: Paintings By Adam Ansell
The Hot House Art Gallery is a new gallery located in the recently reopened 4 Star Theatre. The gallery is holding monthly rotating shows. On April 7, Unusual Suspects: Paintings by Adam Ansell holds its opening reception. 
The title of the exhibit does not appear to suggest criminality, but instead, the unusual quality and strangeness of the subjects in these portraits. This work is described as manic, "super saturated" and colorful in a way that seems to "burst from the plywood that contains them." The artist is said to have a background as a playwright, director, and community organizer, but his works seek to explore those who are often ignored. A screening of one of Ansell's films, Eye of the Puppet: The Case of the Streetwalking Streetwalker is part of the opening reception. 
The Hot House Gallery is located at 2200 Clement Street in San Francisco's Richmond District. The opening reception is from 5 p.m. to 8 p.m.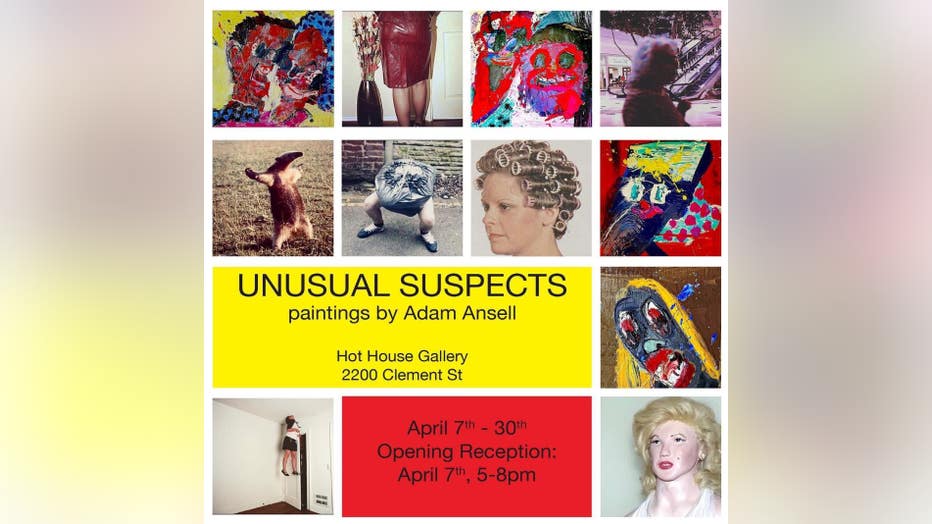 Unusual Suspects: Paintings by Adam Ansell 
Foxy Mary & Hunky Jesus: Easter in the Park!
The Sisters of Perpetual Indulgence are resurrecting their "Foxy Mary" and "Hunky Jesus" contests this Easter Sunday, April 9, at San Francisco's Dolores Park. It's all part of an annual tradition that was sidelined during the pandemic years. This year's theme is "Peep Show." 
A face familiar to many around City Hall — the one and only Honey Mahogany — will be taking on 'celebrity host' and emceeing duties. 
Everyone is welcome to attend, and the contest is open to all. You just have to show up in costume 30 minutes before the contest. And for the kids, there will also be a 10 a.m. appearance by the Easter Bunny, a colorful bonnet contest at 1 p.m., followed by the main event at 3 p.m., featuring costumes that depict two-thirds of the holy trinity!
If you're feeling more politically active that weekend, on Saturday, April 8, join the 'Drag Up! Fight Back! March & Rally' from City Hall to Union Square. A coalition comprised of The People's March, San Francisco Democratic Party, nightlife venue Oasis, and once again, The Sisters of Perpetual Indulgence, are standing up to "fight fascism" and demonstrate that "drag is not a crime." This is in response to right-wing extremists who are calling for the "eradication of transgenderism" and to protest recent anti-trans legislation. The rally begins at 11 a.m., followed by a noon march from City Hall to Union Square where there will be a live show. 
Sisters of Perpetual Indulgence - Easter in The Park. Dolores Park, San Francisco 2019.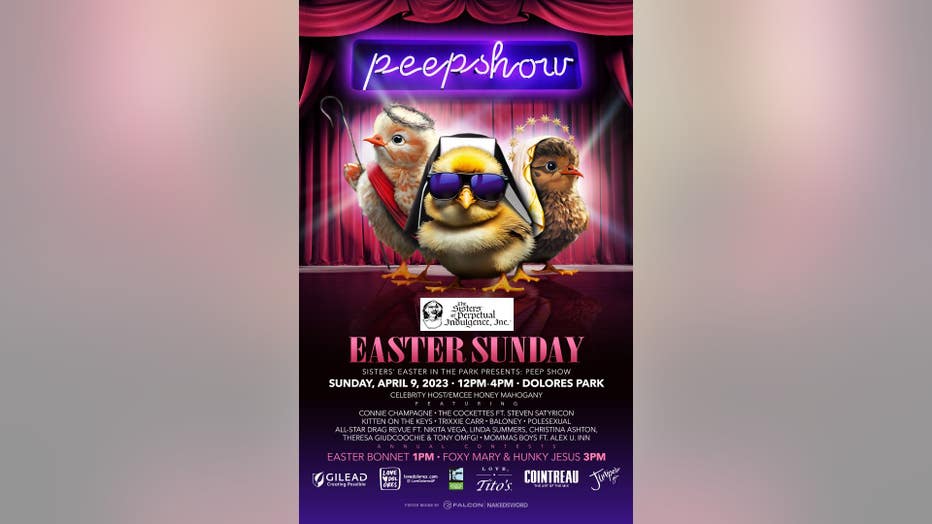 Peep Show image courtesy Sisters of Perpetual Indulgence Facebook page. 
Little Richard: I Am Everything
He was the innovator, the originator and arguably the true 'King of Rock n' Roll' and now he's getting his due on the silver screen. Director Lisa Cortés explores the complex legacy of the Southern born, Richard Penniman, better known as Little Richard, in this new documentary that premiered at Sundance. Music's most rebellious genre would explode in the 1950s, but this film shines a light on the Black, queer origins of rock n' roll; the very music Little Richard claimed to be the architect of. The singer, songwriter, and pianist was ahead of his time in many ways. That included unapologetically being his flamboyant self. Here it is argued that Richard's gift to the word – self-expression – was in some ways something he never afforded himself. 
Little Richard: I Am Everything is playing at the Roxie Theater, in San Francisco's Mission District, Tuesday April 11, at 6:45 p.m. 
KUSF.org Rock N' Swap
A few weeks back it was reported that vinyl record sales, yes actual physical media, overtook CD sales for the first time since 1987. Well, if you're riding this retro wave or are interested in getting started, do we have the place for you. It's billed as San Francisco's largest record fair, and it's held on the campus of University of San Francisco, Sunday, April 16. KUSF.org's Rock 'N Swap is a longtime tradition, in fact 40-years long, for collectors and music lovers. They have something for just about everyone and so many genres under one roof. Get there early for the free bagels and coffee while supplies last. Remember, the early bird gets the worm. That goes for the record selections too. 
$20 early bird special starting at 7 a.m. General admission $3 starting at 10 a.m.   
Record fair is located on USF campus at McLaren Center. 
Listen to KUSF.org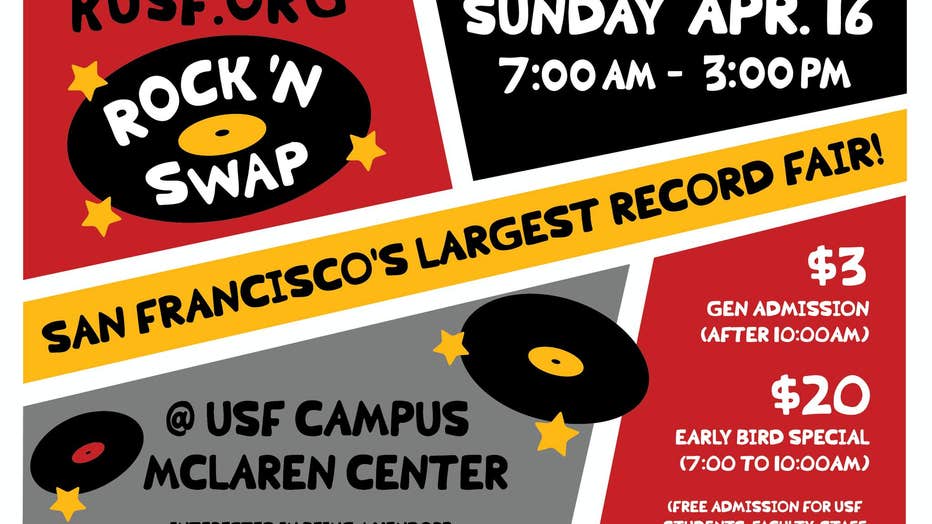 Flyer for KUSF.org Rock N Swap.