Curry's popularity prompts Davidson SID to change number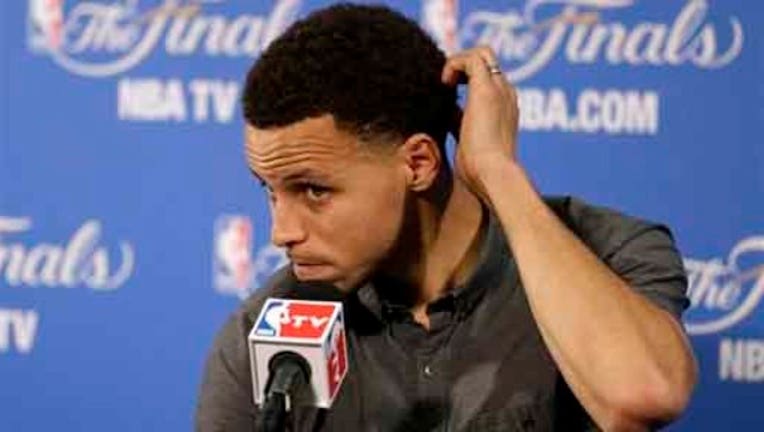 article
DAVIDSON, N.C. (AP) — Stephen Curry is one of the most popular players in the NBA.
You don't have to remind Davidson College sports information director Joey Beeler, who has been forced to change his office phone number after being besieged in recent weeks by calls from young children wanting to meet the NBA's Most Valuable Player and his daughter Riley.
Beeler told The Associated Press he's received more than 500 phone calls over the past several months, most from pre-teens inquiring wanting to get in touch with Curry.
He said some want to invite Curry to a birthday party, while others are interested in getting his autograph or picking his brain about shooting advice.
Some want him to come to their basketball camp.
Still others have asked how to meet his charismatic young daughter, who has stolen the national spotlight during Curry's postgame news conferences.
"It got crazy, to the point where I just couldn't get any work done," Beeler said.
Curry attended Davidson from 2006-2009 before turning pro after his junior season. He first received national attention when he led the underdog Wildcats to the Elite Eight as a sophomore.
His popularity has grown this season after he edged out LeBron James for MVP honors and led Golden State to the NBA Finals.
Beeler said he spoke to several of the kids and began wondering how they got his number.
Several told him they got his contract information by simply typing in "Does anyone know how to contact Stephen Curry?" into the Yahoo search engine on the Internet. The answer listed Beeler's office number at Davidson.
Beeler said the volume of calls started to increase around the time Curry began to enter the MVP conversation several months ago.
He said the calls have averaged about six to 10 per day until recent weeks, but have picked up dramatically since the start of the NBA Finals.
He had 19 requests for Curry on Friday and 23 on Monday, some of the voicemail messages being left at all hours of the day. He said there was hardly a day that went by in recent weeks when he wouldn't pick up a phone and have someone on the other end ask "Is this Steph Curry?"
After weeks spent trying to screen his calls, he finally asked the school if he could change his number.
"I couldn't take it anymore," Beeler said with a laugh. "It finally got to the point where I never knew if it was a request for Stephen or a business call."
Some of the calls were comical, with birthday appearance requests among the most popular.
Beeler said he tried to be as polite as possible, although some weren't happy that he wasn't willing to give out Curry's contact information.
"I've been called every name in the book," Beeler said with a laugh.
Beeler understands why everyone wants to get in touch with Curry.
He knows him personally, having worked as Davidson's SID during Curry's first two seasons with the Wildcats.
"He's the new face of the NBA," Beeler said. "I think what he has done probably surprises some people, but it doesn't really surprise me. I watched him here and the plays he would make would just amaze you. Every game he would do something to make you go, 'Wow.'"