Deadline looms to discipline Oakland police chief as new confidential report surfaces
OAKLAND, Calif. - The deadline is looming for Oakland's mayor to decide whether she is going to discipline the city's embattled police chief as another confidential report obtained by KTVU shows outside investigators felt Chief LeRonne Armstrong doesn't have a deep desire to rid his department of internal corruption – even though the chief's view of the most recent findings are positive.  
"I think to suggest that simply because somebody makes a bad decision, that it's the chief's fault," Armstrong told KTVU on Monday. "I think it's unfair." 
These findings – and Armstrong's rebuttal – will be shaping Mayor Sheng Thao's decision on whether she reinstates Armstrong, disciplines him, or even terminates him for his role in handling investigations into misconduct by an Oakland sergeant. The ongoing scandal is the latest setback for the beleaguered police department, trying to free itself from 20 years of federal oversight. 
The 50 pages of findings from the third confidential report obtained by KTVU are a mixed bag for the chief who was placed on leave last month. And the mayor's decision could come as early as this week; possibly on Wednesday. 
On the one hand, the law firm of Clarence Dyer and Cohen came up with an "unfounded" finding as it pertains to Armstrong's command of duty during a gun discharge investigation. Unfounded means that there was sufficient evidence showing that the violation did not occur. 
But on the other hand, the firm's investigators found him to be "not credible" for the second time. In this instance, it was regarding how much he knew about a sergeant firing a gun in an elevator at police headquarters last spring. Armstrong claimed he didn't know anything about it because he was told to stay out of it – even though his subordinates said they provided him with regular updates, according to the third confidential report, which is dated Feb. 2. 
"This lack of candor and forthrightness by the chief of police…suggests that he was satisfied to distance himself from a process that appeared likely to expose deficiencies in the criminal investigation of repeated crimes and misconduct by an OPD sergeant," concluded the outside investigators from the Clarence Dyer and Cohen law firm.  
The Clarence Dyer and Cohen investigators also surmised that they don't feel the chief is doing enough to hold his officers accountable when they misbehave and even lie. 
Armstrong displayed a "lack of attention to internal processes that should have been laser-sharp and focused on an investigation involving a pattern of criminal misconduct," the report continued. Under Armstrong, the report added, there is a "problem with the tone at the top – at least when it comes to the department's commitment to policing itself."
But in a sit-down interview with KTVU on Monday, Armstrong said that he's between a rock and a hard place. 
"The report also states I was walled off from the investigation, but it criticizes me for not being more involved in the investigation," Armstrong said. "I just think it's very difficult for me to do both." 
He added that he feels "targeted" by these investigations. He hopes that if anyone takes the time to review all the evidence, they will see "I did nothing wrong."
As for whether he should be held responsible for the transgressions his subordinates, Armstrong answered: "I think a lot of people are dealing with this case in hindsight. The buck stops with me – if I know. I didn't have all the information." 
Armstrong did acknowledge that some of the Internal Affairs investigations conducted by his subordinates into the sergeant were "unacceptable."
"I accept that," he said. "That doesn't mean I'm accountable for their behavior."
Armstrong's attorney, Will Edelman, told KTVU: "The report positively confirms that the chief did his job.  This is not surprising, because the report's authors acknowledge that the chief was 'walled off' from this investigation relatively early when it was taken over by outside investigators. It was not his case to manage, and the report appropriately confirms he could not have mishandled an investigation he was not responsible for."
Armstrong stressed that under his watch, the Oakland Police Department has the highest rate of "sustained" findings during internal investigations among large police departments in California, and that he's brought the police department closer to the end of federal oversight than any other chief. 
Officers are "sustained" for a rules violation if there was sufficient evidence to prove they violated a policy or law.
"History has shown, I've held people accountable," the chief said. "I don't give special treatment."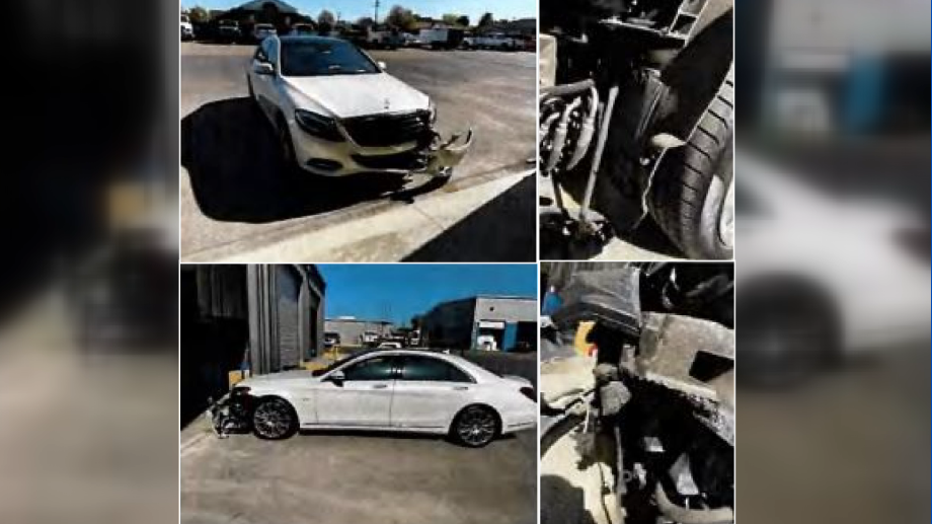 Damages to this Mercedes Benz cost $14,000, insurance claim shows. Source: tort claim filed with Oakland 
The latest set of confidential reports totaling 50 pages are not as damning as two other confidential reports obtained by KTVU last week.
One of those investigations recommended a "sustained finding" against Armstrong himself. 
The Clarence Dyer and Cohen law firm recommended a sustained finding for Armstrong's "gross dereliction of duty." In that case, it was how he handled a March 2021 hit-and-run investigation involving Sgt. Michael Chung. Chung ripped off a neighbor's bumper from his Mercedes and left the scene without reporting it. A captain ordered a subordinate to downplay the events and characterize what happened as a "preventable" car collision instead of a criminal hit-and-run. Armstrong signed off on this watered down report without reading it. The chief disputes the sustained finding against him because he says he can only trust the information in front of him. 
Chung is the same sergeant who discharged his service gun in the elevator in April 2022, taking one week to come forward and only after disposing shell casings into the bay. Chung later intimated to a lieutenant that he may have suicidal, which is why he fired the gun. But Chung's admission thwarted any real investigation into what really occurred and wasn't particularly credible or convincing, the Clarence Dyer and Cohen firm found. 
Chung received counseling after the Mercedes incident and was put on paid administrative leave after the gun discharge – which he is still on today. 
For the last month, the mayor has been considering what she should do with the chief, reviewing documents and speaking to stakeholders to shape her decision. She has the power to fire or discipline the chief if she chooses but she also may choose to do nothing.
According to the Oakland Police Departmental general order, discipline for rank-and-file officers should be completed within 30 calendar days of the sustained finding. It would make sense if the chief's discipline would follow that same timeline. But the chief is an at-will employee and the circumstances of his situation are unprecedented.
The Clarence Dyer and Cohen law firm first made public their recommended sustained findings on Jan. 18, meaning that if best practices are followed, the discipline deadline would be Wednesday. But no one has yet committed to that final date; and the Oakland Police Commission just moved their next meeting to Wednesday night.  
Thao has declined interview requests.
But in a news conference last month, Thao insisted that when she put the chief on paid administrative leave on Jan. 19, the move was "not punitive" and she needed time to review all the documents and interviews herself.
Thao, a progressive mayor who put Armstrong on leave as one of her first moves in office, is in a politically precarious position.
She has been lobbied hard by Armstrong, the NAACP, the Chinatown Chamber of Commerce and many community members to keep the chief – a "son of Oakland" – in the post. A petition was started to get him back on the job. 
Whatever the answer may be, this latest Oakland police saga highlights the agency's revolving door of chiefs, an embarrassment to the department and the community.
Armstrong is the 12th person to serve in that role since 2009. And like other chiefs, he promised the public a new day of transparency and accountability when he took office two years ago.
If he is given his job back, will he still have the trust of the public?
Some community members speaking at an Oakland Police Commission meeting last week wondered about that aloud. 
"I'm concerned that the [law firm] didn't believe him because he wasn't honest," community member Assata Olugbala said last week at an Oakland Police Commission meeting. "This is concerning."
In May 2022, the federal monitor ordered the law firm of Clarence Dyer and Cohen to investigate both the hit-and-run and gun discharge, as he felt neither was adequately probed by OPD's Internal Affairs division.
For now, Amrstrong is waiting for his future to unfold. He feels that he has been unfairly sidelined for things he didn't know and for which he didn't know about.
"This is not a reflection of who I am or how I have led," he said. "I've done tremendous work and now it's being tarnished." 
Lisa Fernandez is a reporter for KTVU. Email Lisa at lisa.fernandez@foxtv.com or call her at 510-874-0139. Or follow her on Twitter @ljfernandez.