Dock workers get 'last, best and final' contract offer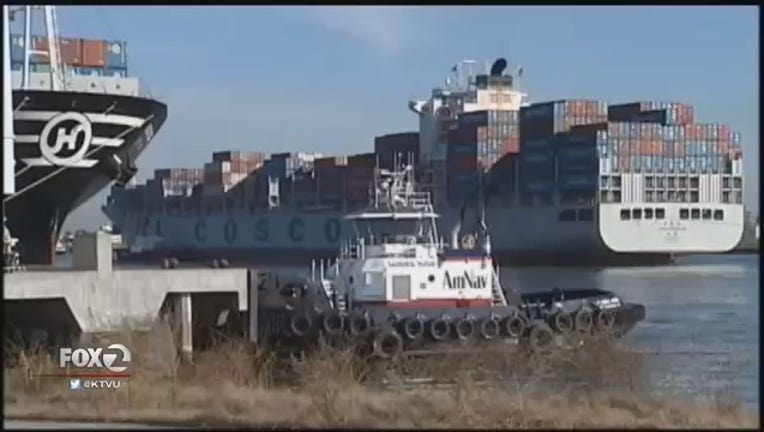 article
LOS ANGELES (AP) — Cargo companies have gone straight to West Coast dockworkers with what they call their "last, best and final" offer in a contract crisis that has choked off billions of dollars in international trade.
In a move very likely to upset union leaders who were negotiating behind closed doors under a media blackout, the employers distributed letters with the contract offer to rank-and-file longshoremen at ports from Los Angeles to Washington state.
At a marine terminal in Tacoma, Washington, foremen handed dockworkers the letter from the president of the association that represents companies that own, load and unload massive ships.
It detailed a third, comprehensive contract offer employers made Feb. 12 — more recently than has been publicly disclosed.
Employers appear to hope that union members will conclude the offer — which the letter said includes wage and pension increases and the maintenance of low-cost health benefits — is strong, and dockworkers will then pressure their negotiators to accept it.
One labor expert questioned whether that would work, especially with the International Longshore and Warehouse Union, which has a history of fighting employers and winning contracts that are the envy of other blue-collar industries. Under the prior contract, which expired in July, average wages exceed $50 an hour, according to the maritime association.
"Handing out the leaflets is a provocative move with questionable gain," said Harley Shaiken, a professor and labor relations expert at the University of California, Berkeley. "We're in the end game, and you don't want to complicate things, and that is the risk."
The letter's "last, best and final offer" language is significant because it could lay the groundwork for the declaration of an impasse and therefore a full lockout of workers by employers.
Meanwhile, negotiators for the union and the Pacific Maritime Association, which represents employers, met with U.S. Labor Secretary Thomas Perez in San Francisco.
The involvement of the nation's top labor official underscored rising political and economic pressure to reach a contract deal and free cargo bottlenecks at 29 ports that handle about $1 trillion of trade annually. Commerce Secretary Penny Pritzker also attended sessions Wednesday.
To date, employers have done partial lockouts, principally of crews that load and unload containers at the docks using massive cranes. They cut night shifts last month and in recent weeks have not called crane crews on weekends and holidays, saying they would not pay extra to workers they believe are intentionally slowing down.
The union denies there is a coordinated slowdown and instead blames problems moving cargo from ships to dockside yards to distribution warehouses on factors including a shortage of trucks and drivers.