DOJ cracking down on mail carrier robberies
OAKLAND, Calif. - The Department of Justice is cracking down on mail crime after an increase in robberies targeting postal workers. Ten people were recently arrested for robbing letter carriers across the Bay Area.
Back in 2019, Postal Inspector Matthew Norfleet said there were only a handful of mail carrier robberies being investigated in the Bay Area.  There are now dozens more open cases where a person has threatened the safety of a mail carrier, sometimes at gunpoint.
At a press conference on Tuesday morning, the US Attorney of Northern California and US Postal Inspector in Charge announced the indictments of 10 people. The charges involved theft of postal keys, mail truck break-ins, assaults on letter carriers, and other various criminal acts involving the interference with the delivery of mail and stolen mail. 
Anthony Medina, 42, was arrested by SFPD and is charged with allegedly possessing 7 mailbox keys, stolen credit cards, stolen mail, and access codes for apartment complexes. 
"Anthony Medina now faces up to 10 years in prison for each violation of 18 USC Section 1704," said U.S. Attorney for Northern District of California Ismail J. Ramsey.
Federal prosecutors believe 19-year-old Robert Devon Nicholson Bell Jr. of Antioch was involved in at least two armed robberies of mail carriers, one in San Francisco and one in Antioch. Security footage caught a man police identified as Bell opening postal collection boxes. Bell was found in Antioch in possession of robbed postal keys, a substantial amount of stolen mail, a fraudulent USPS ID badge with his picture, and stolen and counterfeit checks. 
U.S. Attorney Ramsey says he faces a maximum of 10 years for unlawful possession of the postal keys and another 25 years for each armed robbery.
Oakland resident Derek Hopson, 33, is alleged to have stolen mail and postal keys in two separate incidents in June 2023. SFPD responded to a burglary in progress at a residence in the Mission District of San Francisco when Hopson was found with mailbox keys. Prosecutors also believe Hopson able to gain access to mailboxes at a residential complex in the Presidio in San Francisco. He faces a statutory maximum of 15 years if convicted.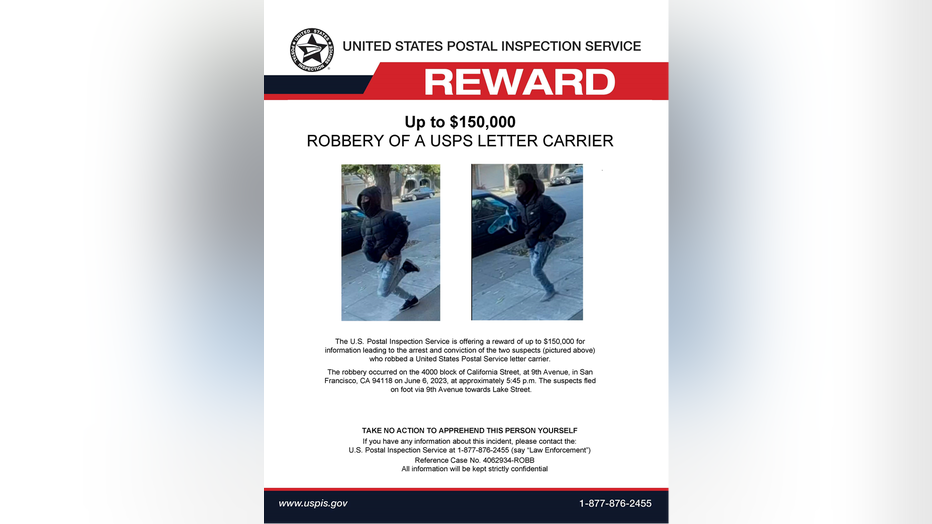 U.S. Postal Inspection Service poster of a wanted letter carrier. 
Stream KTVU on your TV by downloading Fox Local on your Roku, Amazon Fire, AndroidTV or AppleTV device for free. More details here.
"For folks who are out there threatening letter carriers, committing these robberies, stealing these keys, we will charge these cases federally and there will be severe consequences," said U.S. Attorney Ramsey.
"This is no more important mission for us as federal agents than protecting postal workers and federal agents," said San Francisco Division Postal Inspector in Charge Rafael Nuñez. 
Others with charges include Craig Curtis Freeman, Kaylynn Nicole Ulrich, Stephen Hilton, Michael Derryberry, Lucas Ostolaza, Michael Morgan, and Vo Nguyen. 
"To any copycats or wannabes out there who might consider robbing a postal worker, I ask you to consider the years you will face in federal prison, the price on your head, and that postal inspectors will not stop hunting you. The proceeds of this crime are not worth your freedom," said Inspector in Charge Nuñez.
"I'm really happy about the arrests today but enough is enough, we need a lot more," said Edward Fletcher, President of National Association of Letter Carriers Branch 1111. "When I started in 1985 letter carriers never got robbed. In the last year and a half, it's become an epidemic."
Fletcher said workers are so frightened that they are going on leave for post-traumatic stress, and not returning to work. "Letter carriers don't wake up in the morning wondering if someone's going to stick a gun in their face," said Fletcher.
SEE ALSO: 'Another thing to hit the working man': Hayward apartments repeatedly hit by mail thieves with postal keys
"Letter carriers who are just doing their job are not feeling safe. In many instances are threatened, even in one extreme situation we have an attempted murder charge. We are committed to trying to ensure the safety of letter carriers," said U.S. Attorney Ramsey.
It's a problem with multiple victims: the letter carriers and the people whose mail gets stolen. 
Amy Morgan said she lost packages after a mail truck was broken into last week in her neighborhood in North Oakland. She said she started leaving iced drinks for her mail carriers during the pandemic. 
"I feel really bad for the mail carriers because that's scary," Morgan said.
The DOJ is raising the reward for information leading to arrests from $50,000 to $150,000.
"We are constantly reminding the carriers to be safe, have their head on a swivel. It's terrible to have to come to work and look out for criminals," said Fletcher. 
Fletcher said the union is hosting a rally at the Oakland Civic Center Post Office to raise concerns about the chronic under-staffing and safety concerns mail carriers are facing.
If you are a victim of mail theft, postal inspectors said report it at USPIS.gov/report. They recommend residents use Informed Delivery and pick up your mail as soon as possible. Don't leave it in the box longer than necessary.
This story was reported from Oakland, Calif.