Embattled Aldon Smith back in jail after allegedly violating terms of electronic monitoring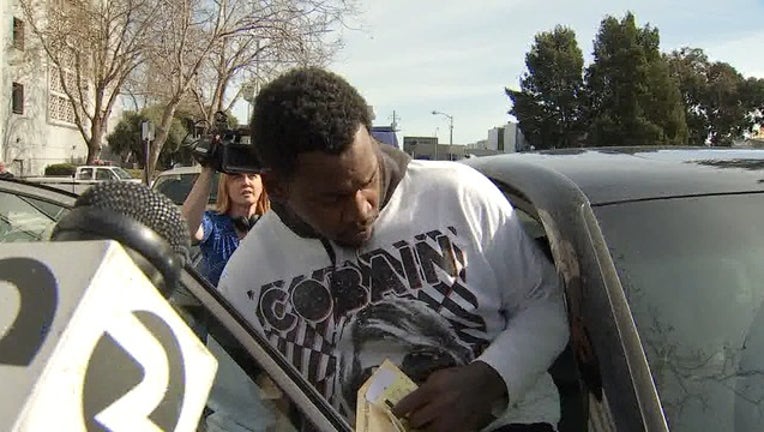 article
SAN FRANCISCO - Former Raiders and 49ers linebacker Aldon Smith was being held in San Francisco County Jail on Sunday on $500,000 bond, according to jail records.
Smith was booked into jail on Friday evening for violating a condition of his electronic monitoring while on bail, San Francisco Sheriff's Department spokeswoman Nancy Crowley told the San Francisco Chronicle. The exact violation wasn't spelled out.
But last week, San Francisco Superior Court Judge Ross Moody ordered Smith be fitted with an ankle monitor and Secure Continuous Remote Alcohol Monitor, or SCRAM, which detects alcohol consumption through sweat.
In addition, the judge warned Smith to comply with the protective order and refrain from contacting the victim in the domestic violence case and to stay away from the Nob Hill apartment building where the alleged incident occurred.
Jail records on Sunday showed that Smith was booked on suspicion of assault with force, false imprisonment, vandalism, domestic violence, and three counts of contempt of court regarding a stay away or protective order.
On March 23, the 28-year-old Smith had been arrested for violating a court order to stay away from a victim in an alleged domestic violence incident earlier that month in San Francisco. Smith was released and placed under electronic monitoring.
At the time of the March 23 arrest, officials said Smith had contacted the woman, prompting police to issue a warrant for his arrest. Smith turned himself in the same day.
The arrest stems from an event on March 3, where police say Smith allegedly assaulted a woman in a home on the 600 block of Bush Street, fleeing the scene before police arrived. He turned himself in and was booked into jail three days later, immediately posting $30,000 bail.
Smith pleaded not guilty to domestic violence, assault, false imprisonment and vandalism charges at a March 12 hearing, where a San Francisco Superior Court Judge issued the protective order barring him from contacting the woman.
The Oakland Raiders released Smith shortly after the March 3 domestic violence report. But this is only his latest legal trouble.
In 2012, while he was with the 49ers, Smith was arrested for drunken driving and entered a diversion program in exchange for having the charges reduced.
He was accused of driving under the influence of marijuana in September 2013, after crashing into a tree in San Jose.
Smith was released by the 49ers after he was arrested and charged with DUI, hit and run and vandalism in Santa Clara County in August 2015. 
Many on social media said they wished he got some help. For instance, Mel "Mando" Gonzales wrote on KTVU's Instagram page that he believed Smith needs "help and a prayer. It's easy to kick someone when they are down, his soul is lost. I hope he finds peace in his life."