Fatal crash in San Mateo follows attempted home-invasion robbery
SAN MATEO, Calif. - A person died in a crash and two others were hospitalized early Thursday morning in one of two cars were connected to an attempted home invasion in San Mateo, police said.
Aside from the injuries, San Mateo police said a suspected robber in a third car was arrested and the occupants of the second car fled and are still outstanding.
In all, police said there were at least five suspects who attempted to rob a homeowner in the 1600 block of Roberta Avenue before 4 a.m.
The homeowner called police to report a group of people who were forcing their way inside the heavily fortified home with a Ferrari Testarossa in the garage. The resident was not harmed police said. 
"The resident was able to sequester themselves in a safe place while officers were responding," San Mateo Police Captain Dave Norris said. 
Officers saw that two cars fled from the Roberta Avenue home as they were arriving, police said. One car went across the San Mateo Bridge, but officers stopped chasing it because the driver was going too fast, police said.
The other car starting driving on US Highway 101, police said, but officers also lost sight of this car.
"The vehicles sped off in separate directions," Norris said. "One of those vehicles took off at a high speed over SR 92 over the San Mateo Bridge in speeds of excess of 100 mph."
At 4:05 a.m., San Mateo police said the California Highway Patrol reported there was a fatal collision on the Peninsula Avenue off-ramp from northbound U.S. Highway 101.
The involved vehicle, a Mazda CX-5, crashed head-on into a cement barrier. Police said 30-year-old Curran Travis Warren, of Oakland, was in the backseat of the car and died at the scene. Authorities said he was a suspect in the attempted home invasion. 
Police said the car was one of two vehicles in the home invasion robbery. The driver and front passenger were taken to a trauma center, police said.
Anyone with information is asked to call 650-522-7700.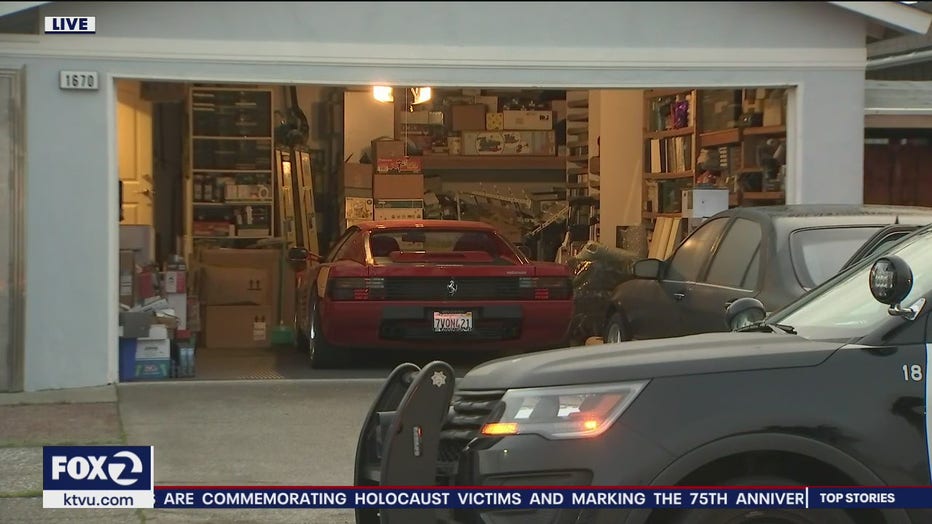 The home on Roberta Avenue in San Mateo where there was an attempted home invasion. A Ferrari was parked inside the garage. Jan. 23, 2020
One person died and two were hospitalized following a crash that may be connected to an attempted San Mateo home invasion, police said. Jan. 23,2020
Police investigate a fatal car crash in San Mateo that may be connected to a home invasion robbery. Jan. 23, 2020
The Peninsula Avenue off-ramp from northbound U.S. Highway 101 in San Mateo is currently closed due to a fatal traffic collision related to an attempted home-invasion robbery early Thursday morning, according to the California Highway Patrol and San