FBI says Travis Air Force base attack not linked to terrorism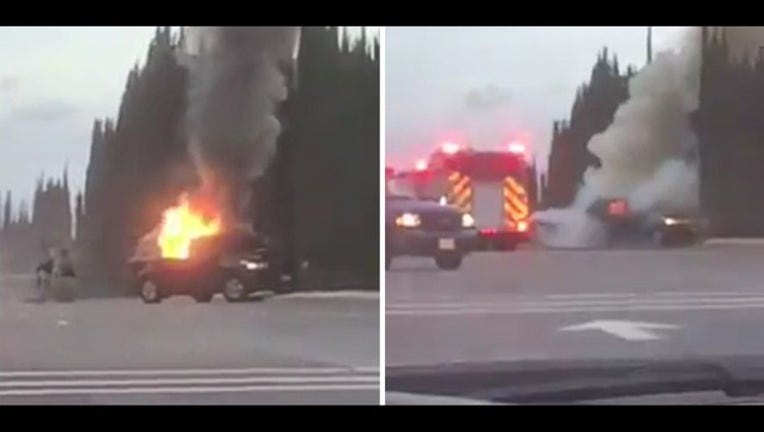 article
ROSEVILLE, Calif. (AP) -- The Latest on a crash and death at Travis Air Force Base (all times local):
4:20 p.m. 
The FBI says an attack at a Northern California Air Force base this week has no known "nexus to terrorism."
FBI Special Agent in Charge Sean Ragan on Friday said a van that illegally entered Travis Air Force Base on Wednesday was on fire as it approached the gate of the base, then veered away and crashed. He says the driver was dead when authorities reached the wreck. 
The vehicle was loaded with five propane tanks and three gasoline cans. The man had three cellphones.
Ragan identified the driver as 51-year-old Hafiz Kazi, most recently of San Francisco, though investigators aren't sure where he was living before Wednesday's incident.
He says investigators aren't sure why Kazi came to the air base or why he lit the Kia van on fire. He says investigators have had trouble locating family of Kazi, who was originally from India but has lived in the United States since 1993.
 
   ------
 
   2:45 p.m. 
The FBI says it will offer the first update on its investigation of a bizarre security incident at a Northern California Air Force base that ended with a motorist's vehicle bursting into flames at the main gate.
Air Force and FBI officials have provided few details about the incident Wednesday evening at Travis Air Force Base, which killed the driver.
Officials said the vehicle burst into flames after it "gained unauthorized access" to the base's main gate. No other injuries or damage was reported and officials have not released the driver's name.
The FBI said it will provide an update at its suburban Sacramento office Friday afternoon.
About 10,000 people live and work on the base 55 miles (88 kilometers) northeast of San Francisco.