Former San Jose police officer accused of sending racist texts on state decertification list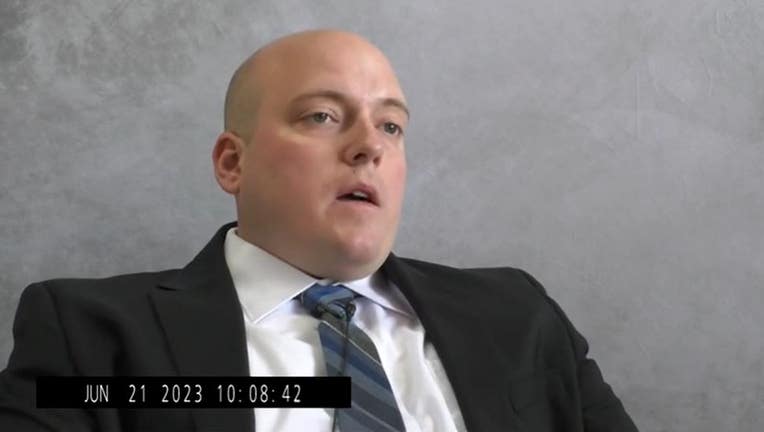 article
SAN JOSE, Calif. - In a stunningly quick development, the name of the former San Jose police officer accused of sending racist texts rife with the N-word is now on California's decertification list, which means, if it is upheld, he will never be able to work in law enforcement anywhere in the state again.
As promised, Police Chief Anthony Mata recommended that Mark McNamara lose his ability to work as a police officer after he revealed that McNamara sent a trove of racist texts stemming from him shooting a Black man on the steps of La Victoria Taqueria last March. 
As of Tuesday, McNamara's name showed up on POST's decertification list. 
His charge – "demonstrating bias." POST's records show that the decision was made on Nov. 15, less than two weeks after the texts were made public on Nov. 3. 
McNamara is one of four San Jose police officers to be on that list. 
Efforts to reach McNamara have been unsuccessful.
However, it's likely he will not choose to fight the allegations. He resigned from SJPD hours before the chief released the texts. 
The texts mainly stem from McNamara being sued in civil court by football player K'aun Green, whom McNamara shot four times outside La Victoria Taqueria in March 2022, and his legal team. 
McNamara and other officers reponded to the scene because people inside the restaurant were fighting and at least one man had a gun, plus, there had been a homicide around the corner.
Green had wrestled the gun away from a drunk customer and was exiting La Vic when police arrived. McNamara was the only officer to shoot. 
KTVU obtained exclusive video of McNamara being deposed in June. 
The deposition paints a picture of a calm, professional -- albeit slightly annoyed – police officer answering legal questions and expressing regret about shooting Green. 
But it stands in stark contrast to racist messages he allegedly sent shortly after testifying.
"The other day this [N-word] lawyer is like Mr. McNamara, you know we can still find you guilty of excessive force right?! I'm like, hmmmm yeah then what happens?? Nothing?? Cool. Cuz I'm pretty sure the district attorney would have charged me if I used excessive force but she didn't because I didn't use excessive force. Think I give a fuck what y'all [N-word] think!??? I'll shoot you too!!!! AHHHHH!!!" McNamara wrote.
In another text, McNamara simply stated how much he hated Black people. 
Mata called the texts "disgusting."
San Jose police Internal Affairs investigators found the texts while they were looking into an undisclosed criminal matter involving McNamara, which has yet to be revealed.
Silicon Valley De-Bug co-founder Raj Jayadev said his group of community activists, along with leaders of the NAACP met recently with Mata, who told them that he had presented the criminal case to the District Attorney, who declined to file any charges.
The chief didn't disclose any more information about that investigation. 
 Lisa Fernandez is a reporter for KTVU. Email Lisa at lisa.fernandez@fox.com or call her at 510-874-0139. Or follow her on Twitter @ljfernandez