Friday's storm snarls evening commute, keeps CHP busy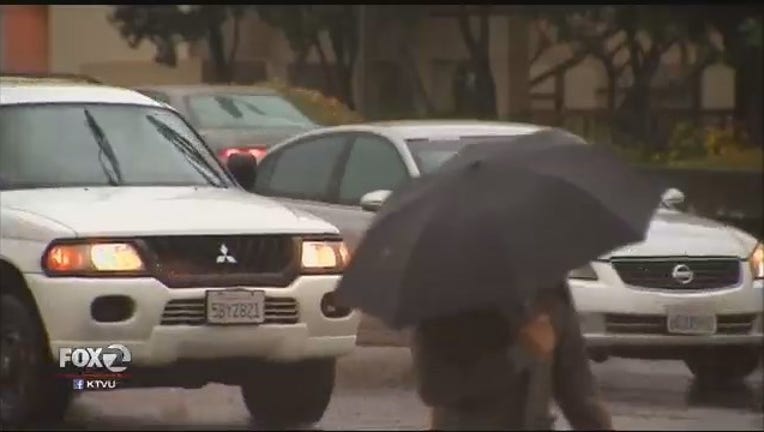 BERKELEY, Calif. (KTVU) - Downpours and strong winds made for a slow commute for drivers around the Bay Area Friday evening.
The predicted winter storm rolled through the Bay Area and slowed the drive home down to a crawl.
Sergeant Tony Tam from the California Highway Patrol says the storm meant a busy night for officers on patrol. "We do have a lot of traffic out there," said Tam.
"As far as calls for service we have a higher than normal calls for service just because of the weather. A lot of traffic collisions, a few downed trees, some roadway hazards."
Sgt. Tam said among those hazards, standing water in the roadway, which can splash up onto the windshield and momentarily blind drivers, or can make a driver lose control of their vehicle.
"The most important thing is to not stomp on the brakes. Just let off the accelerator and ride through the standing water until you can gain traction again," said Tam.
Also a concern, distracted drivers. Sgt. Tam says they can be dangerous under the best of conditions, but with wet roads it is especially dangerous for a driver to take their eyes off the road, even for the time it takes to glance at a screen and back at the road. "Keep your eyes on the road. Keep your attention focused on what you need to be doing, operating a motor vehicle."
For the most part, drivers KTVU spoke with said their fellow drivers were taking the appropriate cautions navigating through this series of storms. "I don't know, I think everyone's being fairly responsible right now," said Katie Oly from Oakland. "I haven't seen anyone being particularly stupid."
Lynn Scheld from Castro Valley said she'd only seen a few minor issues on the roads. "Some people don't have their headlights on, so it's hard to see them," said Scheld. "But, no, all in all, everybody's been doing pretty well, I think, I hope."
The CHP is warning everyone to heed the advice about slowing down, especially with a series of storms set to roll through the Bay Area through at least Sunday.