Hearing set in felony case of 49er Chris Culliver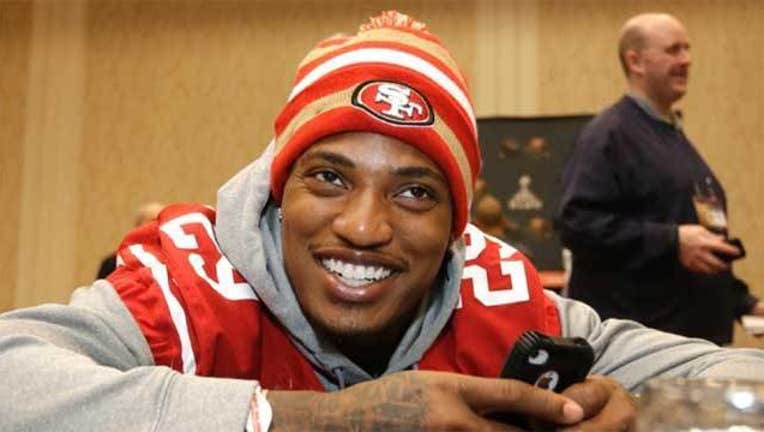 article
SAN JOSE (KTVU and wires) -- A hearing is set for Wednesday in the case of San Francisco 49ers cornerback Christopher Culliver, charged with felony possession of brass knuckles and two misdemeanors in a collision with a bicyclist in San Jose last March.
The hearing in Santa Clara County Superior Court will be about setting a date for a preliminary hearing into the criminal charges filed against Culliver last April 4, according to the court clerk's office.
Last April 11, Judge Shelyna Brown granted a request by Culliver's attorney Josh Bentley to not have to appear in future hearings on the charges and it is not clear if Culliver will be in court Wednesday.
San Jose police arrested the 26-year-old Culliver back on March 28 in a hit-and-run collision involving Culliver's white Ford Mustang with a man a riding a bicycle near Tully Road and South Seventh Street.
Culliver, prior to the accident, was driving recklessly in the westbound lane of Tully Road before striking a bicyclist who was crossing the intersection at South Seventh Street, police said.
Witnesses who were in their cars at the time of the collision told police they pursued Culliver as he tried to drive away, heading on Tully Road toward Senter Road.
They then followed his vehicle to the area of Mekler Drive and Senter Road, where Culliver allegedly struck a witness's vehicle while trying to escape, but the drivers boxed him in until police arrived.
Officers recovered brass knuckles, a hand-held weapon that is a felony to possess in California, from inside Culliver's car.
Police further learned that Culliver had been driving with a suspended license.
He was arrested on suspicion of felony hit-and-run, felony reckless driving with injury, felony possession of brass knuckles, misdemeanor hit-and-run and misdemeanor driving on a suspended license.
However, the district attorney's office ultimately charged him only with felony possession of the brass knuckles and two misdemeanor counts of failing to stop at the scene of an accident, according to court records.
An attorney for the bicyclist filed a lawsuit against Culliver last April 15, accusing Culliver of spinning the wheels of the Mustang in traffic, "peeling out, doing several donuts, striking several medians" before crashing into the bicycle.
Signed by the 49ers in 2011, Culliver's contract was set to end with the 2014 season and then he would become a free agent as of this year.
Culliver's lawyer Josh Bentley could not be reached. Bob Lange, a spokesman for the 49ers, also could not be reached.