'Hot Cop' of Castro ordered to stand trial on felony hit-and-run charges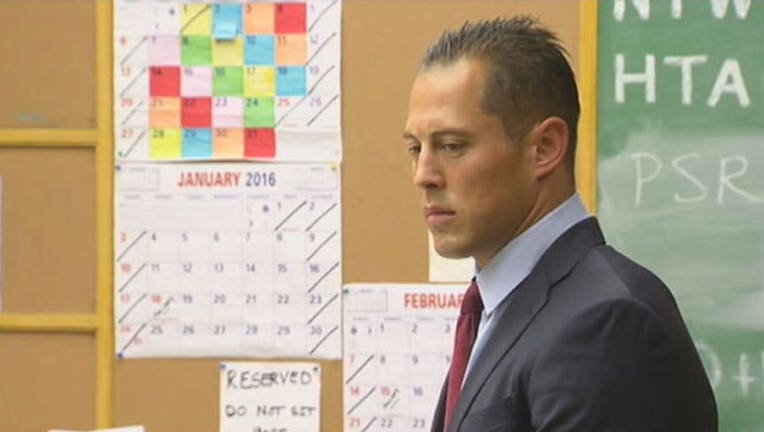 article
SAN FRANCISCO (BCN)--A San Francisco police officer known as the "Hot Cop of the Castro" was ordered today by a judge to stand trial on felony hit-and-run charges in connection with a North Beach collision that injured two pedestrians in 2015.
Christopher Kohrs, 40, who had been with the department for seven years at the time of the Nov. 29, 2015 collision, was ordered to stand trial today on two counts of felony hit-and-run with injury after a preliminary
hearing that included testimony from a friend who was riding in the car with him.
One of those counts was elevated today to felony hit-and-run with serious or permanent injury.
Kohrs, who is out of custody on $100,000 bail, is accused of striking two men in their 40s around 2:20 a.m. that day at Broadway and Montgomery Street and then fleeing the scene on foot. The collision caused severe internal injuries in both men.
Kohrs' friend Norman Banks, a passenger in the car, today testified that while he and another friend had been drinking that night, Kohrs was the designated driver. He said Kohrs had appeared sober and seemed to be going at a reasonable speed at the time of the collision.
Banks said he saw someone in the crosswalk and then, when Kohrs did not react quickly, called out "Watch out! Watch out!" before hearing a sound of shattering glass.
It was after checking on the victims that Banks said he realized Kohrs had left the scene.
Kohrs turned himself in at police headquarters around 10 a.m. that day, after he was identified by investigators as the registered owner and driver of the orange and black 2009 Dodge Charger left at the scene.
Kohrs had gained social media fame as the "Hot Cop of the Castro" following his time spent patrolling the Castro District and participating in events such as the San Francisco AIDS Foundation's Big Gay 10K race.
That fame appears to have followed him to the scene of the collision, which drew a crowd.
"I was uncomfortable at the scene myself because there were tons of people there who obviously knew him and people taking video," Banks said.
"It didn't seem like a safe scene."
Defense attorney Peter Furst today said in court that he "planned a vigorous defense" of Kohrs at trial.
Max Szabo, a spokesman for the district attorney's office, said only that prosecutors were "pleased with the court's ruling."
Kohrs was ordered to return to court on July 5 for further proceedings and to set a trial date.
In March, Kohrs settled a civil lawsuit filed against him by one of the victims.