How Moms 4 Housing challenged Oakland's housing crisis and won
OAKLAND, Calif. - Behind a cherry wood stained gate, Bry'Ana Wallace is occupied by her young son who is buzzing around the front yard. He's getting antsy. So, she picks him up and ushers him inside their bottom-level flat to watch cartoons. 
At first blush, this interaction seems pretty commonplace.  
But it's not. Wallace, 25, is now the beneficiary of a legacy of mothers before her who know all too well what it's like to live on the margins, raising children while also fighting every day to keep their families housed.
Moms 4 Housing, a collective of mothers who waged a war in 2019 against a high-profile real-estate developer by occupying a vacant home in West Oakland for months, became a symbol of America's housing crisis.
More than three years later, the very home on Magnolia Street that the four mothers took over and sought shelter in with their children — touching off a contentious legal battle and militarized-style eviction — is back in their hands with a new name and a bigger mission.
Their public battle, which drew both praise and criticism from around the world, is a lesson in idealistic activism turned into a practical reality. The moms garnered headlines for taking over a house they didn't own, but they've now quietly moved in after years of negotiation and compromise. The home has been turned into transitional housing for other mothers experiencing homelessness.
Today, two formerly unhoused women live in the home with their children. Both are graduates of a construction training program for women that connected them with Moms 4 Housing.
With adequate housing secured, Wallace can fine tune her trade skills and explore other avenues, like entrepreneurship.
She's done flooring installation and electrical work, but has since immersed herself into the nail industry.
Paying it forward
Moms' House, as it's now affectionately known, is a safe space for moms and their children to live. But beyond that, it's been a village rooted in resilience for Wallace and her young son.
Wallace became homeless after her grandmother died.
"I didn't have that person who was going to be there for me and like really house me and shelter me and be my protector. That was gone," Wallace said tearfully while sitting on the steps of Moms' House.
She said reality hit when she realized her car was the only space she had for herself.
"I witnessed just being in the car, like all day," Wallace said. "And it's like, I can't go to the house and shower. Like there's no place for me to just go and use the restroom. There's no comfort." 
A phone call from a cousin in 2021 changed her life. 
The call was about an all-women construction training program through a nonprofit called the Rising Sun Center for Opportunity. The center also helped pair students with housing services.
The Rising Sun Center and Moms 4 Housing worked together to place women from the construction training program at Moms House.
The group hoped to start a women-led construction team that would rehab residential spaces for unhoused families.
And through its partnership with the Rising Sun Center, Moms 4 Housing found two mothers in need. Wallace was one of them.
Wallace moved into the bottom unit of Moms House with her son.
"This is what I've prayed for, being housed, having sanity, being comfortable," Wallace said. "I never knew people who don't know me to want to do this for me," she said.
Wallace now has a home, but she said it's more than that. It's a sisterhood.
"I never knew people who don't know me to want to do this for me," she said. "It just warms my heart to know, that even with all the stuff they've had to endure they still want help."
'Housing is a human right'
Dominique Walker, 37, a founding member of Moms 4 Housing, said the group was born out of the mother's plight for survival and their quest for equitable housing.
Walker – and three other mothers, Tolani King, Misty Cross, and Sameerah Karim – wanted a renewed focus on homelessness in Oakland and the role real-estate speculators play by driving up costs, exacerbating the city's housing crisis.
"They come into communities, they buy up homes, and they hold them for profit," Walker said.
She says that the method used by speculators — scooping up distressed homes and leaving them empty until they can turn a profit — has transformed entire communities.
Longtime or low-income residents find themselves priced out of the very communities they grew up in, but can no longer call home.
Walker said that was her reality after she moved back to her hometown of Oakland from Mississippi in 2019 with her two young children. Even with a bachelor of science degree from Tougaloo College under her belt and working full-time, she couldn't afford the rent in Oakland
"I was couch-surfing through Antioch, Stockton, and I'm working in Oakland. Driving with a six-month-old and a five-year-old, spending three hours in traffic," Walker said. "My quality of life wasn't good at all." 
She demystified the portrayals of homelessness.
"The new face of homelessness. It doesn't look like what traditionally they say mental health issues or drug addicts are homeless," she explained. "No, it's our teachers, it's our nurses, it's our lower-wage workers. It was myself with a college degree, working several jobs that couldn't afford the rents here."
By the numbers
Oakland recorded an 83% increase in homelessness from 2017 to 2022, according to the city's recently adopted housing element. Black or African American residents are disproportionately represented, making up 60% of the city's unhoused population, despite composing 23% of the city's population. 
According to the Moms 4 Housing, there are four times as many vacant homes as there are people without homes, so mothers and their children should not be homeless when housing is available.
Magnolia Street
In late 2019, with the direction of Carroll Fife, a champion for equitable housing, the four mothers staked claim over an empty three-bedroom home at 2928 Magnolia Street in West Oakland. The group said the property had sat vacant for years. Fife, who helped orchestrate the movement, thrusting it into a national spotlight, was later elected to the District 3 council seat.
The Magnolia Street home was owned by Wedgewood Inc., a Southern California real estate investment group that bought the property at a foreclosure auction for just over $500,000 in July 2019.
Wedgewood was the legal owner, but Walker said the home was in the wrong hands. 
"I was homeless with my two children, so it was personal," said Walker. "And we held this house down for 58 days, day in and day out."
From the start of the occupation, Moms 4 Housing wanted Wedgewood to turn over the property.
"Housing is a human right. I pay bills there. I pay water, PG&E, internet. We live there," Walker previously said. "We want to purchase the home ... it needs to belong back in the hands of the community. It was stolen through the foreclosure crisis."
But Wedgewood was ready for a fight and went through the courts to lawfully evict the moms. Tactics used by Alameda County sheriff's deputies to carry out the predawn eviction on Jan. 14, 2020, drew ire from local leaders like then-Mayor Libby Schaaf.
Video and images showed deputies busting open the front door of the home with a battering ram. 
Deputies then forced the mothers outside the home, their hands bound by plastic ties.
"It was terrorizing not only for myself and my children, but for the whole entire neighborhood to see such a zone that looked like a war zone," Walker recalled. "That's the only thing that I could think of to describe it like military gear, AR-15s, robots."
Moms' House
The acrimonious public battle over the property took a turn. 
One week after the moms were evicted from the home, Wedgewood agreed to sell the property to Oakland Community Land Trust, a nonprofit that holds property for the benefit of low-income residents.
The land trust purchased the property in May 2020 for $587,000 and vowed to put the property back into the right hands — Moms 4 Housing.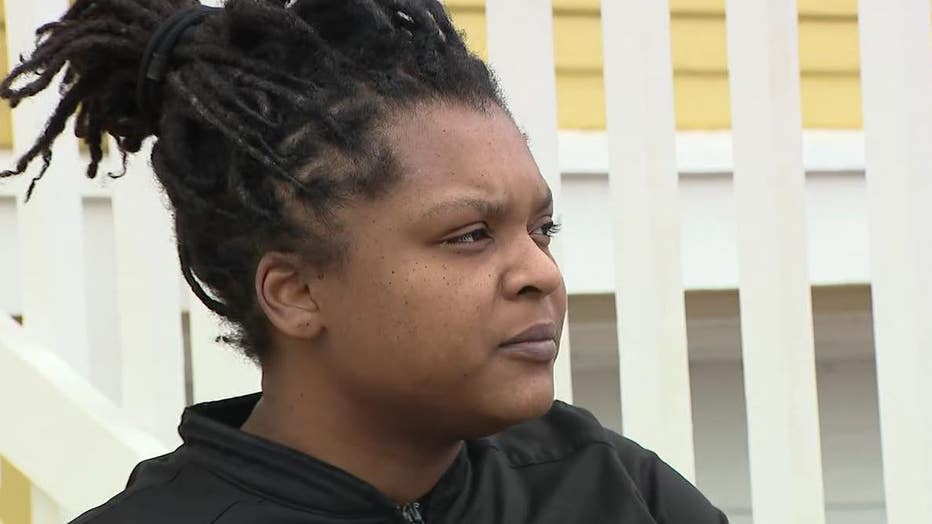 Bry'Ana Wallace, 25, is one of two mothers who currently live at the home of Magnolia that touched a fierce battle.
Moms 4 Housing set out to turn the home into transitional housing for homeless mothers and their children. 
The home required extensive renovations, which included converting the home into two units and getting a new roof. 
It was all paid for through community donations, according to the land trust. 
And in late 2021, the rehabilitation of "Moms' House" was complete.
"It's been completely transformed into two units, and now we're supporting two formerly unhoused mothers and their children," Walker said.
Moms' House more than just housing
Moms' House offers wraparound services for formerly unhoused mothers to get on their feet, such as financial literacy training and advice for boosting credit. 
Soon, they will include childcare.
"Not only do we want to house mothers, we want to support their dreams and aspirations of education, entrepreneurship, or whatever it is they want to pursue," Walker said. "It's no mother and baby sleeping on the street wondering where they're going to sleep next or if they have safe housing,"
The group understands the road toward equitable housing is one with many twists and turns, but any stride forward is progress. 
Moms 4 Housing inspired California state law SB 1079, which prevents real estate speculators from buying homes in bulk during foreclosure auctions. 
In turn, it gives tenants and families the opportunity to purchase homes individually. 
Sen. Nancy Skinner, who authored SB 1079, said the law helped an East Bay woman, Jocelyn Foreman, become the owner of the foreclosed home she had lived in.
Walker's activism led her to an elected office in Berkeley where she sits on the Rent Stabilization Board.
As for the path forward for Moms 4 Housing, the focus remains on housing as many families in need as possible.
"There's a lot of vacant properties still here (Oakland). Like we want those properties to be able to develop them for other moms and babies," Walker said. "Hopefully in the next year we'll have some land to develop."