'I have not made a decision yet:' Oakland mayor on police chief
OAKLAND, Calif. - Oakland Mayor Sheng Thao knows that Wednesday will mark a 30-day deadline whether she plans to discipline the police chief or not.
And while Thao told KTVU in an interview Tuesday that she plans to adhere to that deadline, she didn't say what she plans to do with Oakland Police Chief LeRonne Armstrong, whom she put on administrative leave on Jan. 19.
"I have not made a decision yet," Thao said. 
She did stress that she wanted to honor the timeline of the Oakland Police Department, which mandates that rank-and-file officers must be disciplined within 30 days in cases with a "sustained finding." 
A "sustained finding" means there was sufficient evidence to prove the officer violated a policy or law. 
Thao said she wanted to treat Armstrong just like anyone else.
"For me, it's about building that trust with community," Thao said. "It's about transparency and making sure that we are not allowing for certain people to be treated differently while we let others be treated a separate way."
Thao wouldn't say much more, other than to add she was working "closely" with the Oakland Police Commission, it was "unfortunate that confidential reports had been leaked," and that the allegations against the chief were "serious." 
KTVU was the first to obtain three confidential reports that comprised a $500,000-probe by an outside law firm into how OPD's Internal Affairs department conducted two investigations into Sgt. Michael Chung.
That firm, Clarence Dyer and Cohen, recommended a sustained finding of "gross dereliction of duty" for Armstrong, and also found him "not credible," when he said he didn't know the particulars of internal inquiries into Chung.
Armstrong maintains that these investigations criticizing him was "baseless" and "unsupported." He also said that he feels unfairly "targeted" and that what he actually said has been mischaracterized.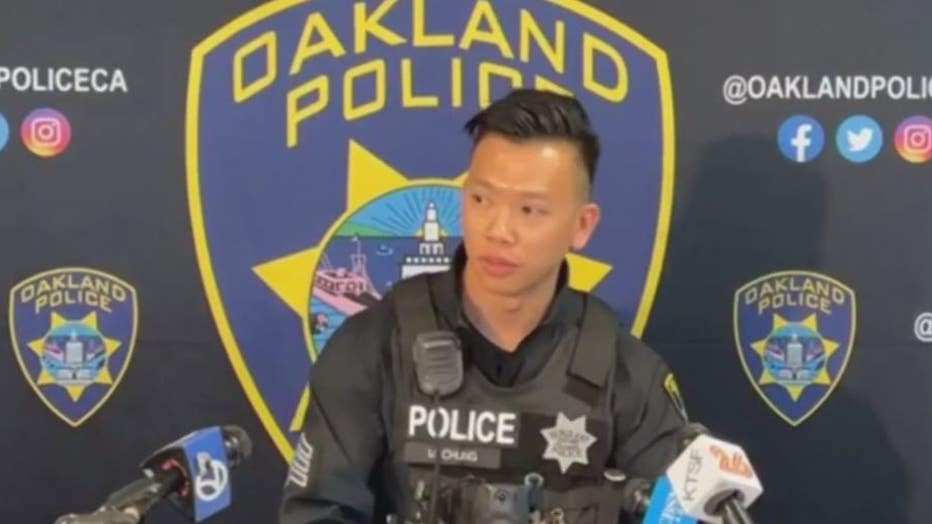 Oakland Police Sgt. Michael Chung has been placed on administrative leave in April 2022. He is speaking here at a news conference on drones. 
The focus on the chief began with two allegations of misconduct into Chung. 
In March 2021, Chung ripped the bumper off his neighbor's Mercedes in San Francisco and then left the scene, the outside investigation found. The city of Oakland learned about it when the neighbor filed an insurance claim with the city. A captain in the department told a subordinate to water down the report into Chung, finding that he was part of a "preventable" collision, instead of a hit-and-run that caused $14,000 in damage, the investigation found. Armstrong acknowledged that he signed off on this report without reading it – as he said most chiefs do. And Chung received counseling and training.
Nearly a year later, Chung fired a gun in an Oakland police elevator, didn't come forward for a week and in the meantime, had dumped the shell casings into the bay. He intimated to a lieutenant that he wanted to die by suicide and any real investigation into what happen was thwarted, the outside investigation found. Clarence Dyer and Cohen investigators also didn't believe Chung's suicide story.
Chung has been on administrative leave since 2022.
In one of their reports, the Clarence Dyer and Cohen firm wrote that they felt that Armstrong displayed a "lack of attention to internal processes that should have been laser-sharp and focused on an investigation involving a pattern of criminal misconduct," the report continued.
Under Armstrong, the report added, there is a "problem with the tone at the top – at least when it comes to the department's commitment to policing itself."
Armstrong disputes the negative findings in the report, adding that he has reformed the police department more than any other chief.
"History has shown, I've held people accountable," the chief told KTVU in an interview on Monday. "I don't give special treatment."
He said that some of his subordinates made mistakes and gave him incomplete information when he signed off on Chung's discipline and that he shouldn't be held responsible for others' errors. 
"I think to suggest that simply because somebody makes a bad decision, that it's the chief's fault," Armstrong told KTVU on Monday. "I think it's unfair." 
For the last month, Thao has been lobbied hard by Armstrong, the NAACP, the Chinatown Chamber of Commerce and many community members to reinstate the chief – a proud "son of Oakland." A petition was started to get him back on the job.
Whatever the answer may be, this latest Oakland police saga highlights the agency's revolving door of chiefs, an embarrassment to the department and the community.
Armstrong is the 12th person to serve in that role since 2009. 
Lisa Fernandez is a reporter for KTVU. Email Lisa at lisa.fernandez@foxtv.com or call her at 510-874-0139. Or follow her on Twitter @ljfernandez.