"I'm ecstatic that it's being cleaned up." Neighbors react to official closure of Wood Street encampment
OAKLAND, Calif. - After three weeks of transitioning Wood Street encampment residents and their pets to safe shelter programs, the City of Oakland said it completed the court-authorized closure of Wood Street Commons. The official closing came with mixed reaction as the site was closed and secured Friday afternoon. 
"I'm telling you, everybody that is in my complex, the next complex, all the buildings around, are ecstatic that this is being cleaned up," said Daniel Burns, a nearby resident. "This is our neighborhood and the camp has been a constant source of trash and ongoing problems for years."
Burns told KTVU he's excited about the future of the 3-acre parcel of land and the 170 affordable housing units set to go up on site. However, not everyone shares his enthusiasm for the project.
A block away Lydia, a former resident of the Wood Street encampment who asked that we not share her last name, held back tears as she spoke with KTVU's Dave Detling.
"I secured a Section 8 Housing voucher. I know I should be happier, but I'm not," she said. "It's hard to imagine life without the family I've created. The city is moving us away from each other."
Lydia said she's come to rely on the former encampment and its close-knit community.
"I suffer from depression," she said. "They'd check on me and make sure I was okay. They'd see if there's anything that I needed. They'd get me up if there was a meeting that I needed to go to. The people around here, while they may have their faults, are really special and really intelligent and are really amazing and creative people."
Oakland officials said they understand the situation many unhoused people are dealing with, especially those who called the Wood Street encampment home. Finding the encampment's former residents a safe home is one of the top concerns for Oakland Mayor Sheng Thao.
"Safety and securing dignified shelter for every resident were our primary goals in this closure," Thao said. "I am grateful we achieved both and thankful for the collective efforts of the many staff in City Departments, County agencies, and community partners who contributed to this massive effort."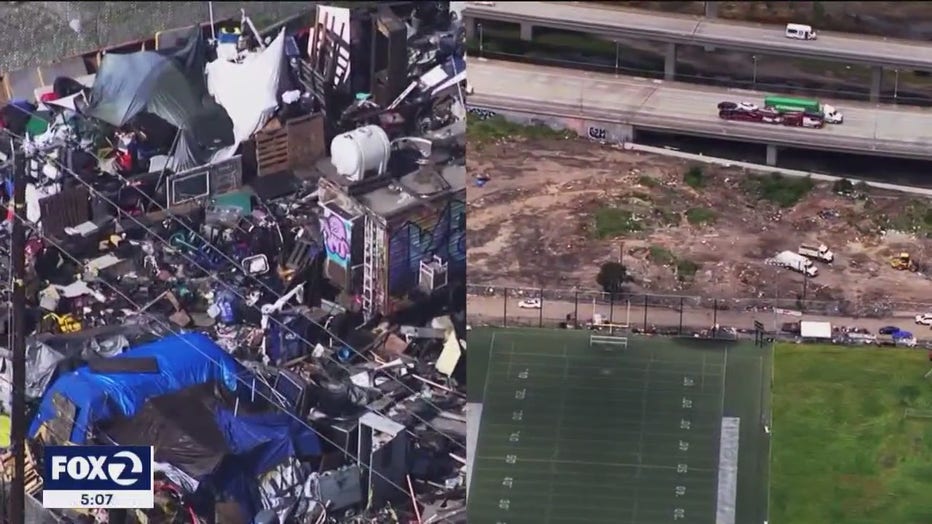 The photo shows a side-by-side image of the Wood Street encampment before and after Oakland officials evicted the residents and order the site cleaned up.
As of Wednesday, 57 people out of an initial census of approximately 70 individuals accepted shelter services. Forty-six residents accept shelter at the Wood Street cabin program and 11 elected to move to a Safe RV Parking program. 
"We recognize that this is a free will exercise," said LaTonda Simmons, Assistant Administrator and Acting Homelessness Administrator. "To the extent that individuals are not ready to engage our services, we will continue to meet with them on the street to offer services. Sometimes it takes a number of offers to move people into a program."
Simmons added that there is available shelter space for those in need.
KTVU has learned the City's cross-departmental Encampment Management Team in conjunction with the Public Works removed approximately 700 tons of trash and debris and OakDOT's new Vehicle Enforcement Unit removed 39 vehicles, including nine stolen vehicles, from the site. Environmental Services was on hand to safely handle potentially hazardous materials and Oakland Fire Department extinguished several small fires in the encampment.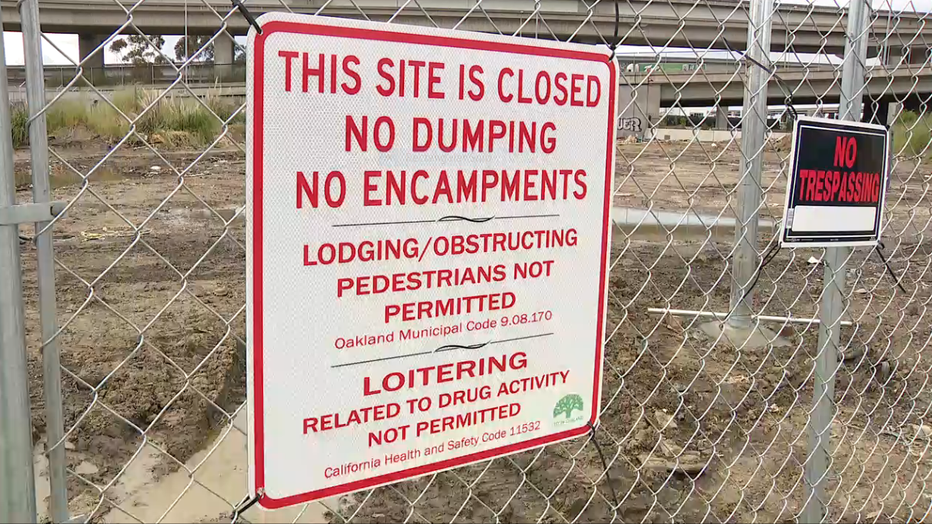 Closure sign posted on fence along Wood Street following official closure of homeless encampment (KTVU FOX 2)
With the official closure of the encampment, the City said it can now move forward with the development of 170 units of permanent affordable housing for up to 500 Oaklanders. 
"Moving forward we will have 24-hour security and police around the site," said Simmons. "A thicker, reinforced fence is currently being built."
As for what comes next, Oakland officials expect developers to be on site in the coming weeks.