'I'm not okay:' Pleasant Hill pilot charged with attempted murder admits to nervous breakdown
PORTLAND, Oregon - In a stunning acknowledgment, the Pleasant Hill pilot charged with trying to shut off a plane's engines told authorities that he felt like he was suffering a nervous breakdown and was not OK.
"Yah…I pulled both emergency shut off handles because I thought I was dreaming and I just wanna wake up," Joseph David Emerson said, according to the federal affidavit filed Tuesday against him in U.S. District Court in Oregon. "I'm admitting to what I did. I'm not fighting any charges you want to bring against me, guys."
The 7-page court document signed by Special Agent FBI Tapara Simmons, and correlating state court charges, are the first glimpses into Emerson's possible mindset Sunday evening on an Alaska Airlines flight, operated by Horizon Air, when he is accused of trying to shut off the plane's engines en route from Everett, Wash., to San Francisco. 
In court documents also filed Tuesday by the Multnomah County District Attorney in Oregon, Emerson clarified that he had also taken psychedelic mushrooms for the first time 48 hours before boarding the plane. The effects of mushrooms wear off in roughly 24 hours, experts say. 
The DA there charged Emerson with 83 counts of attempted murder in the second degree –  one for each passenger, 11 of whom were 14 years old or younger. Emerson was also charged with one felony count of endangering an aircraft in the first decree. 
During his brief arraignment in the Portland courtroom, Emerson pleaded not guilty. His attorney, Noah Horst, entered the plea on his behalf. 
He appeared behind a glass in court, wearing blue jail scrubs and had his hands behind his back. 
Emerson's bail hearing is scheduled for Wednesday afternoon.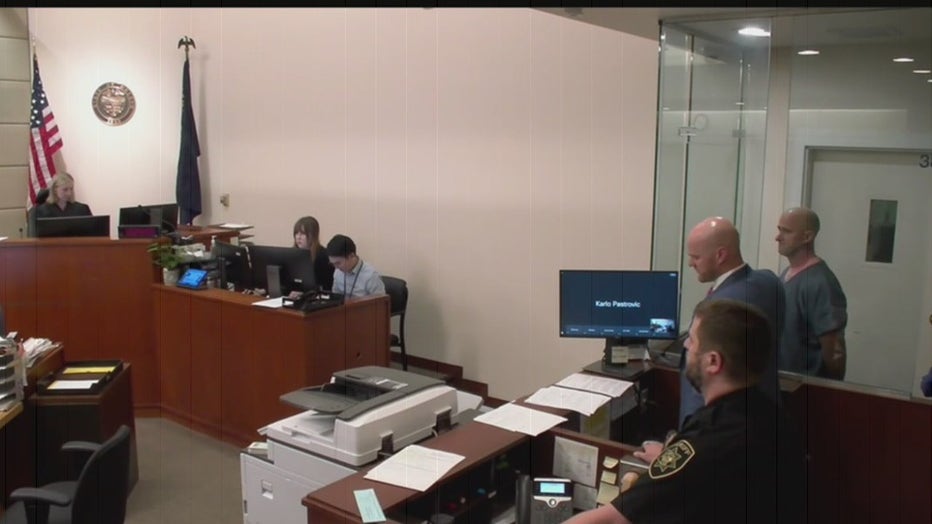 Joseph David Emerson appeared in a Portland, Ore.; courtroom on Tuesday, Oct. 24, 2023 where he pleaded not guilty to 83 counts of attempted murder. 
Despite the scare and the seriousness of the charges, power on the plane never went off and the aircraft with about 80 passengers landed safely after being diverted to Portland. 
Emerson, 44, is a longtime pilot who lives in Pleasant Hill. 
Efforts to speak to him and his family have been unsuccessful. His neighbors describe him as a loving father and a great family man. 
Meanwhile, he is also facing an arrest by federal authorities who are seeking additional charges of interference with flight crew members and attendants. 
He is set to be arraigned in federal court in Portland on Thursday afternoon. 
According to both sets of court documents, the pilot of the plane met Emerson for the first time on Sunday night and said there was initially "zero indication" that anything was wrong. 
Emerson, who eventually sat in the jump seat near the cockpit, engaged the pilots in casual conversation about planes.
But somewhere between Astoria, Oregon, and Portland, Emerson told the pilots: "I'm not okay."
The second pilot saw Emerson reaching up and grabbing the red fire handles and pulling them down.
The first pilot grabbed Emerson's wrist and the second pilot declared an inflight emergency.
There was a brief struggle and Emerson left the cockpit about 90 seconds after he messed around with the gear. 
It's hard to know exactly what Emerson was thinking, but he was heard saying to some flight attendants: "You need to cuff me right now or it's going to be bad."
Flight attendants put handcuffs on Emerson's wrists.
Upon descent, Emerson turned toward an emergency exit and tried to grab the door handle, but a flight attendant stopped him.
Another flight attendant heard Emerson saying, "I messed everything up," admitting that he "tried to kill everybody." 
Emerson then started to text someone on the phone. 
When the plane finally landed, Port of Portland police began interviewing Emerson. They were later joined by the FBI. 
Emerson told police that he felt like he believed he was having a "nervous breakdown" and had not slept in 40 hours. He told another officer that a friend of his had recently died. 
Afterward, he asked an officer why he was being shown so much kindness.
"I'm obviously f***d up," he said. 
Aubrey Gavello was a passenger on the plane. She saw Emerson being cuffed and heard that there was an emergency landing, but before that, "we didn't know anything was wrong."
She described Emerson as calm, even sitting in zip ties.
When she exited the plane, a flight attendant said that one of the passengers had a mental breakdown.
But Gavello said she never felt that she or anyone else was ever in danger. 
She said she's sort of glad she was kept in the dark. 
"I don't know if we all would have boarded the next plane had we known all the information," she said. "It was better that they kept it from us."