Investigation of oxygen explosion at Kaiser office building underway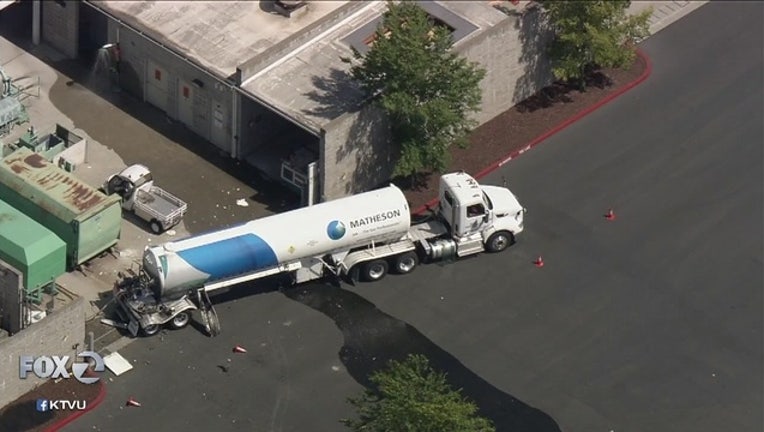 SANTA ROSA (BCN)-- The Santa Rosa Fire Department and the California Division of Occupational Health and Safety are investigating Wednesday's explosion during a tanker truck delivery of liquified oxygen to a Kaiser Permanente Medical Center office building.
Santa Rosa Assistant Fire Marshal Paul Lowenthal said the oxygen was being delivered around 1:45 p.m. to an onsite tank at the rear of Building 5 at 3975 Old Redwood Highway. The tank supplies oxygen to the medical office building.
Debris from the explosion damaged personal vehicles in the immediate area and caused minor damage to equipment outside the building, Lowenthal said.
The first of 28 fire personnel who responded to the explosion arrived within six minutes. Firefighters evacuated the office building and Santa Rosa police and the California Highway Patrol closed U.S. Highway 101 and Old Redwood Highway because of the ongoing leak of liquefied oxygen, Lowenthal said. Highway 101 reopened around 4:30 p.m.
Kaiser Permanente Santa Rosa Medical Center to the south was not evacuated.
The tanker truck driver has not been identified. He suffered significant injuries and remains in stable condition at a hospital, Lowenthal said. 
Building 5 will remain closed on Friday pending regulatory and fire inspections, according to a Kaiser spokesperson. Building 4 at the medical complex north of the hospital is open. Kaiser said they are reaching out to patients who have scheduled appointments or ambulatory surgery for Friday, July 20 ot reschedule or make alternate arrangements.