Keuchel solid again to help Astros over A's 6-1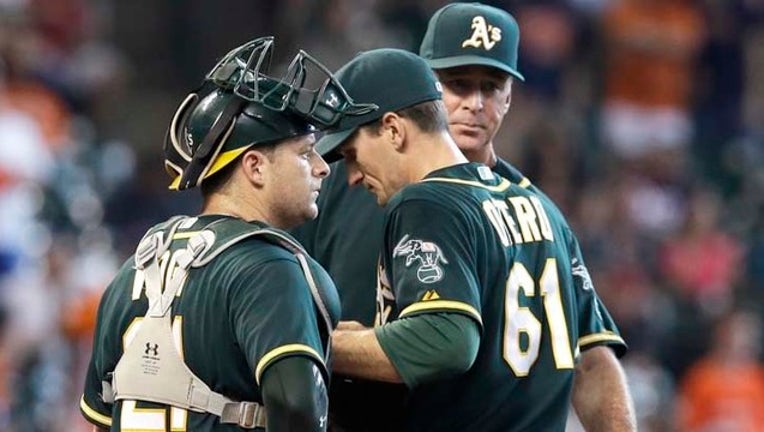 article
HOUSTON (AP) — Sonny Gray was less than his usually reliable self, and the struggling Oakland Athletics couldn't overcome it.
Chris Carter and Colby Rasmus each hit two-run homers, Roberto Hernandez pitched six strong innings, and the Houston Astros beat Oakland 6-4 Tuesday night.
Gray (4-2) allowed three runs with four strikeouts in five innings, marking just the second time in nine starts Gray has allowed three or more runs.
"He threw some pitches today and was battling the zone a little bit for him," A's manager Bob Melvin said. "His stuff looked good. At the end of the day what'd he give up, three runs; which is awful for him we expect so much. He had a little issue with some of the balls and strikes."
Oakland has lost five of its last six games.
Battling the strike zone added to Gray's troubles as he struggled to find a consistent home for his fastball and left one too many pitches up.
"That's what they do, they took some really good pitches and it just wasn't our night," Gray said.
One of those pitches came against Carter who muscled a two-run homer to left field in the second inning to put Gray and the A's down 2-0.
"He's just strong. He hit that ball with one arm and it went a mile," Gray said. "I look back it wasn't a bad pitch. It was 3-2 and I was challenging him earlier in the game and he hit it a mile with one arm. I wouldn't change anything, just challenged him and he's a strong guy."
Rasmus launched his homer to right in the eighth to extend the Astros' advantage to 5-2. Two batters after Rasmus, Jason Castro added a solo home run to right.
Hernandez (2-3) gave up two runs and seven hits with three strikeouts for his first win in four starts. He has gone at least six innings in each of his last seven starts.
Pat Neshek got the final out for his first save.
Houston improved to 26-14 for the best record in the American League and the best start in franchise history through 40 games.
After Josh Reddick's RBI double in the third sliced Houston's lead in half, Evan Gattis had an RBI single in the fifth to restore the Astros' two-run lead.
Max Muncy had a solo home run in the sixth to cut it to 3-2.
Brett Lawrie had three hits, including an RBI single in the ninth to pull the A's to 6-3. Mark Canha followed by grounding into a double play, scoring Muncy. After Luke Gregerson walked Eric Sogard, Neshek struck out Billy Burns to end it.
Oakland had two chances in the second to get on the board, but had runners thrown out at home both times.
With one out, Lawrie doubled to center, and Muncy headed home. Jonathan Villar's relay throw to the plate just got Muncy. On the next play, Sam Fuld grounded out to Chris Carter, who tossed the ball to Hernandez to cover first base, but Fuld beat Hernandez to the bag. Lawrie headed home, and Hernandez's throw to Castro at the plate was just in time to get Lawrie. After a lengthy review, the play stood.
"Both guys thought they were safe," Melvin said. "Apparently they weren't on replay. The second one was probably real close."