Kronos Quartet pays it forward with artistic, educational project ahead of Berkeley performance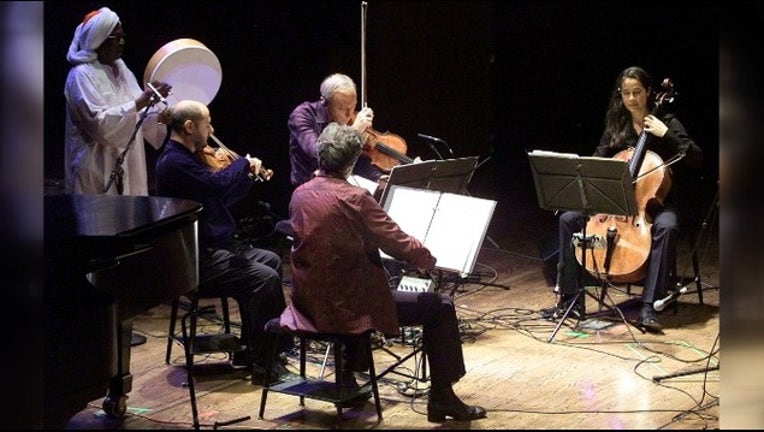 article
BERKELEY, Calif. (BCN) - San Francisco's famed Kronos Quartet will perform at University of California at Berkeley's Zellerbach Hall on Jan. 25 with a world premiere of new works in its "Fifty for the Future: The Kronos Learning Repertoire" project.
Hearing this masterful string quartet is a treat in itself - the concert, presented by Cal Performances, will offer commissioned works from Misato Mochizuki and Mario Galeano Toro, and a guest appearance by haegeum virtuoso Soo Yeon Lyuh.
But the extra bonus is the initiative's "learning" thrust - encouraging string-ensemble students and emerging musicians to get into the act, quite literally.
During the week before the performance, Kronos members will coach student musicians from Berkeley High School, The Crowden School and the Oakland School for the Arts in selections from the established "Fifty for the Future" repertoire. The student groups will then join Kronos as part of the 
Jan. 25 concert. In addition, Kronos will perform a special daytime concert that week for local K-12 schoolchildren.
The initiative is basically a pay-it-forward concept, according to David Harrington, Kronos' artistic director, founder and violinist, who deeply valued such generosity when he was a young musician.
He recalls guidance he received from Rostislav Dubinsky, the first violinist for Russia's Borodin Quartet, who spent hours working with him on a Shostakovich selection in the 1970s.
"Dubinsky had never met me before. I called him at his hotel when he was in Seattle and after his concert we talked late into the night about Shostakovich and all sorts of essential details regarding the music," Harrington said.
"This set the bar for me as to what an elder musician ought to do for a younger musician. Each member of Kronos has received this kind of generous guidance from many people over the years ... We have been given a wealth of spirit and knowledge that we hope to share," he said.
Kronos has been in existence for more than 40 years, with a rotating membership of musicians tackling a broad range of musical genres.
The "Fifty for the Future" initiative - the largest single artistic and educational project ever undertaken by the group - will ultimately commission 50 new works, 10 per year for five years, devoted to contemporary approaches to the string quartet and designed for the training of students and emerging professionals. Last spring, Kronos reached the halfway point of the project, with 25 commissions completed.
Cal Performances is a legacy partner for Kronos' ambitious initiative.
"It's incredibly exciting to see how deeply this project will reach into the community and across generations," Rob Bailis, interim artistic director for Cal Performances, said in a statement. "The staggering scope and significance of (the project) resonates with our core educational mission, our artistic values of musical excellence and commitment to new work."
The Zellerbach concert will include new music by Mochizuki, whose work is often inspired by science and philosophy, and works by Toro, a Colombian musician known for his projects "Ondatr=pica" and "Frente Cumbiero."
Soo Yeon Lyuh, a visiting scholar at UC Berkeley's Center for Korean Studies during the 2015-16 academic year, will join the quartet on haegeum (a traditional Korean string instrument) performing her "Fifty for the Future" work, "Yessori."
Concert tickets are $48 to $68. People can call the Cal Performances box office at 510-642-9988 or visit www.calperformances.org.