Ledecky outshines Phelps, sets world record in Rio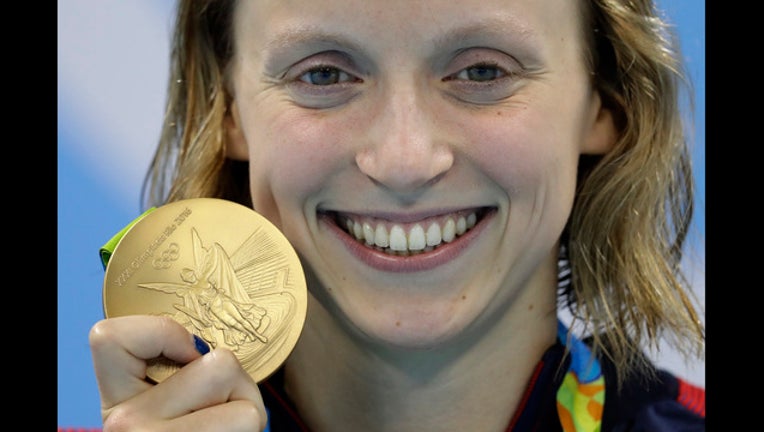 article
RIO DE JANEIRO (AP) — Katie Ledecky even upstaged Michael Phelps at the Olympics on Friday.
Ledecky set a world record by winning the women's 800-meter freestyle by an astounding 11.38 seconds. She's only the second woman to sweep the three longest freestyle races at the Olympics and the first one to do it since the 1968 Mexico City Games.
After winning four gold medals at the Rio de Janeiro Games and looking unbeatable, Phelps finally ran out of steam in what was the final individual race of his career — unless he decides to come out of retirement again.
The frenetic finishes in the swimming pool capped a day that included a big escape by the U.S. men's basketball team and a stunning loss by the women's soccer squad.
Phelps was seeking his 23rd Olympic gold medal and his fourth straight in the 100-meter butterfly, but he was denied by Singapore's Joseph Schooling, who got off to a blistering start and built a lead that even Phelps couldn't overcome.
With Anthony Ervin winning the men's 50 freestyle and Maya DiRado taking gold in the women's 200 backstroke, the Americans would have had a clean sweep were it not for the silver by Phelps, the most decorated Olympian in history.
Ledecky finished well before Jazz Carlin of Britain touched the wall for silver. She joined Debbie Meyer as the only women to sweep the 200, 400 and 800 freestyle races at the same Olympics.
The United States women's soccer team was eliminated by Sweden in the quarterfinals, a startling loss for the four-time Olympic champions that left Hope Solo without a shot at gold but with plenty of bitterness.
The U.S. goalkeeper criticized the Swedes for the way they played in beating the Americans 4-3 in a penalty shootout following a 1-1 draw — a result that means the world's top-ranked team will miss out on an Olympic gold-medal match in women's soccer for the first time.
Solo was angered by Sweden's defensive style and branded the team a "bunch of cowards."
"The best team did not win today," she said. "I strongly and firmly believe that."
Said Sweden coach Pia Sundhage, who once coached Solo when she was in charge of the U.S. national team: "It's OK to be a coward if you win."
Carmelo Anthony, Kyrie Irving & Co. survived their second straight strong challenge at the Rio Games, fending off Serbia 94-91 when Bogdan Bogdanovic missed a 3-pointer from the left wing with 2 seconds left that would have tied it.
Kevin Durant grabbed the rebound to keep the Americans unbeaten 48 hours after they barely escaped against Australia.
On a day that began with another round of rain, South America's first Olympics lingered under clouds of grief, doping and disrespect.
—Brazil's government declared a day of official mourning for a Rio Olympics police officer who died after being shot in the head making a wrong turn into one of the city's slums.
—A Chinese swimmer, Polish weightlifter and Bulgarian steeplechaser have been sanctioned for doping offenses , which are being handled by the Court of Arbitration for Sport for the first time.
—And in a serious breach of judo etiquette with political overtones, an Egyptian judoka refused to shake the hand of his Israeli opponent after his loss.
Other highlights from Day 7:
CLOSE CALLS : Rafael Nadal, the singles champion at the 2008 Beijing Olympics, and Spain teammate Marc Lopez won the men's doubles title. Nadal also reached the semifinals in his bid for a second Olympic singles gold, overcoming his Brazilian opponent and a raucous flag-waving home crowd.
BRONZE BOXER : Nico Hernandez's chance for a gold medal ended Friday when he lost to Uzbekistan's Hasanboy Dusmatov. With a gnarly gash over his left eye, Hernandez had blurred vision and needed stitches. His consolation: his bronze medal in the light flyweight division ends a medal drought for the American boxers that stretched to 2008.
PUIG'S PUSH : Tennis player Monica Puig is one victory from Puerto Rico's first gold medal in Olympic history. Puig continued her surprising run by reaching the women's singles final, eliminating two-time Wimbledon champion Petra Kvitova of the Czech Republic 6-4, 1-6, 6-3. Puig is ranked 34th and unseeded but is assured of no worse than a silver medal.
AUTO ACCIDENT : A German Olympic canoe coach is fighting for his life after a car accident left him with serious head injuries. Stefan Henze, a canoe slalom silver medalist at the 2004 Games, underwent emergency surgery in a Rio de Janeiro hospital. He and a team official were heading to the athletes village when their taxi was in a wreck.
THE SWAMP : In another embarrassment for the Maria Lenk Aquatics Center, a planned practice session had to be called off to give officials more time to clean the green-tinged water — a four-days-and-counting scenario that prompted American diver Abby Johnson to dub it "the Swamp."