Lightning Bolt and Liturgy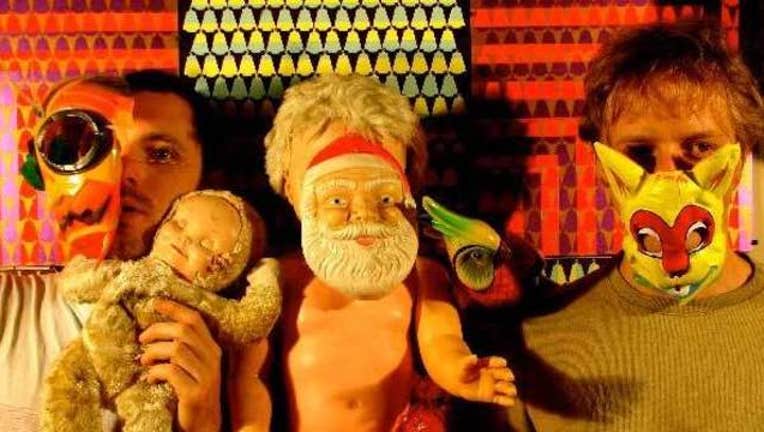 article
Having honed their sound in the Providence warehouse district that provided homes to many fringe artists and musicians, Lightning Bolt took an unorthodox approach to live performances by setting up on venue floors with Chippendale's kit in the middle of the crowd and Gibson's massive arsenal of amplifiers creating a wall of sound for an always intense live experience.
While they have only put out five full-length albums since their debut, the band has released a steady stream of singles and was the subject of the tour documentary "The Power of Salad" that came out in 2002. For their latest effort and first for indie imprint Thrill Jockey, the duo sequestered themselves in the famed Providence recording studio Machines With Magnets to produce Fantasy Empire. A marked departure after two decades of lo-fi recording in their practice space or on the road, the album gives the hectic brutality of the band's live show a laser focus. The audio equivalent of a quadruple espresso, Fantasy Empire may be Lightning Bolt's best yet.
This landmark tour pairs the duo with another iconoclastic band, Brooklyn-based black metal mavericks and Thrill Jockey label mates Liturgy. Initially conceived as a solo project by leader and guitarist Hunter Hunt-Hendrix, the group eventually expanded to a quartet after the 2008 release of their first EP Immortal Life. A drum-machine fueled onslaught of corrosive guitars and Hunt-Hendrix's screaming vocals, the band's early material sounds like an unholy union of Sigur Rós and Mayhem.
Follow-up efforts Renihilation and Aesthethica featured the pummeling live drumming of Greg Fox and embraced some elements of hypnotic drone (both with sustained guitars and almost Gregorian chant vocal effects) that echoed the sound of fringe metal contemporaries Sunn O)). Hunt-Hendrix and company delve into even stranger territory on their latest Thrill Jockey release, The Ark Work. 
Introducing stuttering, glitchy keyboard and drum sounds along with ringing percussion and clean vocals, new songs "Kal Valhaal" and "Follow" bring to mind mid-1970s King Crimson jamming with the Master Musicians of Joujouka. Those lucky enough to score tickets for this pair of Bay Area shows should be prepared for a sonic assault that will leave them elevated and exhausted.
Lightning Bolt and Liturgy

Friday, May 1, 8 p.m. $15 (sold out)
The Chapel

Saturday, May 2, 8 p.m. $15 (sold out)
Leo's