London police investigating death of San Francisco drag performer Heklina
LONDON - The San Francisco nightlife community and others reacted to the sudden death of longtime drag performer Heklina, 55, whose death in London, England was first reported on social media late Monday.   
Heklina, whose legal name was Stefan Grygelko, according to state court documents, was performing for several weeks at London's Soho Theatre with friend Peaches Christ, also known as Joshua Grannell.   
London's Metropolitan Police were called by the London Ambulance Service at 9:47 a.m. local time Monday to a residence at Soho Square for a report of an unresponsive person, who was pronounced dead at the scene, according to a police spokesperson.   
The death is being treated as "unexpected" and is under investigation. An autopsy has not yet been completed to determine the cause of death as of Wednesday morning.   
"I am shocked and horrified to bring this news to you," Grannell wrote on his Facebook and Twitter accounts Monday.   
"I am living in a real-life nightmare so forgive me if I don't have all the answers just now. This morning, in London, England I went to collect my dear friend Heklina, who is costarring with me in a Mommie Queerest show here, and found her dead...Heklina is not just my best friend, but a beloved icon of our community."   
PREVIOUS COVERAGE: Community mourns death of San Francisco drag icon, Heklina
In addition to several film and TV appearances, Heklina was well-known in the San Francisco LGBTQ+ community for starting the Trannyshack live show, performing with Golden Girls Live, and opening Oasis Nightclub in San Francisco, which business partner D'Arcy Drollinger took over in 2019, according to a post from Drollinger on Oasis' website.   
"Heklina's passing is a devastating blow to the community," Drollinger said in a statement on Facebook.   
"Personally, I am heartbroken. I have known Heklina for 34 years. Opening the Oasis was a crowning achievement we shared, after performing for so many years in other people's venues, to create our own space was a dream neither of us believed we could do and yet we did it together."   
State Sen. Scott Wiener, D-San Francisco, said in a statement that he was devastated at the news.   
READ ALSO: Bob Lee, former Square chief technology officer and Cash App founder, killed in San Francisco
"Heklina was an icon in the truest sense -- funny, caring, outrageous, and brave. I first saw Heklina perform when I was a young gay man in the 1990s, new to San Francisco. Over the years, I got to know her and helped her find a space for Oasis. I've rarely worked with someone as fierce, creative, and dedicated.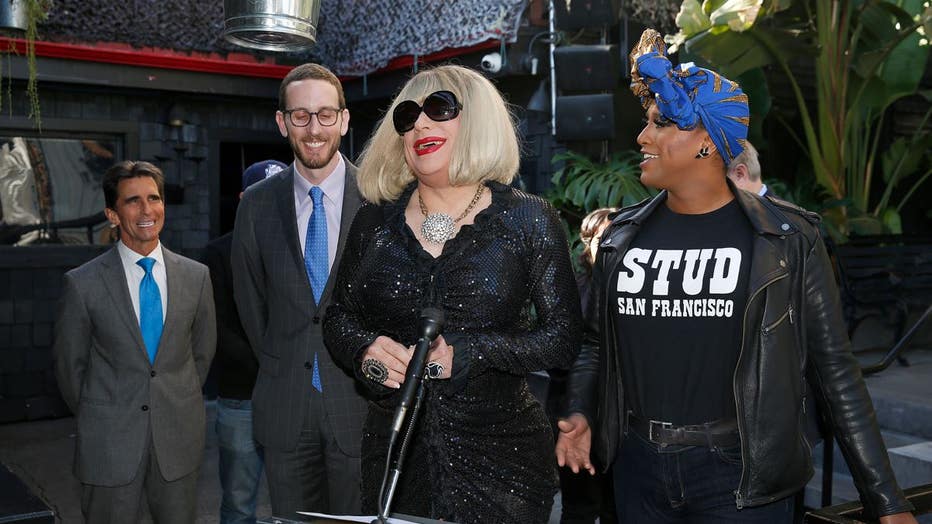 Left to right--Mark Leno, senator Scott Wiener, Oasis host Heklina, and Honey Mahogany comment as a bill that would allow bars to stay open until 4am is reintroduced at San Francisco Eagle bar on Tuesday, November 28, 2017, in San Francisco, Calif.
"Heklina created events and community spaces that spun glitter and giant wigs and raucous jokes into a feeling of home. She was fiercely outspoken and always stood up for her friends and community. She was the soul of San Francisco, and it's hard to imagine the city without her," Wiener said.   
"Heklina was also a staunch defender of drag -- which is under extreme attack right now -- and created opportunities for young drag queens to find their space. While we grieve, we must honor her memory by remembering the joy she brought us and the importance of the art form to which she dedicated her life," he said.  
A statement from Golden Girls Live on Facebook on Tuesday said in part, "Rest easy, and from the bottom of our hearts, thank you for being a friend."