Man charged in Phoenix-area shootings appears before judge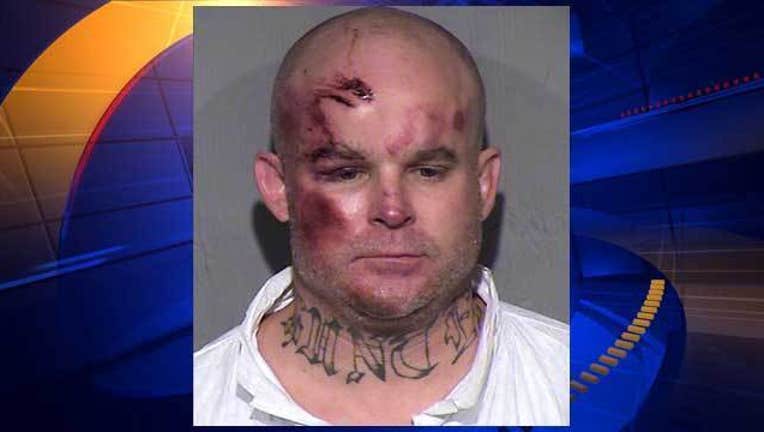 article
PHOENIX (AP) — An ex-convict accused of killing one person and wounding five others in a series of shootings in a Phoenix suburb has a history of substance abuse and criminal convictions dating back more than 20 years.
Ryan Giroux, 41, made his first court appearance Thursday as authorities tried to figure out what triggered the rampage that led to an hours-long hunt for the gunman.
Mesa police said the string of crimes Wednesday included a motel shooting, a carjacking and a home invasion and ended with Giroux's arrest Wednesday at a vacant apartment.
Giroux is jailed on suspicion of murder and other crimes. His bond is set at $2 million bond.
He was arrested after officers spotted him on an apartment balcony and hit him with a stun gun. Numerous officers led the handcuffed man to a truck parked outside the apartment complex.
Giroux has served three stints in state prisons since 1994. An undated mug shot from the Arizona Department of Corrections shows him with several face and neck tattoos, including the word "skinhead" where his eyebrows normally would be.
The Southern Poverty Law Center, which tracks hate groups, said Giroux is not listed in their database. Spokesman Mark Potok said some of his tattoos, including an "88" tattoo on his left temple, are associated with white supremacy.
A newly released mug shot shows a bloodied and scraped up Giroux without many of his facial tattoos visible. Authorities say Giroux had expressed a desire last year to get his facial tattoos removed.
Police says Giroux suffered minor injuries while struggling with officers.
Two witnesses told police that a man was with Giroux when Giroux fired into a motel room. One of the witnesses said the unidentified companion grabbed Giroux by the shirt "and told him they needed to leave the area," according to a document filed by authorities.
Efforts to identify a lawyer representing Giroux who could comment on the allegations against him were not immediately successful.
During the court appearance, the judge said he was appointing a lawyer for Giroux.
Police said the motive for the shooting at the motel was unclear, but the other three shootings appeared motivated by robbery and the suspect's attempt to flee.
The shootings started with an argument inside a motel room that spilled outside, leaving David James Williams, 29, dead and two women wounded, police said. The women were Williams' mother, Lydia Marie Nielson, 51, and Jessica Lee Burgess, 19.
The gunman then shot Isaac Martinez, 20, who was working at a nearby restaurant. Martinez, a culinary student at the nearby East Valley Institute of Technology, was able to run across the street to emergency responders at the motel. Martinez has been released from a hospital.
The gunman fled the restaurant by carjacking the school instructor's car.
Police say the man then went to an apartment complex about 2 miles away, where he went into an apartment and shot Donavon Worker, 24. Worker is expected to survive.
An officer then found Marcus Butler, 25, in a neighboring apartment building with multiple gunshot wounds. Police said Butler was in critical but stable condition Thursday and is expected to recover.
Giroux has convictions in three states dating back to 1993. He was convicted in metro Phoenix on theft, burglary and marijuana possession charges. He also was convicted for burglary, theft assault and theft in California and for robbery in Washington.
In all, he served more than eight years in Arizona prisons, including an attempt aggravated assault conviction for fighting with two Mesa police officers in 2007 when they tried to arrest him for shoplifting a bag of potato chips at a convenience store.
Police say Giroux tried to reach for a .45-caliber pistol in his waistband during the struggle with officers. Giroux denied reaching for his gun and claimed officers beat him.
After his late 2013 release from prison, Giroux was ordered to spend two months in county jail for violating his probation. Officials said he used or possessed methamphetamine and marijuana and failed a drug test after his release.
They noted that Giroux was able to get a medical marijuana card but he had sought substance abuse and mental health treatment.
"The defendant stated he wants to change his life around and begin to have his facial tattoos removed as well as the tattoos on his hands," said a report filed by probation authorities in May.
Giroux has a GED and a certification in fighting wildfires. He also was using cocaine, heroin, LSD and methamphetamines off and on for the past 20 years, according to court records.