Man known as 'Jogger Joe' pleads no contest to misdemeanor charges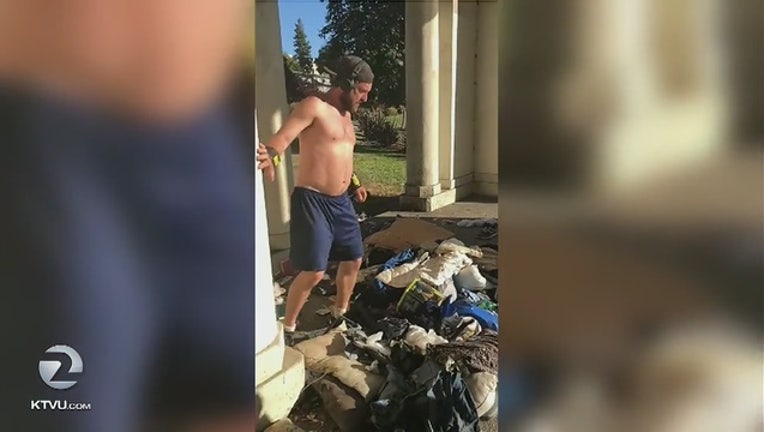 article
OAKLAND (BCN) A man known who was dubbed "Jogger Joe" on social media sites pleaded no contest on Friday to misdemeanor battery for stealing the cellphone of a man who confronted him for throwing a homeless man's belongings into Lake Merritt last June.
Henry Sintay, 31, also pleaded no contest to misdemeanor vandalism for throwing the homeless man's belongings into the lake.
VIDEO: Jogger throws out homeless man's items into lake Merritt
After Sintay entered his pleas, Alameda County Superior Court Judge Morris Jacobson immediately sentenced him to five years' probation, ordered him to take anger management classes and ordered him to stay away from the man who had confronted him, Matt Nelson, as well as from the area 
where the incidents occurred.
Oakland police Officer Michael Ransom II wrote in a probable cause statement that Sintay was recorded committing a strong-arm robbery of a cellphone on June 9, 2018, and Sintay confessed to the crime when he was interviewed by police.
Sintay, an Oakland resident, has a prior felony conviction for selling or transporting marijuana in Riverside County in 2009.
Nelson, who's the president of Presente.org, which describes itself as the nation's largest online Latinx organizing group, wrote in an online posting shortly after the incident that the theft occurred on June 9 
when he used his cellphone to videotape Sintay when he asked Sintay why he threw a homeless man's belongings into Lake Merritt the previous evening, June 8.
That incident, videotaped by another person, was posted on the Lake Neighbors Facebook group page and received national attention.
Nelson alleged that Sintay, who was accompanied by another man, grabbed his cellphone and "assaulted me multiple times."
Nelson wrote that he suffered "a mild concussion, some cuts and bruises and many sore and strained muscles."
Before Sintay entered his plea on Friday, Nelson told Judge Jacobson that he was agreeable to allowing Sintay to resolve the case without having to serve time in state prison.
Nelson said he just wanted Sintay to "acknowledge the severity of the crime, the violence and the theft, and the destroying of the few possessions of a homeless individual."
But Nelson said, "I can't find a compelling reason" to have Sintay sentenced to state prison. Sintay originally was charged with felony second-degree robbery for stealing Robinson's phone but Jacobson amended that count to misdemeanor battery after the prosecution and the defense submitted the case to him.
The misdemeanor vandalism count was added to the case after the initial charge was filed against Sintay.
Referring to Sintay's actions against the homeless man and Nelson, Jacobson told Sintay, "There should never be conduct like this again. Your behavior was shameful."
Jacobson also ordered Sintay to write letters of apology to the homeless man and Nelson.
Alameda County Assistant Attorney Matthew Golde, one of the prosecutors in the case, said Sintay's plea and sentencing are "a fair 
reflection of what happened."
Golde said Nelson agreed to a resolution that didn't call for Sintay to serve time in state prison because Nelson believes in restorative justice.