Man pleads no contest to involuntary manslaughter in SSU dorm, sentenced to time served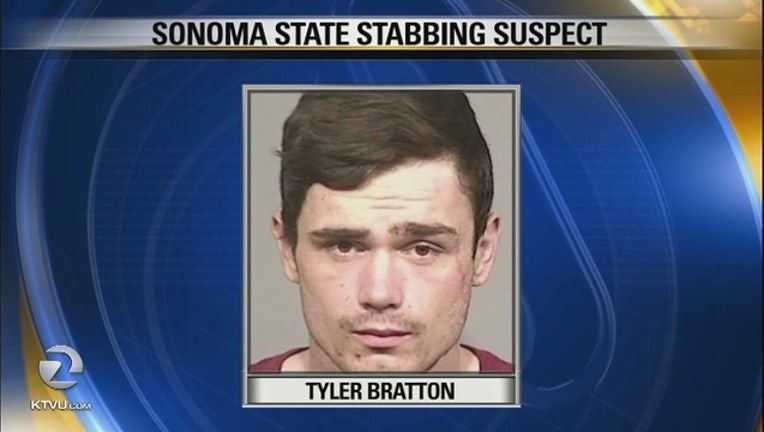 SANTA ROSA, Calif. (BCN) - A Santa Rosa man pleaded no contest last Thursday in Sonoma County Superior Court to the involuntary manslaughter of a man in a Sonoma State University dorm room in May.
Tyler Bratton, 20, also pleaded no contest to possession of a weapon on a school campus. As part of a plea agreement, he will be sentenced to the time he has served in Sonoma County Jail since the May 13, 2018 death and will be released, Chief Deputy District Attorney Spencer Brady said.
Bratton also will be sentenced Oct. 17 to three years of probation. If he violates his probation terms, he faces a maximum sentence of four years and eight months in custody, Brady said.
After a preliminary hearing in July, Sonoma County Superior Court Judge Robert LaForge ruled there was sufficient evidence to try Bratton for the voluntary manslaughter of Steven John Garcia, 26, of Santa Rosa. 
Bratton's attorney Lynnette Brown claimed the slaying was in self-defense. She said Bratton used reasonable force to defend himself when Garcia and a woman, Rebecca Stjern, 21, used a key card to enter the dorm room of Bratton's 20-year-old girlfriend at the time, Riley O'Rourke.
O'Rourke testified Garcia grabbed Bratton around the neck. Brown said the choking could have ended in great bodily injury or death and Bratton feared for his life. Two other people tried to get into the dorm room earlier that day, according to testimony at a preliminary hearing.
Bratton told Petaluma police he stabbed Garcia at least six times in the dorm bathroom. O'Rourke testified she ran from her dorm room during the struggle to call police. She said Bratton met her soon afterward in a laundry room and they called campus police.
O'Rourke testified Stjern took her car after she passed out at a party the night before and Stjern threatened her when she confronted her about it. 
There were three confrontations involving Stjern, Bratton, O'Rourke and two others before the dorm stabbing, according to testimony at the hearing.
Deputy District Attorney Chris Brown argued Bratton banged a knife on the window of a vehicle at one of the confrontations outside the dorm, indicating he was over-eager for a fight. He said the use of the knife in the dorm was an escalation of force to an unreasonable level.
Before ruling in July, LaForge watched a two-hour video of Bratton's interview with Petaluma police and reviewed Garcia's autopsy report. The report indicated Garcia suffered 15 stabbing wounds, and LaForge ordered Bratton to stand trial for voluntary manslaughter.