Man remains missing after trying to save stepdad in Camp Fire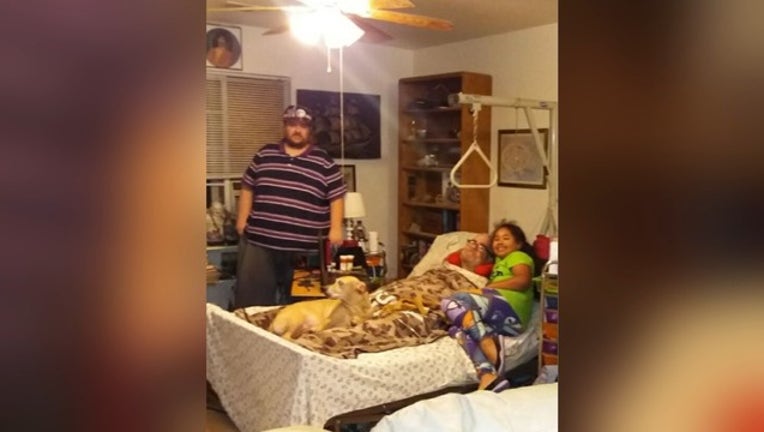 article
PARADISE, Calif. (KTVU) - Friends fear the stepson of a man killed in the camp fire who remains missing, has died as well. 
Andrew Burt was the caretaker for his stepdad Ernie Foss Jr., 63, who had advanced lymphedema and couldn't walk. Foss had also been on oxygen.
A friend told KTVU's Elissa Harrington Burt had acted heroically the morning of the fire and refused to leave his stepdad's side. 
Burt tried to get Foss to a minivan so they could escape to safety, but there was not enough time. Burt remains missing, but his family is remaining hopeful he will be found safe. 
Foss is among the 42 people who have died in the blaze, as the death toll is expected to grow. 
The Camp Fire is now on record for being the most destructive fire in California history.  "We're devastated," said his daughter, Angela Loo, who spoke to KTVU on Sunday night from Oregon.  
Foss moved to Paradise, Calif. eight years ago because the high cost of living pushed him out of the Bay Area.
Loo said her father was a musician – and raised her family near Haight Street in San Francisco. He also taught music lessons right out of their home; he turned their living room into a studio.
Instead of a living room couch, the family sat on an amplifier that her dad rigged up and which ran the length of the wall.
 "I love that he shared his gift of music with me and so many others during his lifetime," she said. "He would want to be remembered for being a San Franciscan through and through." 
The Butte County Sheriff's Office opened a missing persons call center to help handle the cases and determine when DNA would be needed to help identify a fire victim. Three numbers to call: call 530-538-6570, 530-538-7544 and 530-538-7671. 
This story was reported from Oakland, Calif.