Marin County parks to stop collecting parking fees
MARIN COUNTY, Calif. - The Marin County Board of Supervisors will vote on a proposal soon to end parking fees for all five county-owned parks.
The fees are currently set a $5, lowered from $10 in 2019. 
KTVU visited some of those parks to see their beauty and hear what visitors say about this proposal.
Cami Mosquera and her extended family spent Easter Sunday picnicking at Marin's Stafford Lake Park just west of Novato. 
As early as May, all five Marin Parks - in Novato, San Rafael, Tiburon, Tomales Bay, and Black Point near Bel Marin Keys - will offer free parking for summer and far beyond. 
"This is a state where there's so many people, immigrants here especially. We don't have the same possibilities financially sometimes…just a great opportunity for them to come and enjoy no matter what," said Mosquera. 
"A lot of people, they don't have backyards…having an area where you can have some turf or a place where you can lay…have some time with your family," said Chief Ranger Ian McLorg of the Marin Parks Central District.
SUGGESTED: Here's why there could be pink snow at Yellowstone this summer
Those visiting the parks say it is the right move. 
"Certainly, this park, you can't walk to it and so, dropping the fee would be a wonderful thing," said Marin resident Sally Pennypacker.
These beautiful parks allow access to rural, oceanside and bayside environments and activities.
"It's great when there's not a fee involved. You just come and go to the park and not be a hardship. That's not right, you know, for a public park," said Sally's husband Peter Pennypacker. 
"It really enhances equity in Marin to allow people to come to a public area for free," said Sally.
Though the county park system will lose some $400,000 in parking fees, a voter-approved measure in 2022 to renew park funding could make up for it.  
"We see that $5 as a barrier," said McLorg.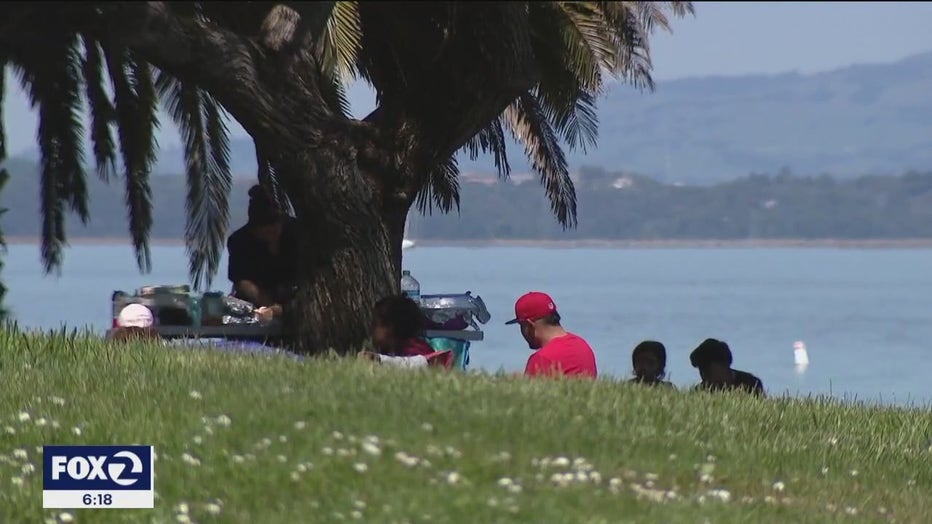 Marin County park with visitors
President Franklin Roosevelt once said, "The fundamental idea behind the parks is native. It is, that the country belongs to the people, that it is in process of making for the enrichment of the lives of all of us." 
There will still be rules and there will still be rangers. But there will also be a new recognition that, for some folks, $5 is a lot of money that might be the difference between being able to get gas for the daily work commute or even buying lunch.