Mudslide and tree fall force 19 Fairfax residents to evacuate
FAIRFAX, Calif. - This may be a harbinger of things to come to many hillside communities. 
Nineteen people who live in this three-building, six-unit complex, at the foot of a very steep hillside, have been evacuated from a cul-de-sac just off Olema Drive in Fairfax.
Around 10:15 a.m. Friday, bad luck came rushing and crushing down. 
"I heard a crack which I thought was thunder and when I looked out, I saw the mud flow. It was not thunder," said resident Marc Fleischer. 
"Three of the units have been affected with structural damage to the building," said Battalion Chief Graham Groneman of the Marin County Fire Department. 
"My house, next door to my sister's house also got fully caved in by the landslide and a really big tree," said resident Lovely Wine.
This is still an active and developing situation. 
SEE ALSO: How to maintain tree safety during California's unrelenting storms
"Out of an abundance of caution, [we] evacuated even some of the structures that are not being directly impacted by the flow to make sure that if this gets any bigger and widens out, that those residents are protected," said Groneman. 
"My wife is disabled. I've got to get my car up there, so we can get out," said Fleischer. 
"I'm still in quite a bit of shock and trying to figure out what I'm going to do with my four children," said Wine.
Had this been a simple tree fall, insurance would really not be a problem. But landslides and the fire department thinks it looks like a landslide, which is uninsurable, generally speaking. That massive hillside behind this complex hasn't necessarily done what it's going to do with more rain coming in.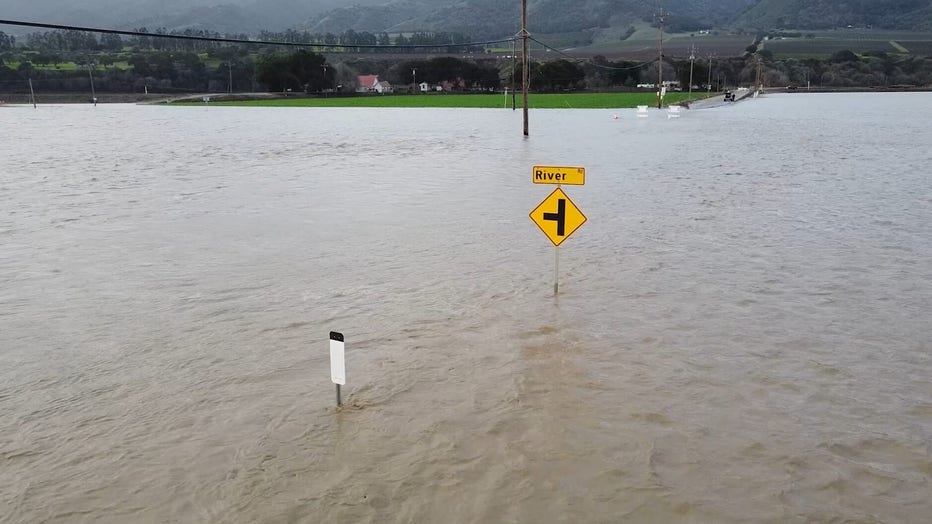 There was widespread flooding in Monterey County on Jan. 12, 2023. The Salinas River was rising and possibly going to exacerbate the problem, officials said. Photo: AIO Filmz (KTVU FOX 2)
RELATED: Monterey Peninsula could be cut off by Salinas River flooding
Many Bay Area communities are on steep, unstable hillsides. 
"Our fear is that this is kind of the first of many to come," said Groneman. 
"I really, really loved living here; good place to raise my kids. First-year we ever had. So, it's gonna be tough, but we'll get through it," said Wine.
Until we get some dry out, any new slide has the potential to get worse.