Massive mudslide prompts evacuations in Berkeley Hills
BERKELEY, Calif. - A mudslide in the Berkeley Hills prompted the evacuation of about ten homes on Monday morning. 
Emergency crews responded to the area of Middlefield Road, Wildcat Canyon Road and The Spiral at about 7 a.m. as mud and debris were shifting in the area. 
Residents were evacuated, and all three roads were closed due to the slide. 
SEE ALSO: Highway 13 in Oakland closed due to landslide
SEE ALSO: Highway 37 in Marin County closed, continues to be flooded
At about 9 a.m., Berkeley Fire Battalion Chief Bill Kehoe said that the ground was still moving and trees could be heard cracking from the slide.
City officials initially said that additional residents in the area should be prepared to evacuate quickly if notified.
But shortly after 10 a.m., the police department updated the situation saying, "Additional evacuations are not anticipated. Responders and experts are on scene. Limit travel to the area unless necessary."
There were no reports of injuries.   
Storm damage was also causing problems in other parts of the city. Foot traffic was prohibited near UC Berkeley's Clark Kerr campus, due to a mudslide. There was also limited access in the area of the UC Botanical Garden on Centennial Drive because of a slide, according to Berkeley police.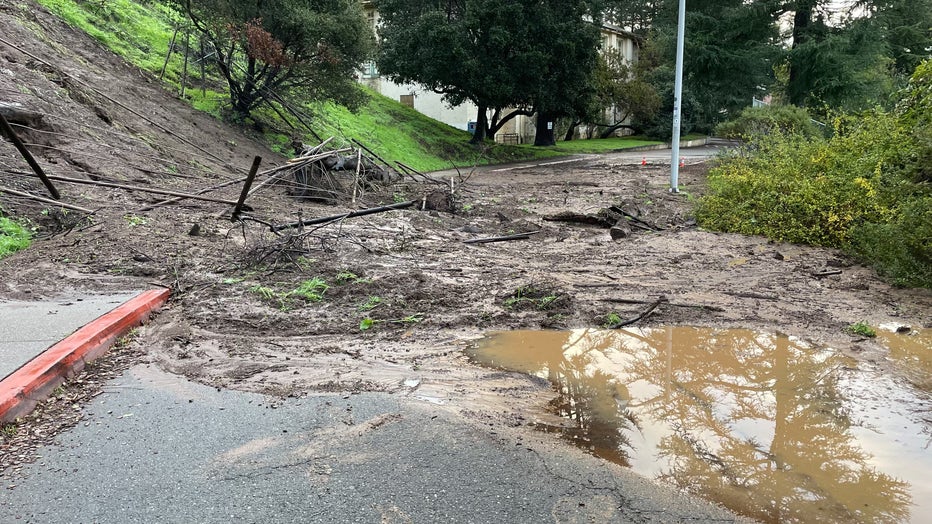 UC Berkeley issued an alert on Monday, Jan. 16, 2023, warning people to "AVOID THE AREA of Sports Lane, Clark Kerr Campus until further notice," due to a mudslide. 

 Bay City News contributed to this story.