100-foot mudslide stalls ACE train in Sunol, passengers evacuate
SUNOL, Calif. - Passengers aboard an Altamont Corridor Express train traveling westbound near Sunol on Tuesday had to be evacuated after a 100-foot mudslide blocked the tracks. 
Alameda County Fire Department Division Chief Randall West told KTVU that the train, carrying 230 passengers and crew, did not derail at 8:45 a.m., and there were no injuries or equipment damaged by the mudslide. 
Essentially, the train was stopped on its track because of the mud. 
A passenger took video from inside the train, showing tree branches that had fallen outside cracked train windows.  
Union Pacific crews were sent to inspect the tracks and work to get them cleared. 
"It was more like a shock. But it was very short. So we just moved for a second and then stop," said passenger Fatima Racilli.
The train started off in Stockton at 6:50 a.m. and had been bound for San Jose. 
At around noon, a second train was sent to retrieve the passengers by coupling the two trains together and pulling the stalled one to the Pleasanton station. 
"At that point, ACE 05 became unable to progress on its route. At which time Union Pacific was notified and dispatched a crew to clean up the tracks," said David Lipari, a spokesman for the San Joaquin Regional Rail Commission.
Experts said weeks of heavy rain was likely a contributing factor for the accident.
"When the trains go by, they cause vibrations in the ground. And that combination of water-loosened soil can in some circumstances, lead t to a mudslide," said Dr. Frannie Edwards of the Mineta Transportation Institute.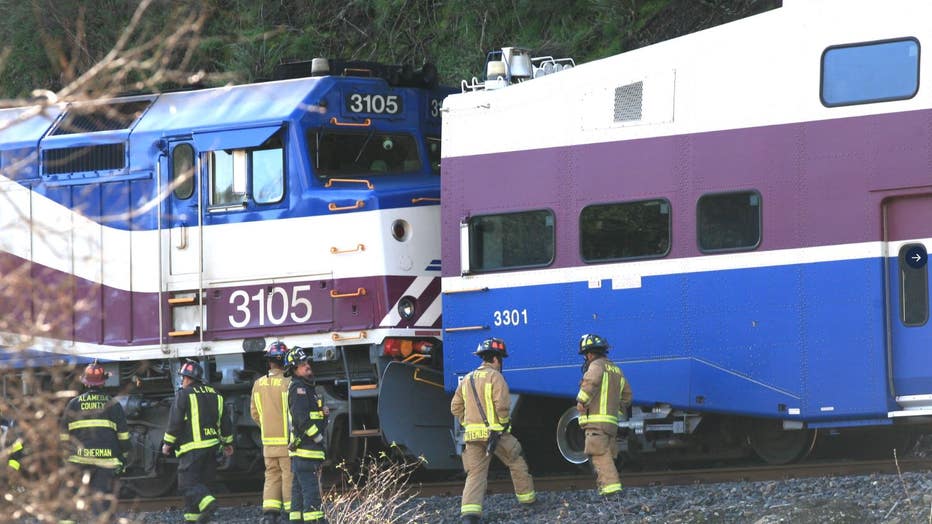 Photos courtesy Alameda County Fire Department. 
Officials said there was minimal train damage, and no injuries to passengers and crew due to built-in safety features.
"The train itself performed as it was designed. The Lexan windows were hit by a lot of shrubbery and vegetation, but they did not shatter," said Edwards.
Once the transfer of passengers was completed, the second train reversed course – backing along the tracks back to the Pleasanton Station.
Passengers were off loaded, and moved to buses to complete the trip to San Jose.
"This is a better situation than driving to work in Silicon Valley every day. I'll continue to ride the train," said one passenger, who missed a day at work due to the delay.
The train is expected to be restored Wednesday morning. 
The mudslide also disrupted travel for passengers headed from San Jose to the Central Valley, as their northbound service was stuck behind mud and metal.
ACE Transit officials said the three Capitol Corridor trains headed from San Jose to the East Bay Tuesday night would honor ACE Transit tickets.
SEE ALSO: Knee-deep flooding in Livermore; residents break out the paddle boards
Niles Canyon Road has been prone to mudslides. 
In 2016, another train derailed in this area when it was hit by a landslide. 
The road was closed last week because of heavy rains in the area but has since reopened.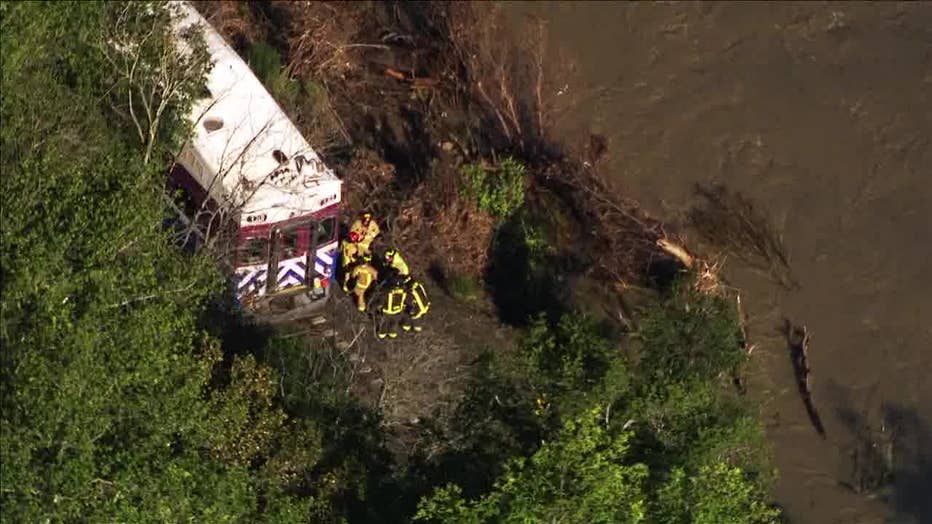 An ACE train was stalled because of a landslide in Niles Canyon in Fremont. Jan. 17, 2023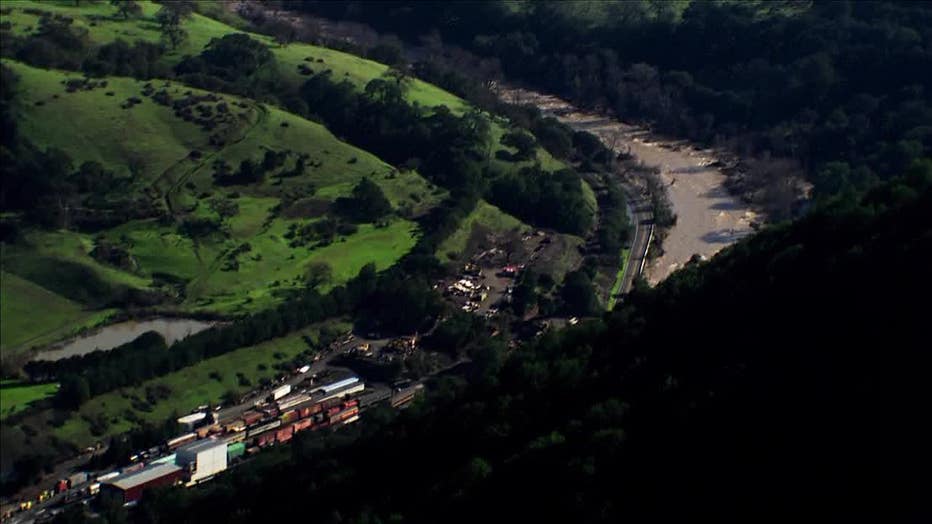 An ACE train was stalled because of a landslide in Niles Canyon in Fremont. Jan. 17, 2023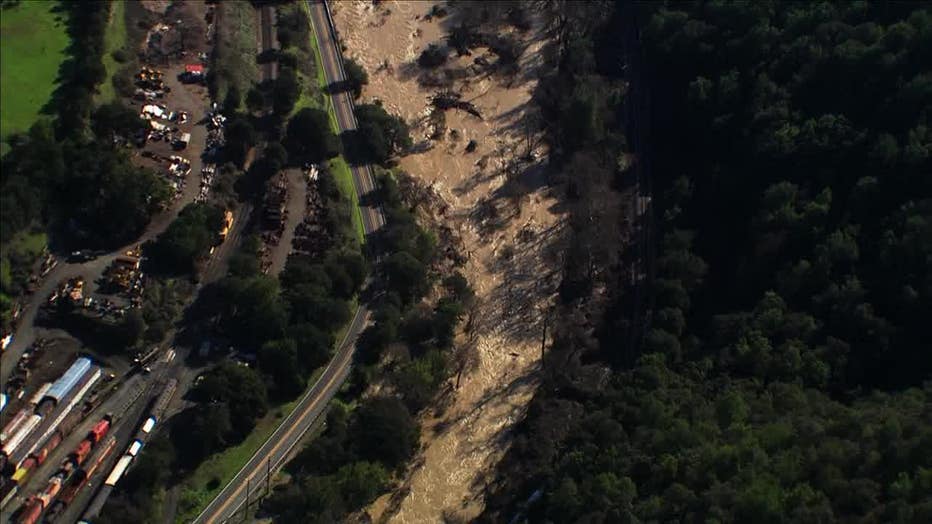 An ACE train was stalled because of a landslide in Niles Canyon in Fremont. Jan. 17, 2023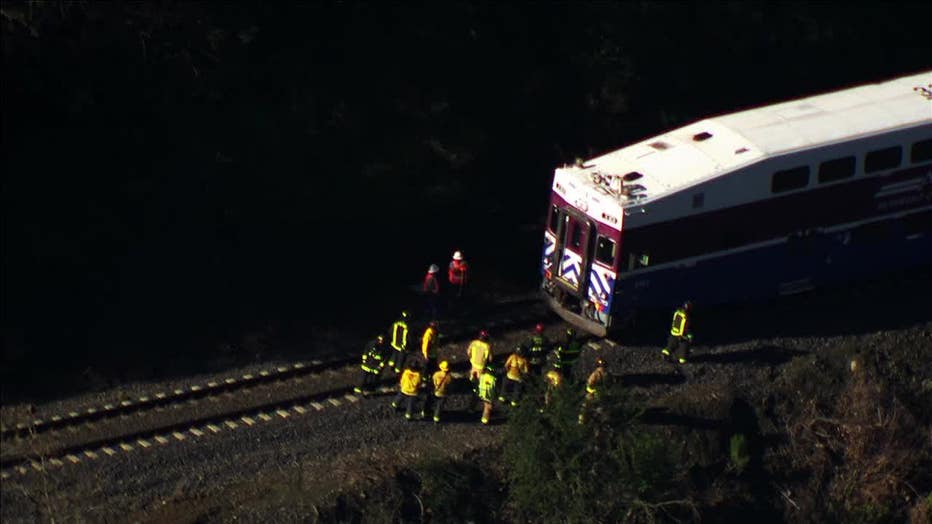 An ACE train was stalled because of a landslide in Niles Canyon in Fremont. Jan. 17, 2023