No hard feelings for CBS after Dickerson's interview with President Trump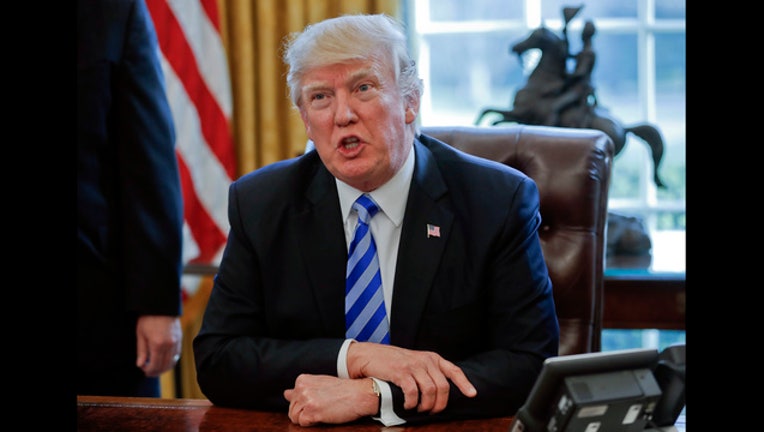 article
NEW YORK (AP) -- CBS broadcast its morning show live from the White House Monday with no evident hard feelings following the abrupt ending of John Dickerson's previously-recorded interview with Donald Trump.

The "CBS This Morning" telecast featured drop-in interviews with Vice President Mike Pence, presidential daughter Ivanka Trump and White House aides Reince Priebus, Gary Cohn and Sean Spicer. The broadcast from the East Room, in the works since the day after the election, was a showcase for an ascendant broadcast that has made the morning a three-way fight after years of competitive irrelevance.

The fireworks with Dickerson came at the end of a two-part interview with Trump, the first airing on "Face the Nation" Sunday. Trump and Dickerson were standing in the Oval Office, in a wide-ranging conversation that got around to Trump's accusation that predecessor Barack Obama had wiretapped him. Dickerson reminded the president that he had called Obama "sick" and "bad."

"You can take it any way you want," Trump said. He said "I have my own opinions. You can have your own opinions."

Dickerson said that "I want to know your opinions. You're the president of the United States."

With that, Trump moved toward his desk and signaled the end of the interview. "OK, it's enough," he said. "Thank you. Thank you very much."

Dickerson, appearing on "CBS This Morning" on Monday, said that "it was pretty clear that I was to escort myself out or I would be moved along."

Ryan Kadro, executive producer of "CBS This Morning," said he wasn't worried that the testy ending of the Trump interview, which was recorded on Saturday, would endanger the morning show's Monday broadcast. Dickerson later traveled on Air Force One and talked to Trump as he was going to a rally.

The show learned about 10 days ago that the White House would allow Monday's broadcast, he said. CBS News first had the idea to approach Trump's team about a 100 days-time broadcast right after he was elected in November.

The CBS newscast has been steadily establishing itself since the anchor team of Charlie Rose, Gayle King and Norah O'Donnell was appointed five years ago. It was a time of day that CBS has long struggled in competition with ABC's "Good Morning America" and NBC's "Today" show.

CBS has been inching closer to second-place NBC in the ratings. "Today" averages 4.42 million viewers a day so far this season, with "CBS This Morning" at 3.69 million. At the same point five years ago, "Today" had 5.38 million viewers and CBS had 2.52 million, according to the Nielsen company.

The network would likely never have the type of access it received Monday when it was such an also-ran a few years ago, Kadro said.

"There's a credibility that our broadcast has with the outside world and internally that is really great to see pay off like this," he said.

The show's newsy focus, the chemistry of its anchor team and willingness to stretch interviews a little longer than its rivals has helped "CBS This Morning" grow, he said.

While the show planned its interviews with Priebus, Spicer and Cohn on Monday, the Ivanka Trump interview was a last-minute addition, Kadro said. Similarly, the show had to sweat out Pence's appearance at the show's end; CBS was told that Pence wanted to stop by but wasn't sure until the last minute that he'd be able to find the time.