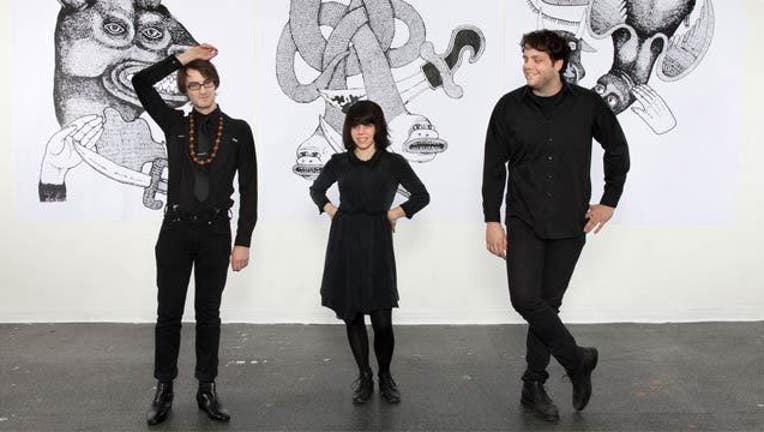 article
One of the biggest stories of this year's festival is the reopening of the venerable Swedish American Hall to serve not only as Noise Pop HQ but as a year-round venue for live music and cultural happenings. There will also be daily sponsored happy hour events and performances at the Hall. Noise Pop 2015 festival unofficially commences Thursday night with the annual Noise Pop NightLife pre-party at the California Academy of Sciences. In addition to a live performance by Dexter Tortoriello of the band Houses who takes the stage in his downtempo solo project Dawn Golden, audiences will hear DJ sets from !!! member Alan Wilson and Awesome Tapes from Africa and explore the science of how the brain processes sound with a variety of interactive exhibits. NightLife's usual food and beverage offerings will also be available (Thurs/19 5 p.m. $10-$12). 
On Friday and through much of the weekend, the attention will be focused on the Noise Pop 2015 Film Series. The Swedish American Hall will host the Film Series Reception and Film Poster Show. Local poster hero Lil Tuffy (aka Terrance Ryan) showcases his 2015 Noise Pop Film Series posters in addition to film posters from Company Creative (Oakland), Weapons of Mass Design (Seattle), Tim Doyle (Austin) and others while giving attendees a chance to talk to some of the directors visiting for the 16th Annual Noise Pop Film Series (Fri/20 6 p.m. free with RSVP).
This year's films will be screened at the Roxie Theatre and Artists' Television Access in the Mission as well as the Swedish American Hall. Highlights include the new "Hardcore Devo Live" concert film at the Roxie that was shot when the pioneering synth band brought its early material to the Fox Theater last year during a tour in tribute to late Devo guitarist Bob Casale (Fri/ 20 7 p.m. $12 with filmmaker Keirda Bahruth and Devo co-founder Jerry Casale), a Swedish American Hall screening of director Fritz Lange's early sci-fi landmark "Metropolis" with a live score by synth artist Chrome Canyon (Fri/20 7 p.m. $15), documentaries on such wide ranging subjects as experimental saxophone giant Rahsaan Roland Kirk ("The Case of the Three-Sided Dream" at ATA Sat/21, 2 p.m. $12 with director Adam Kahan), Jersey City punk band Rye Coalition ("Rye Coalition: The Story of the Hard Luck Five" at Swedish American Hall Sat/21 4 p.m. $12) and the influential punk scene in Washington, D.C. ("Salad Days: The Birth of Punk In the Nation's Capital" at the Roxie Sat/21 7 p.m. $12 sold out).
On the live music front, the weekend will feature a West Coast album release party for acclaimed NJ-based trio Screaming Females at the Hemlock Tavern (Sat/21 9 p.m. $12 sold out) and a performance of the new BDSM-focused street punk musical "Home Street Home" at Z Space (Sat/21 9 p.m. free for Noise Pop badge holders). On Monday night, the festival truly kicks into gear with the Opening Night Party at the Swedish American Hall featuring an as-yet-unannounced special guest performer (Mon/23 7:30 p.m. free). For more info on these shows and what Noise Pop has in store, please visit the festival's official site.