Oakland homeless encampment undergoes another phase of evictions
OAKLAND, Calif. - Oakland's largest homeless encampment on Wood Street underwent another phase of evictions Monday as part of a massive cleanup. 
Caltrans crews and contractors have removed piles of trash, tents, cars and RVs to reduce hazards and prevent the hundreds of fires sparked near the highways and railways in recent years.
Monday marked phase two of the three-phase clearing process, displacing dozens more homeless resident.
"It's traumatizing, that beeping of the vehicles," said unhoused resident Theo Cedar Jones. "Whenever we hear that it's like an invasion, pain and like a dagger into the heart of our community."
Eviction notices were sent to 40 people, offering them services and assistance, according to Caltrans. But only 12 accepted alternative housing. 
Some were seen scrambling, packing and towing what they have to another encampment or nearby city streets.
"It's a community of people I trust," said Jared DeFigh. "I've never been arrested before, and I might be today."
Those who moved from the state property under the MacArthur Maze to city property along Wood Street were getting their RVs and tents tagged by Oakland police officers and given 24 hours to move Monday.
"To just shuffle people like cattle between Caltrans land or city land and back and forth again is no solution," homeless advocate Xochitl Bernadette Moreno said. "Absolutely heartbreaking and utterly enraging."
Prior to the evictions, 300 unhoused people called Wood Street home.
An estimated 80 people were relocated as part of the first phase in early September. 
Many of those who refuse to leave are holding out at the Cob on Wood. It's a community village with an outdoor kitchen, community garden, restroom, shower and some limited housing.
That is now all on the chopping block, however, those who built it said they were given a couple of days to come up with a plan to avoid demolition.
"If we can find another place that the city will allow us to move them [the tiny houses] to, then it could be the beginning of a new village," Living Earth Structures builder Miguel Elliott said. "There's a lot of land in the city and there's a lot of lots that are not being utilized."
The state has provided $4.7 million in grants to the City of Oakland to rehouse those living along Wood Street, according to Caltrans.
But an attorney representing the homeless in an ongoing legal battle with the City of Oakland, Alameda County and the state said adequate shelter was not offered to residents, forcing many to stick it out and stay at the encampment.
SEE ALSO: Oakland fire dispatchers challenged by staffing shortage, increasing calls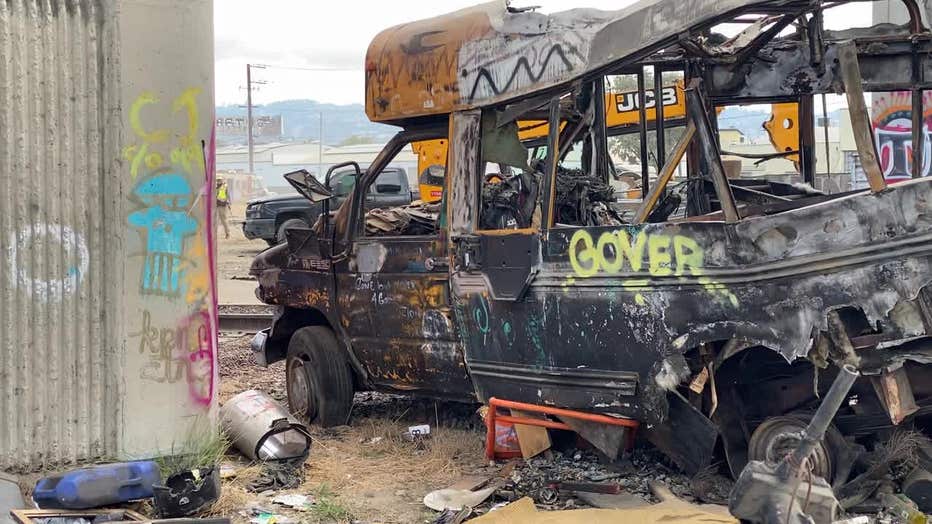 The sprawling encampment in West Oakland and has experienced 195 fires between March 2020 and March 2022. Then in April, a deadly fire occurred.
In July, a large fire destroyed several motor homes and damaged a portion of I-880, resulting in highway lane closures and causing traffic tie-ups.
Despite attempts to clear the encampment, it wasn't until a judge gave the go-ahead last month, allowing the evictions and cleanup to occur.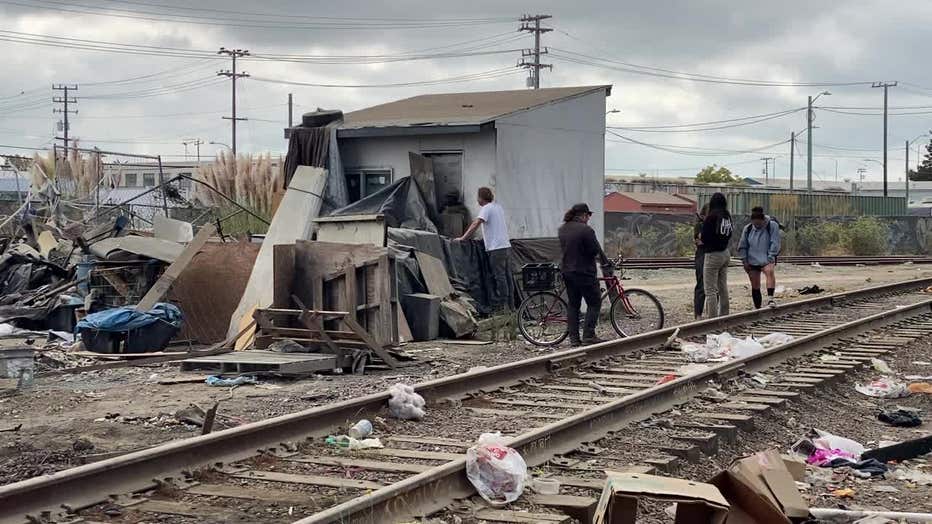 SEE ALSO: Caltrans starts clearing Oakland's Wood Street encampment
"A lot of people are just sort of scattered," unhoused resident John Janosko said. "I'm just going to stick it out with my friends and family out here and we're going to fight together and work on some solutions."
Caltrans said it is on schedule to finish the clearing and fully close the encampment by the beginning of November.
Brooks Jarosz is an investigative reporter for KTVU. Email him at brooks.jarosz@fox.com and follow him on Facebook and Twitter @BrooksKTVU