Oakland police arrest 10 alleged gang members, recover a dozen guns
OAKLAND, Calif. - Oakland police arrested 10 people and seized a dozen firearms following a carjacking and two weeks of surveillance.
Nine adults and one teenager are facing weapons-related charges and all suspected of being part of the "Ghost Town" gang.
"This particular group of individuals has been involved in a series of carjackings, armed robberies, auto burglaries and have a history of engaging in these crimes throughout the Bay Area," said Oakland Police Captain Tony Jones.
These kinds of crimes have been on the rise throughout Oakland prompting the Ceasefire Division to change strategy and focus on organized criminal activity beyond shootings and homicides.
Police said a carjacking earlier this month led officers and detectives to West Oakland where they surveyed 15 people with firearms for two weeks. That resulted in the arrests of ten people on Tuesday, including a teenager.
"We're confident in our intelligence gathering abilities," said Jones. "No matter what the gangs evolve into, we'll be able to stay on top of it."
Three machine guns and nine semi-automatic pistols were taken off the streets, Jones said.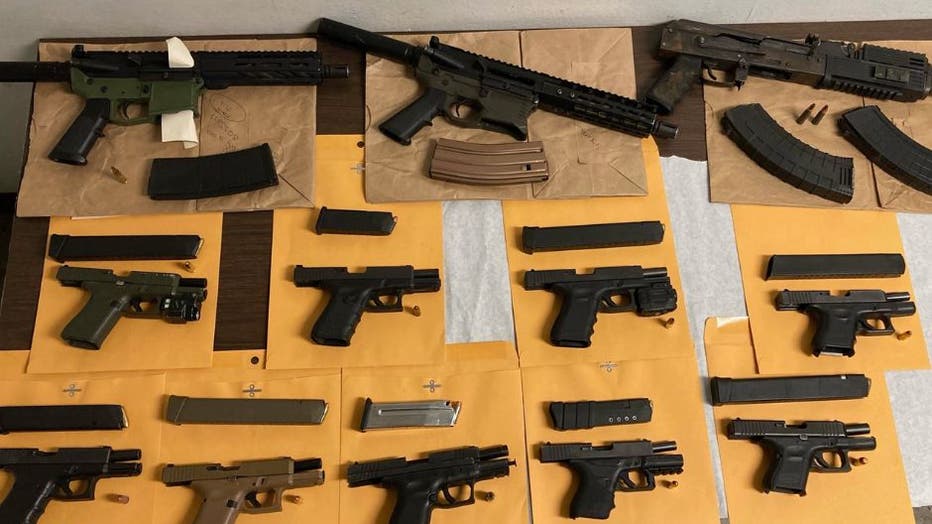 Oakland police won't say if the weapons recovered are connected to other crimes, however, at least one of the suspects was wanted for attempted homicide.
The names of those arrested have not been released. Investigators said they're contacting more crime victims to potentially tie together investigations.
In a news conference on Thursday, Mayor Sheng Thao promised reducing crime and preventing gun violence are top priorities.
"You will see more arrests of people who are victimizing our businesses, our residents, our families," Thao said. "We will take and we are unafraid of taking enforcement actions on those who continue to engage in violence and engage in traumatizing our communities."
Brooks Jarosz is a reporter for KTVU. Email him at  brooks.jarosz@fox.com and follow him on Facebook and X @BrooksKTVU