Oakland police provide clarity, announce arrests over recent robberies, carjackings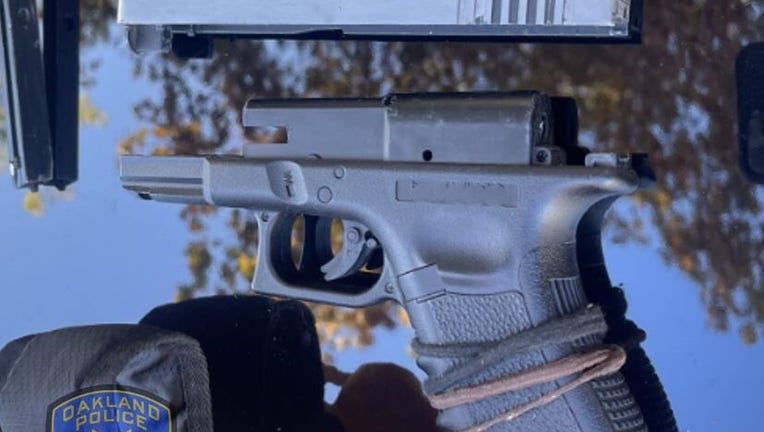 article
OAKLAND, Calif. - Oakland police have shed some light on some recent robberies and violent crimes throughout the city in a press conference held Friday. 
During the press conference, Lt. Hamann Nguyen announced the arrests and charges for multiple people, including two juveniles. On Oct. 7 around 2:30 p.m. in the 700 block of Prospect Ave., an armed robbery and carjacking attempt were reported against a victim working as a delivery food driver.
Police said the suspect car was found "a short distance away" in the 1200 block of Trestle Glen Road and two suspects, a man and a juvenile, were taken into custody. Police later connected the car used in the crime to a separate carjacking the day before in the 2400 block of 24th Ave.
The adult suspect was identified as 18-year-old Jerome Bell. Bell allegedly robbed the victim of cell phones. The carjacked Camry he was in stalled in the Trestle Glen neighborhood, leading to his capture, police said. 
Stolen goods from the victim and a replica gun were also found in the car.
Bell had an outstanding warrant for a separate Oakland robbery on Sept. 22 in the 900 block of E. 24th St. He was arrested that day in San Leandro while allegedly committing a separate, uninvolved robbery. 
In both incidents, a carjacked vehicle was used.
The juvenile allegedly involved is also a person of interest in "numerous Oakland robbery investigations" and has charges pending against them.
SEE ALSO: Video: East Bay police chase ends in crash
Also on Oct. 7 hours later around 5:30 p.m., a cashier was working at the Seven Seas Food & Liquor located on MacArthur Boulevard and Ardley Avenue. when three suspects entered and robbed the place. Two suspects jumped over the counter, stealing bottles and cash while a third suspect held an "unknown object" in their waistband. Police later said the suspect was simulating a gun and could be additionally charged with a possible enhancement if the district attorney sees fit.
The three suspects escaped in a blue Hyundai SUV, the victim told police.
The following day around the same time, officers in the 1800 block of 80th Ave. spotted the blue Hyundai SUV suspected in the previous carjacking speeding. A chase ensued and the police department's helicopter was deployed after the driver failed to yield. 
Three suspects were eventually detained. Police described the suspects as one male adult, one male juvenile and one female juvenile.
The adult was identified as 18-year-old Tyriq Brantley.
A victim positively identified the male minor and Brantley as the suspects in previous robberies, and the car was confirmed to be stolen.
"As these incidents become increasingly dangerous, OPD urges community members not to engage with these individuals, as they can often be armed and dangerous," Oakland police said in a statement.
Anyone with information about the recent robberies or these incidents is asked to contact the Oakland Police Department at (510) 238-3326.