Oakland restaurants fed up with car break-ins explore private parking and security
OAKLAND, Calif. - As car break-ins and thefts continue to plague the City of Oakland, a number of restaurants in the area tell KTVU they are fed up with it.
NIDO's BackYard announced it acquired a parking lot directly across the restaurant at 104 Oak St. In addition, the business hired security guards to watch over the lot.
"We have heard you loud and clear. We are sick and tired of our city not stepping up, so WE DID," NIDO's BackYard wrote in an email.
The added security measures were rolled out earlier in the week. Friday marked the official start of the added service for customers.
"We work really hard here to create an experience, and to have people who say that they're never going to come back because of their car getting broken into is hard to hear," said NIDO's on-board and training manager Kayla Jemmett. "We basically stepped up when the city did not. We just want to invite everyone back and make them feel safer."
Customers can now park their cars without having to worry about their vehicles being broken into. The parking lot is accessible and free for customers during NIDO's operating hours and an hour past closing.
"It makes me feel great," said customer Luana Jonsson. "I was the first one in the lot today, and I was just so happy, and I had a really good conversation with the security guard. I'll definitely be back here."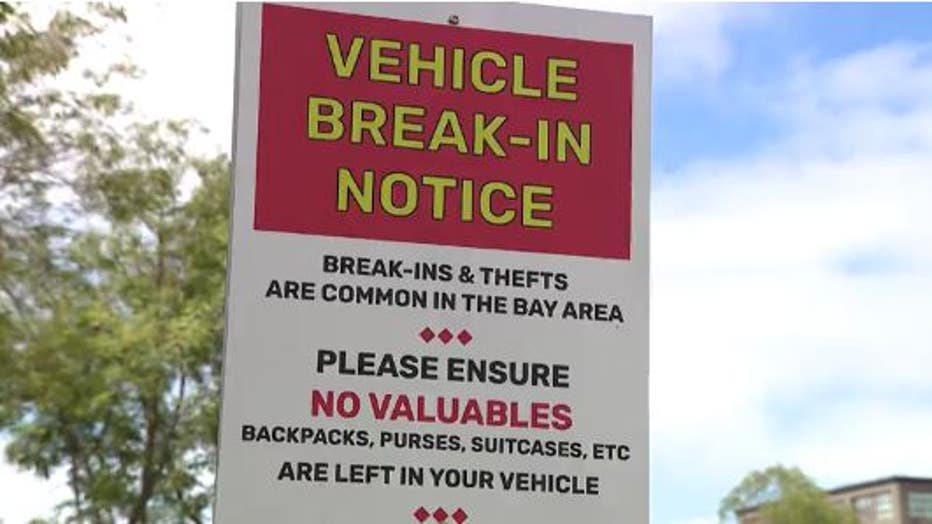 Vehicle break-in notice at an Oakland restaurant that has now invested in a secure parking lot. 
Oakland has experienced over 12,000 auto burglaries so far this year, a 44% increase from last year, Oakland crime data shows. 
"This is my city, it's sad that this is part of our narrative," said Ulices Sanchez. "I meet with clients all the time in Oakland and if their cars get broken into it doesn't help my business or the city's reputation."
Sanchez added he's glad to see local businesses investing in added security measures.
"It's sad that it's come to this, but we have to protect ourselves," he said.
Parking at NIDO's parking lot is currently free. Eventually, the restaurant said it will have to start charging for it because it's not something it originally planned for.
Another business dealing with car break-ins is Bocanova, located in at 1111 Broadway in downtown Oakland.
It, too, took to social media to vent its frustrations on crime in the area.
"Fed up & fearful of car break-ins, we get it," the restaurant wrote.
To deter break-ins the restaurant partnered with the Marriott Hotel across the street for safer parking.
Bocanova's co-owner and manager Martin Ladera said security and parking was never part of the business plan.
"Obviously we had to rethink that," he said. "We were hearing from our guests that people are afraid to come to downtown Oakland, even though they want to support us. Car break-ins are an issue."
Bocanova worked out a deal with the hotel so that its customers could receive valet parking for $20.
"Luckily, we haven't had to tackle security," Ladera said. "As for the valet parking, if you think of how much it costs to replace a window or have your bag stolen or who knows what else, at $20, I think it's a small fee to pay to be able to go out and enjoy a meal."
 Both businesses tell KTVU the safeguards they've put in place are not ideal, but until Oakland gets a handle on crime, the measures are necessary.
KTVU reached out to the Oakland Police Department, but did not hear back. 
"I think we all need to work as a team and make sure we can keep this under control and make sure that people feel safe," said Labera.
 "We just want to welcome people back," said Jemmett. "We all want to feel safe."