Official: National Security Adviser not 'certain' with sanctions talk on Russia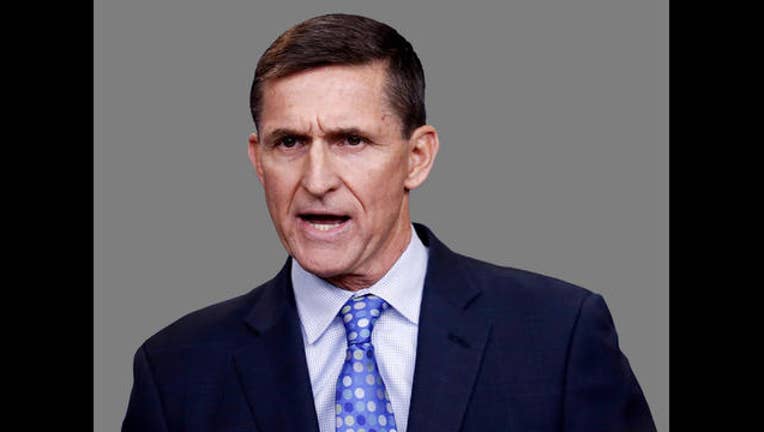 article
WASHINGTON (AP) - Congressional Democrats on Friday called for an investigation into whether White House National Security Adviser Michael Flynn discussed U.S. sanctions in phone calls with Russia's ambassador while President Barack Obama was still in office, conversations that may have broken U.S. law aimed at barring private citizens from conducting diplomacy.
The White House said President Donald Trump had "full confidence" in Flynn, a show of support coming as the administration scrambled to manage the fallout from reports that Flynn addressed U.S. sanctions against Russia in a phone call late last year. The report contradicted both Flynn's previous denials, as well as those made by Vice President Mike Pence in a televised interview.
Democratic Sens. Ed Markey of Massachusetts and Chris Murphy of Connecticut called for an investigation of Flynn. Other Democrats demanded that Trump fire the retired U.S. Army lieutenant general.
"He lied - repeatedly and egregiously - about his actions," Reps. Ruben Gallego of Arizona and Ted Lieu of California said.
Two other Democrats, Sens. Richard Blumenthal of Connecticut and Jeanne Shaheen of New Hampshire, sent a letter to U.S. intelligence officials requesting a review of Flynn's security clearance. They said the reports of his calls to the Russian ambassador contribute to "questions concerning his suitability for continued access to classified information."
A Trump administration official told The Associated Press Friday that Flynn "can't be certain" sanctions did not come up on the call. The official said Flynn has "no recollection" of discussing the sanctions, but left open the possibility that the issue did come up when he spoke with Ambassador Sergey Kislyak during the transition.
The Kremlin denied Friday that Flynn and Kislyak discussed the sanctions before Trump took office.
The Washington Post, citing several current and former U.S. officials, reported late Thursday that Flynn made explicit references to election-related sanctions imposed by the Obama administration in his conversations with Kislyak.
The report immediately put pressure on the vice president, who had defended Flynn in television after news of the phone call first broke earlier this year.
A second administration official said Friday said Pence was relying on information from Flynn. A Pence official said the vice president and Flynn had a conversation in person on Friday morning.
The officials were not authorized to discuss the matter publicly and insisted on anonymity.
Flynn later traveled with the president to Florida, where Trump was hosting Japanese Prime Minister Shinzo Abe.
Questions about Trump's friendly posture toward Russia deepened after he dismissed the U.S. intelligence agencies' assertions about Russia's role in the hacking. In briefing Trump on their findings, intelligence officials also presented him with unsubstantiated claims that Russia had amassed compromising personal and financial allegations against him.
Members of the Trump administration have maintained that Flynn had spoken to the ambassador during the transition period to wish him a Merry Christmas and offer condolences after a deadly Russian plane crash.
One of the calls took place on Dec. 29, the day the Obama administration hit Moscow with sanctions in response to a U.S. intelligence assessment that the Russian government had interfered in the U.S. presidential election with the goal of helping Trump.
The Post report also raises questions about assertions made by Pence staunchly denying that Flynn's contact with the Russian ambassador had anything to do with sanctions.
"It was strictly coincidental that they had a conversation" as new sanctions were announced, Pence said in an interview on CBS's "Face the Nation" last month. He insisted the discussion did not address the Obama administration's decision to impose sanctions on Russian intelligence services and expel Russian 35 diplomats it said were actually intelligence operatives.
Pence also maintained that the Trump presidential campaign had no contacts with the Russians ahead of the election.
It's not unusual for incoming administrations to have discussions with foreign governments before taking office. But repeated contacts just as Obama was imposing sanctions raise questions about whether Trump's team discussed - or even helped shape - Russia's response.
Russian President Vladimir Putin unexpectedly did not retaliate against the U.S. for the expulsions, a decision Trump quickly praised.
The Post and other news outlets reported that U.S. officials considered whether Flynn's conversation violated the Logan Act, a little-enforced law prohibiting U.S. citizens from correspondence that aims to influence a foreign government in disputes with the United States. The U.S. officials said American intelligence agencies regularly monitor foreign officials' calls within the U.S.
After U.S. officials first revealed Flynn's calls last month, Trump aides originally denied that a telephone conversation even took place on Dec. 29. Hours later, an official acknowledged one such call.
Flynn's contact with the Russian ambassador suggests the Trump administration has been laying the groundwork for its promised closer relationship with Moscow. That effort appears to be moving ahead, even as many in Washington, including Republicans, have expressed outrage over the assessment that Putin ordered a hacking operation aimed at meddling in the U.S. election.
The sanctions targeted the GRU and FSB, leading Russian intelligence agencies that the U.S. said were involved in the hacking of the Democratic National Committee and other groups.
Last week, House Democrats called for an investigation of Flynn to determine whether he violated the
Constitution by accepting payments from a Kremlin-controlled TV station in Russia. Flynn traveled in 2015 to
Moscow, where he joined Putin and other Russian officials in a celebration of the RT network.
Flynn later explained he had been paid for taking part in the event, but brushed aside concerns that he was aiding a Russian propaganda effort.
The Emoluments Clause of the Constitution prohibits federal officeholders from accepting gifts from foreign governments. The Defense Department warns that the prohibition applies to both active-duty and retired military.